For her, it was the end of the world as she could only foresee a dark future for herself. When this 20-year-old Delhi girl became pregnant she became so distraught that she expressed her intention on social media to kill herself to guard the family's reputation. Shocked at her intention, folks on Snapchat took it upon themselves to prevent a tragedy, emerge the girl out of depression and show her the bright path ahead. And, they did that successfully.
She posted an image on The Artidote's Snapchat channel-- it was curating a feed of responses from around the world—and she received supportive messages in response to her post that said she was on the verge of committing suicide due to an unexpected pregnancy.
The other Snapchatters who saw the post quickly responded with supportive messages and encouraged her to brave the storm.
People from across the world raised her spirits. In addition to empathising with her, some even offered to talk her out of the situation.
They tried different ways and persuaded her to refrain from taking the drastic step.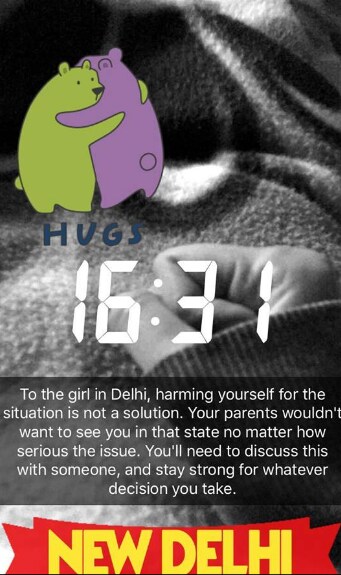 Messages from Delhi, Kuwait and different parts of the world poured in and helped the Delhi girl gather courage and confront her mother.
After confronting her mother, she posted a picture that said she was going to see the gynecologist with her mother. She also replied to The Artidote and thanked everyone who instilled the courage in her, and "saved" her life.
This episode of kindness and humanity is proof that the power of Social media stands tall in the face adversities.
Your guide to the latest cricket World Cup stories, analysis, reports, opinions, live updates and scores on https://www.firstpost.com/firstcricket/series/icc-cricket-world-cup-2019.html. Follow us on Twitter and Instagram or like our Facebook page for updates throughout the ongoing event in England and Wales.
Updated Date: Dec 23, 2016 20:22:39 IST