Siberia shopping mall fire: India condoles tragic loss of lives as 64 killed, including children
India, on Monday, expressed its deepest condolences to the families and friends of the 64 victims who were killed in a major fire at a busy shopping mall packed with children and their parents in Russia's Kemerovo city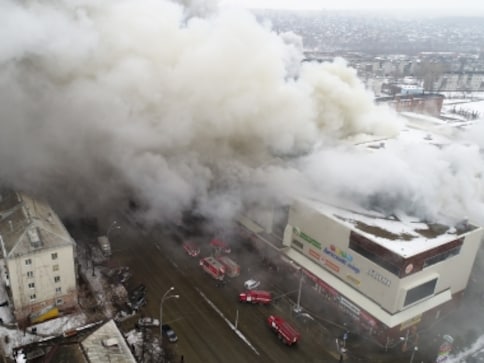 Moscow: India, on Monday, expressed its deepest condolences to the families and friends of the 64 victims who were killed in a major fire at a busy shopping mall packed with children and their parents in Russia's Kemerovo city.
The fire at the Winter Cherry mall in Kemerovo, about 3,000 kilometres east of Moscow, was doused on Monday morning.
Russian television showed images of thick black smoke billowing out of the roof of the shopping centre.
Emergency services minister Vladimir Puchkov said on Russian television, "We have recorded that unfortunately as a result of the accident 64 people died."
The Embassy of India said, in a tweet, that it "expresses its deepest condolences to the families and friends of victims of Kemerovo tragedy".  "We are deeply saddened by the loss of lives, including many children. Our prayers and thoughts are with them," the embassy added.
India's Ambassador to Russia Pankaj Saran said in a tweet: "Deepest condolences on tragic loss of lives in fire in Kemerovo mall in Siberia".
Russia's Investigative Committee said the roof collapsed in two theatres of the cinema in the blaze, which erupted at around 4 pm local time on Sunday.
The doors of one of the shopping centre's cinemas, where children were watching cartoon films, were locked and people did not hear alarms, witnesses told Russian television.
World
The attack comes as the threat of a Russian invasion of Ukraine looms and diplomatic talks to resolve the tense stand-off appear stalled
World
The current Ukraine crisis and seemingly insurmountable differences between Washington and Moscow carry risks of economic warfare and military conflict
World
Meanwhile, Secretary of State Antony Blinken has insisted that talks will yield no progress so long as Russia has a 'gun to Ukraine's head'