Senior journalist and editor-in-chief of English daily Rising Kashmir Shujaat Bhukhari was on Thursday shot dead by militants outside his office in Srinagar, police said.
State police chief SP Vaid said that it was around 7.15 pm, the iftar time, that Bukhari came out of his office in Press Enclave and was boarding his car when he was attacked by militants.
"Three motorcycle-borne militants came and fired at Bukhari and his guards. Bukhari and one guard were killed and another security guard critically injured," he said.
While one of the personal security officers (PSO) guarding him was killed, another policeman and a civilian were injured, police officials added.
The condition of the two injured in the shooting, which comes a day ahead of Eid, is critical, they said.
Bukhari never shied away from raising his voice against the powerful. After a CRPF vehicle recently mowed down a local in Jammu and Kashmir, Bukhari demanded an explanation from the government and the security forces.
He earlier worked as The Hindu's Kashmir correspondent and was instrumental in organising several conferences for peace in the Valley. He was also part of the Track II diplomacy process with Pakistan.
After his demise, reactions from politicians and journalists started pouring in.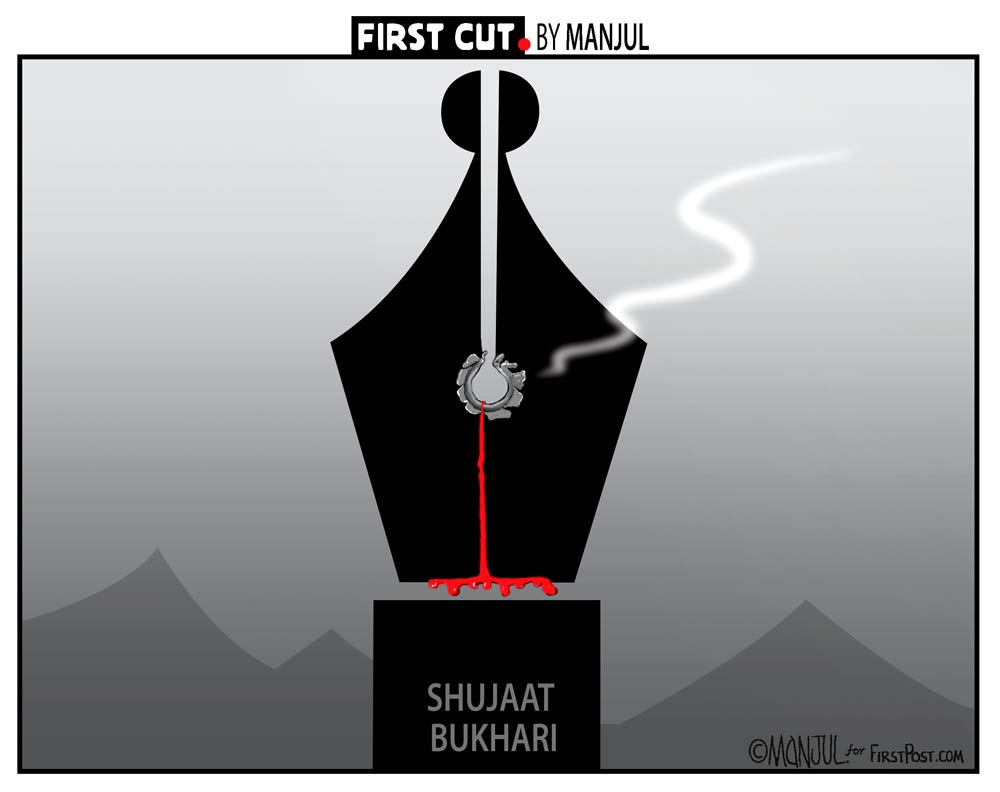 Chief minister Mehbooba Mufti teared up and expressed shock at the killing. She also condemned the attack.
Shocked & deeply saddened by the sudden demise of Shujaat Bukhari. The scourge of terror has reared its ugly head on the eve of Eid. I strongly condemn this act of mindless violence & pray for his soul to rest in peace. My deepest condolences to his family.

— Mehbooba Mufti (@MehboobaMufti) June 14, 2018
Former chief minister Omar Abdullah also expressed shock at the gruesome murder of this senior Kashmiri journalist. Reciting the Muslim prayer on hearing about a Muslim's death, he said:
inna lilahi wa inna illahi rajiuun. Shocked beyond words. May Shujaat find place in Jannat & May his loved ones find strength at this difficult time. — Omar Abdullah (@OmarAbdullah) June 14, 2018
Home minister Rajnath Singh termed the killing an act of cowardice.
The killing of @RisingKashmir editor, Shujaat Bukhari is an act of cowardice. It is an attempt to silence the saner voices of Kashmir. He was a courageous and fearless journalist. Extremely shocked & pained at his death. My thoughts and prayers are with his bereaved family.

— Rajnath Singh (@rajnathsingh) June 14, 2018
Congress president Rahul Gandhi also tweeted on Bukhari's demise, calling him a brave heart who fought for justice in Kashmir.
I'm anguished to hear about the killing of Shujaat Bukhari, editor of @RisingKashmir. He was a brave heart who fought fearlessly for justice and peace in Jammu & Kashmir. My condolences to his family. He will be missed. — Rahul Gandhi (@RahulGandhi) June 14, 2018
Eminent journalists also condemned the attack and offered their condolences.
Shujaat Bukhari and I were colleagues at The Hindu. He was a formidable reporter, and, as editor of Rising Kashmir, a powerful voice for the embattled media fraternity, a true voice of sanity and reason. No words of condemnation are enough for the scum who have assassinated him.

— Siddharth (@svaradarajan) June 14, 2018
Heartbreaking the loss of Shujaat Bukhari, an incredibly brave editor & an invaluable voice of middle-ground moderation. This is a loss for all Kashmiri's, India and the entire journalistic community — Shekhar Gupta (@ShekharGupta) June 14, 2018
My friend @bukharishujaat was a rare voice of moderation in Kashmir who pandered to no extremes. May those who did this to him rot in hell. And may this be a moment for Kashmir to take note of the absolute insanity it is slipping into #ShujaatBukhari

— barkha dutt (@BDUTT) June 14, 2018
The Editors Guild of India unequivocally condemns the assassination of Rising Kashmir Editor Shujaat Bukhari. This is a grave attack on press freedom and democratic voices. We will be issuing a more detailed statement soon — Editors Guild of India (@IndEditorsGuild) June 14, 2018
With inputs from agencies
Firstpost is now on WhatsApp. For the latest analysis, commentary and news updates, sign up for our WhatsApp services. Just go to Firstpost.com/Whatsapp and hit the Subscribe button.
Updated Date: Jun 14, 2018 22:23 PM