Even as the nation is cheering and rejoicing over India's first high speed rail project, the enthusiasm will soon be sullied because the railway authorities are yet to acquire the required private land. Even as Prime Minister Narendra Modi hailed the new project, the feasibility of a 2022 deadline is being questioned, especially as the hurdles remain.
Hailing the bullet train and Japan's initiative, Modi on Thursday said that the entire area between Mumbai and Ahmedabad will come in a single economic zone through this project. "Today, India has taken a crucial step in fulfilling an age-old dream. The bullet train project is one which will bring about great speed, great development and great technology. This project will bring about employment and speed. It is human-friendly and eco-friendly," he added.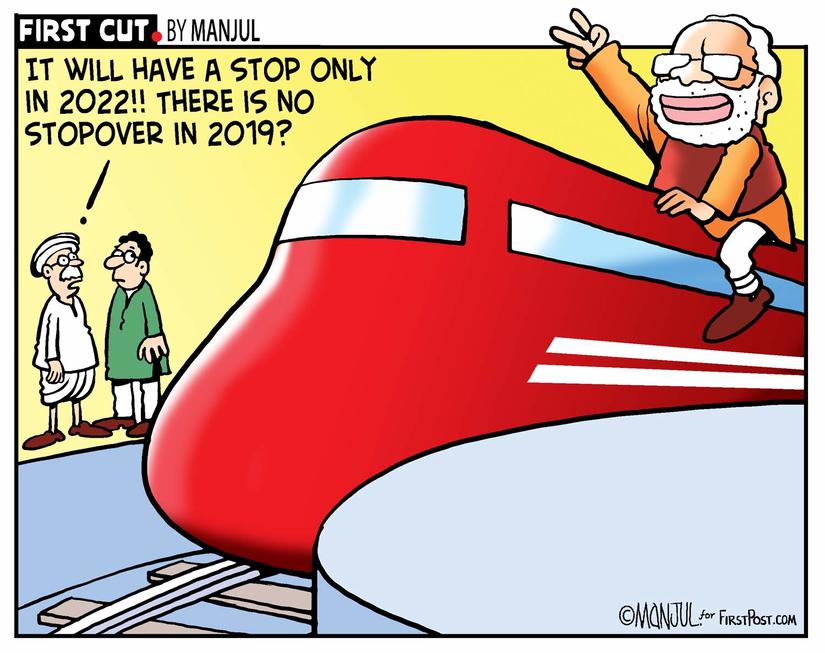 At present, there are 11 stations proposed in this corridor. The terminal is planned at Bandra-Kurla Complex (BKC) in Mumbai's financial heart. From BKC, the train will traverse 21 kilometres underground before emerging above ground at Thane. Out of these, seven kilometers will be undersea.
Of this entire stretch, 92 percent will be elevated and six percent will be tunneled, The Asian Age reported. The remaining two percent, about 825 hectares of land, may become a major hurdle for completing the bullet train project by 2022.
In September, the Maharashtra government relented by conditionally agreeing to hand over 0.9 hectare of land in BKC available for the bullet train's station, according to India Today. The station is to be built three levels underground, and will not interfere with the financial center being planned there.
From Thane, it will move further north, finally ending its journey in Ahmedabad. The proposed 11 stations are Mumbai, Thane, Virar, Boisar, Vapi, Bilimora, Surat, Bharuch, Vadodara, Anand and Ahmedabad. The terminal at Ahmedabad is planned near Sabarmati railway station.
Rail authorities are also facing a tough time convincing villagers near Virar to give away their land for the project. The rail officials were abused by villagers when they went to discuss the matter, Hindustan Times reported.
Some initial reports have identified 163 villages in eight districts of Gujarat, 44 villages in three districts of Maharashtra and some areas in Dadra and Nagar Haveli for land acquisition. About 2,761 families will be affected, according to a Business Standard report.
According to Counterview, the stretch passing through Gujarat, Maharashtra and Dadar and Nagar Haveli have lush green forests on the east and Indian Ocean on the west. The proposed bullet train project, along with other projects, will result in the physical, social and cultural upheaval of communities that live in relative symbiosis with nature.
The local tribals and farmers are up in arms against such projects. Gram Sabhas have passed resolutions opposing the projects. The Counterview report further suggests that proposed development would also require enormous amount of construction and land filling materials, thereby pushing demand for sand and stone mining which is carried out in riverbeds and hilly areas respectively. These activities will adversely impact the tribal population dependent on forests and the fishing community and also the availability of fresh water.
To assuage the fears of farmers and in an attempt to bring them onboard, the authorities are thinking of offering jobs to villagers on station premises once it is built and made operational.
"There have been problems in Virar and Palghar districts as villagers are reluctant to give their land. We have hired a consultant to look into the social impact of the project in the area. We will then decide on giving the villagers jobs after the station is functional," Hindustan Times quoted a senior NHSRCL official as saying.
Some tribals and farmers affiliated to 24 organisations across Maharashtra and Gujarat have reportedly joined forces to oppose the bullet train project. Vinod Dumada, an activist with Maharashtra's Adivasi Ekta Parishad told Hindustan Times, "We are not against development, but we will oppose it if it is done at the cost of tribal life. The local tribal population will lose its land, livelihood to roads and industries.
The 24 organisations have also submitted a memorandum of their protest to the prime minister's office. A group of farmers from Boisar in Palghar district protested against the project on Thursday, saying that they will be ruined if their agricultural lands are acquired for the project. During the protest, which was jointly organised by Shetkari Sangarsha Samiti and Advasi Ekta Parisahd, the protesters waved black flags and raised slogans against the project.
Kaluram Dodhade of Bhoomi Sena, who took part in the protest, said, "There are mostly small farmers in Palghar and if their lands are acquired for the project, they will be ruined."
The protesters also alleged that the BJP-led government was going ahead with the project without taking the farmers into consideration. Palghar DSP Majunath Shinge said, "It was a symbolic protest and there was no law and order situation." When contacted, Palghar district collector Prashant Narnavre told PTI that the agitation was carried out in a peaceful manner.
Justice Rajinder Sachar, former president of the People's Union for Civil Liberties, has also called for protests against the bullet train project. Activists are concerned that this not-so-necessary project will hog scarce resources. "Modi's bullet train venture is a cruel joke and ridicules the poor of India. I feel this calls for political parties and trade unions to register their protest at the site of inauguration on 15 September," he was quoted as saying by The Times of India.
Despite the initial euphoria, the project is still battling land acquisition problems and the chances of shifting the deadline to a later date are high.
Read our LIVE blog on Shinzo Abe's visit to India here
With inputs from PTI
Updated Date: Sep 14, 2017 21:24 PM