Shah Faesal is no 'martyr' for free speech; about time his sophistry and shifting of goalposts is called out
What Faesal's tweet does is feed the dubious narrative about India being the 'most dangerous country for women', as a recent poll by Thomson Reuters seems to have found.
IAS officer Shah Faesal has hit the headlines again. He has posted on Twitter an official letter sent by the Jammu and Kashmir government notifying him of the disciplinary action being taken against him for not abiding by service rules. The issue are a couple of tweets that he had posted in April on how "patriarchy, population, illiteracy, alcohol, porn, technology and anarchy" fuel "Rapistan". Though he later clarified that he meant to critique "rape culture" in whole of "south Asia" and not just India, one of the two tweets that he posted on this issue refers to an incident in India.
Patriarchy+Population+Illiteracy+Alcohol+Porn+Technology+Anarchy = Rapistan!

— Shah Faesal (@shahfaesal) April 22, 2018
Difference between theory and practice: https://t.co/XRHnIPw9RR

— Shah Faesal (@shahfaesal) April 23, 2018
On being notified of a departmental inquiry against him for breaching conduct rules, Faesal, a 2010-batch IAS officer and the first UPSC topper from Jammu and Kashmir, sought to trigger a larger debate on whether civil servants have the right to express themselves on social media or whether they should remain "anonymous" and "blind to whatever is happening around them".
Love letter from my boss for my sarcastic tweet against rape-culture in South Asia.
The Irony here is that service rules with a colonial spirit are invoked in a democratic India to stifle the freedom of conscience.
I'm sharing this to underscore the need for a rule change. pic.twitter.com/ssT8HIKhIK

— Shah Faesal (@shahfaesal) July 10, 2018
At present, rules prevent civil servants from criticising the government on social media. Assuming that Faesal was made aware of the rules, he has clearly been in breach of those.
Faesal's position has expectedly kicked off another debate on public arena over free speech. Some are tilting at windmills while some are ready to bake their political narrative on the oven of controversy. In the middle of it all, Faesal, who is pursuing a Masters programme on a Fulbright scholarship to the US, has called for "more openness to criticism" and claimed that he is ready to sacrifice his job for the cause.
The debate over free speech of government employees (which also includes bureaucrats) is old. At the crux of the issue is a question: Can the government exercise its rights as an employer while taking action against its employee for breach of service codes, or should its power be constrained by the Constitutional rights of a citizen because as the 'State', it is bound to respect those rights? Here, the government's role differs from that of a private employer.
In interpreting which of these two roles is the dominant one with regard to government's relationship with its employees, the courts in India and in other nations (the US, for example) have evolved their position over time.
In the P Balakotaiah vs The Union Of India case in 1957, a Constitution Bench of the Supreme Court observed that "the government qua employer, empowered to determine its own conditions of employment, wins out over the government qua State, which must respect fundamental rights", relates lawyer Gautam Bhatia in his blog on Indian Constitutional Law and Philosophy. However, as Bhatia points out further, in the 1962 cases of Kameshwar Prasad vs State of Bihar and OK Ghosh vs EX Joseph, the Supreme Court held that government's actions as the employer must be tested on the altar of its obligations as the 'State'.
This position, in turn, received another modification when a two-judge bench of the Supreme Court in MH Devendrappa vs The Karnataka State Small Scale Industries on 17 February, 1998, held that "in Kameshwar Prasad's case (supra) this Court made it clear that it was not in any manner affecting by the said Judgment, the Rules of Government service designed for proper discharge of duties and obligations by Government servants, although they may curtail or impose limitations on their rights under Part III of the Constitution."
In the US, the Supreme Court has moved from a stricter recognition of government's authority over its employees to a more nuanced position, leaning towards friendliness to fundamental rights. In this argument, however, it is important to remember that the government must retain some rights or else, as the Washington Post report on Edward Lane vs Franks judgement points out, "nearly every fired or disciplined employee could plausibly argue that part of the real reason for the government action was actually the employee's speech to clients or coworkers or supervisors; providing broad First Amendment protection to speech by government employees would thus turn nearly every employment action into a potential lawsuit."
This context is important because even though Faesal tries hard post facto to present himself as a 'martyr' for free speech, his case cannot be hitched to the larger debate over fundamental rights. Instead, Faesal's case is about dubious narratives, sophistry and sly shifting of goalposts and an attempt to play the victim card when caught on the wrong side of facts.
Let us consider Faesal's original tweet posted on 22 April, 2018, where he proposed a theory that "rape" is somehow linked to "illiteracy" and "pornography", among other reasons. Bloomberg reported in March this year that crime had become a "hot button issue" in Swedish elections because the number of rapes has seen a 10 percent jump in 2017 and 35 percent spike in last 10 years. Adjusted for population and acknowledging the fact legal definition of rape has been expanded and there are more reported cases than ever, analysts are still at a loss to "fully explain" the very high figures. Sweden's adult literacy rate remains stable at around 99 percent.
Now let's turn to Faesal's claim on the link between pornography and rape. Scholarly works disprove such explicit correlations between the two. A study by B Kutchinsky of Institute of Criminal Science, University of Copenhagen and published by US National Library of Medicine National Institutes of Health looks at evidence from crime data in four countries (USA, Denmark, Sweden and (then) West Germany) where pornography is easily available to "discard the hypothesis that pornography causes rape."
The website also looks at whether sexual crimes in India are influenced by pornography and finds (study by Suresh Bada Math, Biju Viswanath, Ami Sebastian Maroky, Naveen C Kumar, Anish V Cherian and Maria Christine Nirmala) that "that easy access to pornography did not have a significant impact on rape rates and crime rate against women."
When it was pointed out to Faesal that such an expansive claim on the link between those factors (such as pornography) and rape is unsupported by data, the Fulbright scholar presented one case of a 22-year-old porn addict from Gujarat arrested for raping his mother as "evidence" to support his hypothesis.
The methodology of presenting an incident (or even a few) as conclusive evidence of a general trend is dubious, and instead of a serious proposition (or a sarcastic dig at rape culture, as he claims), it reflects his fact-free confirmation bias. It also sets a dangerous precedent. If a civil servant in a position of power receives no flak for floating such flaky theories on public platforms, then it could end up encouraging such practices with disastrous results.
What Faesal's tweet does is feed the dubious narrative about India being the "most dangerous country for women", as a recent poll by Thomson Reuters Foundation seems to have found. That poll has received large-scale criticism for basing its findings on "opinion" and "perception" instead of hard facts.
BBC, for instance, quotes the foundation's head to point out that 41 of the "experts" were Indian but "there is no clarity about the nationality of the other experts and how widely other countries were represented." Sanjay Kumar, director of the Centre for the Study of Developing Societies (CSDS), told BBC that the "lack of transparency" is "extremely worrying", according to the report.
A list of top 10 countries with the maximum number of sexual crimes places India on the fifth spot with South Africa, the US, UK and Sweden featuring in top 4. Not a proud list for India and a matter of deep concern, surely, but quite far removed from Faesal's narrative.
Faesal is a repeat offender when it comes to pushing the scales. His sophistry further comes to light in the way he tries to drive a difference between expressing an opinion on public issues and criticising government policy. He claims to have been careful in never criticising the latter.
"Just being a government employee doesn't mean that he or she remains cut off from the public discourse. And, I believe, I have exercised my right to free speech with appropriate caution. For example, in keeping with the norms I have never criticised a government policy," he told News18 in an interview.
Faesal should know better. On Tuesday (10 July, 2018), he posted a tweet referring to Elon Musk's post on Thai rescue mission, suggesting that the American entrepreneur should next turn his attention to Kashmir to "save humanity".
This is what can happen if the world comes together to save humanity. Next assignment for @elonmusk should be Kashmir. https://t.co/qQFv8kWue2

— Shah Faesal (@shahfaesal) July 10, 2018
This can be construed as a criticism of the government's policy because India has a consistent, stated position of not accepting mediation from any third party on Kashmir, which it construes to be an internal issue and a bilateral problem to be solved in accord with the 1972 Shimla Agreement. Faesal's post amounts to a civil servant calling for external intervention on Kashmir.
Instead of drawing a salary from the Government of India and criticising its policy on public forums, the IAS officer should either work with the government in remedying the areas where he thinks attention is needed, or tender his resignation and take up the cause. Faesal has instead sought to play the victim and seek public attention to deflect criticism.
Subscribe to Moneycontrol Pro at ₹499 for the first year. Use code PRO499. Limited period offer. *T&C apply
India
A significant thing about the delegation is the inclusion of OIC member states who had previously been critical of the government's Kashmir policy and the decision to abrogate Article 370
India
The explosive device was found on the roadside at Manjakote on Jammu-Poonch highway and was subsequently destroyed by the Indian Army's Bomb Disposal Squad (BDS)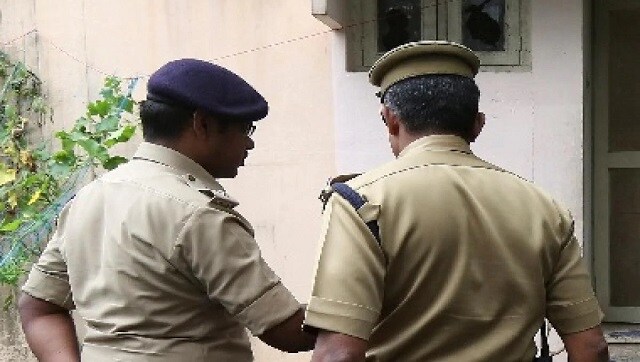 India
The attack came on a day when envoys from several European Union countries and Organisation of Islamic Countries' members began a two-day visit to Jammu and Kashmir