Sexual harassment debate rages, but little help for women employed in unorganised sector
Women working in the unorganised sector need as much protection from sexual harassment as their sisters who work in established organisations | #FWeekend
Recently the Madras High Court heard a Public Interest Litigation filed by R Karuppusamy of Sathyamangalam in Erode district of Tamil Nadu. Using information he got through RTI, he sought redressal for women who were sexually harassed in factories, spinning mills and other similar establishments in his state.  These, he said, were women who had no hope of getting redressal because their establishments had no Internal Complaints Committees (ICC) even though it was mandated by law.
He also pointed out that even the Local Complaints Committees (LCC) were missing.  The LCCs are district level statutory bodies which are supposed to deal with sexual harassment complaints in private establishments with less than 10 employees. He wanted the court to also direct the government to register and monitor all hostels run for girls and working women in the State in accordance with the Tamil Nadu Hostels and Homes for Women and Children (Regulation) Act of 2014.
In his affidavit, Karuppusamy narrated the stories of a couple of girls who had escaped from the workplaces where they were routinely raped and tortured by their bosses. They had been left as bonded labour in the factories by their families who were lured by a "sumangali" scheme offered by these establishments. According to this scheme, a family was promised an attractive sum which could be used for the girl's marriage on condition that the girl (who was usually around 12 to 15 years old) worked in the establishment for three years. One of the girls, who was 15 when she escaped, spoke of being locked in a room and routinely abused by multiple men. The other one, who was just 12 when she was left at the mill, was not only abused by many men, but also made to undergo abortions a couple of times... and all before she even turned 15.
After hearing the petitioner, the Madras High Court responded by directing the collectors of all 32 districts in the state to file individual reports within four weeks on steps taken by them to constitute the Local Complaints Committee (LCC).  The case was posted for further hearing in December.
Some years ago, I went to an area just 50 km away from the IT city of Bengaluru where there were a number of silk yarn twisting units. It was a strange and unnerving experience. In the entire area consisting of 338 villages of varying sizes, I could not spot a single child playing on the streets. Nor did I see any schoolchildren. The reason was simple: All the children had been rounded up to work in the factories. Their small and nimble fingers were essential for handling the delicate silk yarn. The woman from an NGO which worked in the area told me that buses picked up the children from their houses at 6.30 am and dropped them back at 9 pm. They had no childhood and none went to school.
But where were the factories?  I could not see any.
That's when I learnt the secret. Since child labour was illegal and the unregistered factories were wary of sudden inspections, the owners locked the children up into stuffy, airless sheds where even the windows were covered with plastic. No outsider could ever make out a factory. But my guide taught me how to recognise one. A factory, she said would have three big power cables going in, the windows would be sealed and there would be loud cinema music blaring.
Music? Yes, she nodded.
The music served two purposes. It drowned out the loud sound of the machines inside the shed and it prevented the tired children from falling asleep over their dull and routine jobs. And suddenly I realised I was surrounded by the secret factories. Music blared out of a mud hut with rolling shutters. That house opposite the mosque had three thick cables running into it. That house which looked like someone's home had menacing guards around it.
II couldn't get into any of them as they were all guarded by tough looking men. After a lot of patient waiting, I was finally able to sneak into an unguarded factory and talk to the "workers"…mostly women and girl children. They were wary, cagey… they didn't want to lose their jobs.  For most, it was the only life they knew. Their mothers and sisters and even brothers had worked in similar units before them. They worked as bonded labour because their parents had borrowed heavily from the owners. They could not escape.
The lady from the NGO discreetly pointed to a young boy and girl. They were from a different village she whispered to me and they stayed in a room attached to the factory. She was certain they were being sexually abused by the factory manager and there was nothing she could do.
It is not as if these "factory" owners did not know the law. They knew the law full well and had taken the utmost precaution to avoid getting caught. Why would such establishments even bother about complaint committees?
In my long stint as a journalist, I have met many women and girls from small business establishments, garment factories, tea estates, mills, cracker factories, cashew processing units, fish processing units and many other institutions which somehow seem to fall below the radar.  For many of these women, sexual and physical harassment is routine and something which has to be tolerated if they need to hold on to their jobs.
They have no lists warning them of predators. Just the whisper networks. Even if there were lists, they wouldn't be able to read them. They have no knowledge of their rights. They just know who they should try to avoid. They have no committees to whom they can complain. They try to protect each other. They are wary about patriarchal trade unions often dominated by their own aggressors. They prefer to share and support each other through their own informal friend groups. They have learnt over generations to be submissive and to put up with the insults, the physical punishments and the crude manhandling and sexual assaults because they know no other life or any other way of earning a livelihood.
These are working women who need as much protection as their sisters who work in established organisations. But, they are in a way wrapped in their own cocoons. They are totally unaware of the international outrage over sexual assault by 'five-star predators'. For the woman on the factory floor, the immediate now is important…how can she avoid getting her breasts squeezed by a lecherous manager or inch past the overseer without getting pawed? For the little girl locked into her hostel room, the nightmare of repeated assault is her preoccupation and her dreams are of escape.
We have good legislation, but of what use is it if the law is not implemented? When even established institutions do not have working ICCs, what chance do these women have of ever getting a committee which will address their problems?
Fashion & Trends
There have been many instances of titles being taken away from former beauty pageant winners when their actions did not fall in line with the beliefs of the organisation that felicitated them.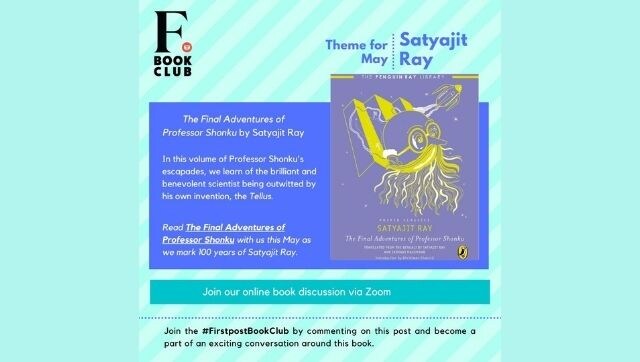 Arts & Culture
The Firstpost Book Club read Satyajit Ray's The Final Adventures of Professor Shonku in May.
Arts & Culture
These include six bronze or stone sculptures, a painted scroll, a brass processional stand, and six photographs. The entire collection is worth around $2.2 million (approximately Rs 16.34 crore).