#SeditionDebate: Kanhaiya Kumar and Rohith Vemula are proof that some good has come out of Indian education
Something good has been happening in India and it has to do with Rohith Vemula and Kanhaiya Kumar. Yes, good. Education in India, it seems, is working.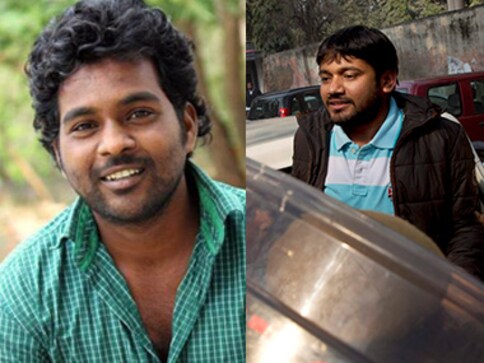 Something good has been happening in India and it has to do with Rohith Vemula and Kanhaiya Kumar. Yes, good. Education in India, it seems, is working. Not just in elite institutions in the metros but in ordinary, ill-equipped, under-staffed, prejudice-ridden schools and colleges in villages and small towns of India too.
If the purpose of education is not just to help one make a living but to hone language skills, inculcate critical thinking, creativity and the ability to make connections with disparate events and ideas, develop a sense of social responsibility and make good citizens, then Rohith and Kanhaiya show that our government-funded, much-derided schools and colleges are the way to go.
The mastery over language displayed in Rohith's suicide note and Kanhaiya's speeches is quite spectacular. Kanhaiya's oratorical skills made him president of Jawaharlal Nehru University's student's union. According to a report in DNA, "It was Kanhaiya's rousing speech that drove AISF ahead of the powerful AISA, making him the first ever JNU president from the CPI's student wing. The ABVP, according to many of Kanhaiya's friends, was out of the race the moment Kanhaiya was done with his first sentence." He combined sense of humour, anger at injustice and poetry (he loved to quote his favourite poet Dushyant Kumar: "Kaun Kehata Hai Aasman Mein Suraakh Nahi Ho Sakta, Ek Patthar Toh Tabiyat Se Uchalo Yaaro") to come up with a potent mix. He was, according to friends, "always good at debates, even in college".
That would mean College of Commerce affiliated to Magadh University, where Kanhaiya went from RKC High School in Barauni. We can glimpse his verbal skills, his ability to order his thoughts and marshal his arguments from the text of the speech he delivered on 10 February at JNU and from the non-fake video that has now surfaced where he is seen giving slogans that are not only foot-tappingly infectious but remarkable for the range of his vocabulary and his clear awareness of what he is talking about.
Rohith from Guntur district wanted to be an author, a science writer like Carl Sagan. It was not an empty dream. His suicide note is spectacularly poetic. As IIT Delhi professor and critical theorist Rukmini Bhaya Nair has commented, "Rohith Vemula's suicide note is remarkable because it embraces immortality at the very moment when death grips. This immortality consists in his having produced a document of unusual beauty and universal longing that is bound to become a classic in the literature of caste oppression and violence – for the paradoxical reason that it goes well beyond caste."
He faced horrendous social discrimination, he suffered extreme economic deprivation, yet Rohith learnt to express deep distress and disillusionment with words that can leave no reader unmoved. "I loved Science, Stars, Nature, but then I loved people without knowing that people have long since divorced from nature. Our feelings are second handed. Our love is constructed. Our beliefs coloured. Our originality valid through artificial art. It has become truly difficult to love without getting hurt." There are several such paragraphs that not only bring a lump to your throat but make you marvel at the teachers and professors, poorly paid, with little recognition and little hope of reward, who lit this fire.
With an illiterate population of 287 million, the world's largest, singing paeans to our education system may sound ridiculous. And no one is claiming it is perfect. Everyone is quick to point that out too, not least our President who loves to bemoan our "falling standards of education" whenever he makes a school or college visit. At a programme at a private university in Delhi (technically Greater Noida) last month, President Pranab Mukherjee commended the proliferation of the private sector in education that "has led to greater access", going on to add that if "declining standards" in our system as a whole are not "reversed quickly" then "we will land ourselves in a scenario of having a large number of people with degrees but not enough manpower with proficiency to meet the emerging requirement of our industrial and other sectors."

Maybe that is what he had to say. Going by her rap on the knuckles of university vice-chancellors this week, her repeated harping on he who pays the piper calls the tune theme since occupying the HRD minister's chair, it is clear that Smriti Irani, her bosses and their admirers believe that making money is the primary objective of any education. No wonder the demand for JNU students to shut up and study as they are being paid by us, i.e. taxpayers, the suggestion that the smartest way for the government to tackle the JNU kerfuffle would have been to starve the university of funds.
They would happily delegate this task to the private sector but then there is the long-term objective of the BJP too: brainwashing young minds, shaping future citizens and moulding them in its own image. Hence the government's no-holds-barred bid to control our centres of learning. Even then, the docile students coming out of the assembly lines of these saffronised institutes are supposed to go straight into the business of wealth creation, the greatest contribution they can make to nation building.
Confined to his bed since 2013 when the left side of his body was paralysed, Kanhaiya's 65-year-old father, Jaishankar Singh, also believes in the power of education, "I could study only up to Class X but I ensured my children received good education. Education is the biggest capital for poor people like us," he told the Indian Express. And, despite all its failings, good education it was. It taught his son values, it taught him compassion, it taught him to think coherently and express his thoughts effectively. It taught him the power of words.
Rohith and Kanhaiya have made headlines for wrong, tragic reasons. Nevertheless we can take solace from the fact that there are many others like them out there, products of a creaky education system that could certainly do with vast improvements but have nonetheless given us remarkable citizens with a deep love for their motherland. Men and women who can dream dreams, ask for more. That is what the BJP can't stomach. That is what the BJP wants to dismantle and replace with bootcamps that will produce Hindu robots for a resurgent India. That is what we cannot let happen.
India
In its significant order on the law that has been under intense public scrutiny, a bench headed by Chief Justice NV Ramana said there was a need to balance the interest of civil liberties and interests of citizens with that of the State
India
A right balance between sovereignty and integrity of India and freedom of speech and expression of citizens should be attempted
Politics
As the Supreme Court put on hold the application of sedition law, Rijiju invoked 'Lakshman Rekha' guiding different institutions, including the Executive and the Judiciary, and said no one should cross their 'boundary'