Sedition charge is silly but Amnesty's moth-eaten credibility has taken further beating
In trying to fish in political waters, Amnesty risks sullying its image further. A rights organisation's moral weight depends on whether its integrity is unimpeachable. Amnesty's is up for questioning.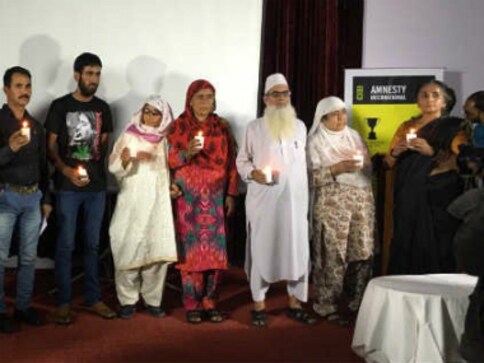 The row over the sedition charge — a colonial legacy that needs to be scrapped without delay — has taken away from the core questions surrounding Amnesty International India's programme on Independence Day where it sought to flag the Indian state's human rights violations in Kashmir. This was the first part of a multi-city event designed to draw attention to New Delhi's alleged excesses in the strife-torn region.
Unfortunately, by first slapping sedition charges and then getting its knickers in a right royal twist over it, the Congress has muddied the debate. There can be no argument over the criminality of raising slogans. Sedition charges against Amnesty India are baseless and stupid. Period. And belated Congress efforts to blame the students affiliated to ABVP for sedition charges are laughable. Complainants do not decide on FIR sections.
But there's a larger debate over politics, ethics and credibility. Slogans are not raised in a vacuum, nor are these without context. Amnesty India's efforts to politicise the Kashmir issue by organising events on it comes at a time when we are in the middle of a ferocious proxy and propaganda war launched by Pakistan over Kashmir. Lives are being lost daily without any sign of abatement in violence.
Amnesty India's claim of plausible deniability, that it cannot be held responsible for what happens in an event organised by it rings hollow. Its subsequent explanation that "as a matter of policy (it) does not take any position in favour of or against demands for self-determination" is self-contradictory. Over the years, it has shown remarkable inconsistency in choosing cases of human rights abuse and has been repeatedly accused of harbouring moral ambiguity towards terrorists and their organisations.
Watchdogs such as Amnesty should be Caesar's wife. The weightiest human rights institution, which was founded in 1961 and has since grown in scope and reach, has once too often waded into the quicksand of moral quagmire to be counted among a bona fide human rights institution. Its credibility is at an all-time low and its authority to lecture nation-states stands considerably eroded.
Amnesty's shtick is that it is a non-partisan institution. Its entire moral legitimacy stems from that premise. Was it innocent to the response such an event with blatant political overtones might trigger especially at a time when India is battling a secessionist struggle fuelled by an aggressive neighbouring country that uses terrorism as state policy?
While Amnesty is well within its rights to flag reports of excesses by Indian security forces in Kashmir, the Bengaluru event went much beyond that. There was a talk show, video screening, theatre performance and even a performance by a Kashmiri hip-hop artiste.
The artiste Roushan Illahi, who goes by the name of MC Kash, told The Hindu that he was supposed to sing five songs all pertaining to the conflict at the "land of bloody crackdowns". The cutting short of his second song (as the police insisted the mikes be switched off) led to the crowd of young Kashmiris shouting pro-Kashmir Independence slogans.
On Tuesday, three days after the controversial event, Bengaluru Police Commissioner NS Megharikh confirmed to news agency IANS that 'Azadi' (freedom) slogans were raised at the "cultural programme" Amnesty International India had organised on alleged human rights violations in Jammu and Kashmir.
Though Amnesty has claimed that "police were invited", Megharikh clarified that police permission "was neither sought nor given, as the event was an indoor function at United Theological College in the city on August 13." Some cops were, however, deployed as the programme was brought to the notice of the local police station.
It sounds exceedingly hollow when Amnesty India head Aakar Patel claims that they were "merely organising an event to defend Constitutional values" to define a cultural show which showcased theatre performance, rap artiste singing provocative songs among a volatile mix of Kashmiri Pandits and some pro-azaadi Kashmiri students.
For decades, Amnesty's reputation has been based on rigorous collection of evidences and reports of rights abuses, not headline-hunting stunts of the kind we saw in Bengaluru. It may be argued that the event was designed not to discuss threadbare its 2015 report "Denied: Failures in accountability for human rights violations by security force personnel in Jammu and Kashmir" which was surely based on in-depth research, but to stoke political fire when the Kashmir iron is hot as hell.
It sounds even more ridiculous when Amnesty tries to wash its hands off any controversy by saying its employees were "not involved in sloganeering". That may well be true but as organisers, it cannot escape culpability when those present at the event raise secessionist slogans. If Amnesty professes to defend "Constitutional values", then it should also be aware of the Constitution's position on India's territorial integrity. If, as a matter of policy, it "doesn't take sides on self-determination" then it should have protected the sanctity of the event by asking the students to cease and desist and if they do not listen, ask the police to escort sloganeers out of the room.
Amnesty will fool no one if, in this case, it seeks to hide behind the cloak of "freedom of speech and expression". In the wake of Charlie Hebdo killings, it held that freedom of expression "is not absolute and it may be subject to certain restrictions…"
Patel, executive director of its India chapter, had written in a Livemint column in 2012, Learnt in Godhra, forgotten in Jaipur that "the critical learning was that freedom of speech in India must be regulated" in the context of the Salman Rushdie affair in Jaipur. Elsewhere in the column, he wrote: "The damage is done by a Hindi-medium world view. Trying to fight it with English-medium tools will end in frustration. This is why a debate about free speech here has no meaning. All these things dissolve to nothing in the knowledge that a real price is extracted for this freedom. The men who read Rushdie aloud in Jaipur and fled after lighting the fuse were neither brave nor considerate. Such deliberate mischief has consequences."
There is also the point to be noted that we are talking about an organisation that issues nuanced, careful statements like "in the absence of further clarification from the US authorities, the killing of Osama bin Laden would appear to have been unlawful," to address an American covert operation deep into Pakistan territory (keeping the host nation in dark) to take out bin Laden, and issues strong condemnation at the way India handled 26/11 terrorist Ajmal Kasab's death penalty that followed an inscrutable legal process.
Condemning Kasab's death penalty, Shashikumar Velath, Director-Programmes, Amnesty International India, had questioned the "unusual speed" with which his mercy petition was rejected and also the secrecy surrounding the execution at the Yerawada prison in Pune. If this is not an example of dual yardsticks, what is?
Finally, Amnesty's dalliances with groups soft on terror and its alleged links with globally infamous terrorists such as Jihadi John are well-documented and rob the agency of its halo.
Its links with Cage (formerly Cageprisoners) — a British Islamist outfit which reportedly had "warm relations" with Jihadi John of ISIS — led to considerable squirming and eventual falling out of Gita Sahgal, one its top guns. Jihadi John (real name Mohammed Emwazi, a British citizen) was a particularly revolting specimen of the Islamic State who beheaded at least five Western hostages in Syria before being killed via a drone strike.
"Far from being a genuine human-rights group", Sahgal told The Economist, Cage is "completely poisonous", promoting an ideology that mocks the values of tolerance, especially towards women. "Immense damage has been done to Amnesty," she said, "not least because they won't come clean about their association with Cage."
Sahgal, former head of Amnesty International's gender unit and daughter of Nayantara Sahgal, was finally sacked for criticising her organisation's close ties to Moazzam Begg, a British former detainee of the Americans in Afghanistan and then in Guantánamo, and a director of Cage.
She told The Times of India that it is typical of Amnesty to claim to be neutral on "the right to self-determination" while giving more space to people who give it political support. "As far as I know, they (Amnesty) have never examined the full range of violations by both the state and the non- state actors. They have never looked at cross-border infiltration or the support to Kashmiri jihadi groups in Britain, including by their hero Begg, whose bookshop published jihadi literature by a man called Dhiren Barot, glorifying the Kashmir jihad in the 90s as a means of establishing an Islamic state," Sahgal revealed. She added: "Amnesty's history on Palestine is similar; it gives space to Hamas supporters rather than secular and human rights voices from Palestine."
According to the report, Sahgal condemned the sedition charges but also slammed the NGO for its continuing support to Kashmiri terror groups. She called on Amnesty and other human rights NGOs "to live up to the standards they demand of others: be transparent, accountable and impartial".
In trying to fish in political waters, Amnesty risks sullying its image further. A rights organisation's moral weight depends on whether its integrity is unimpeachable. Amnesty's is up for questioning.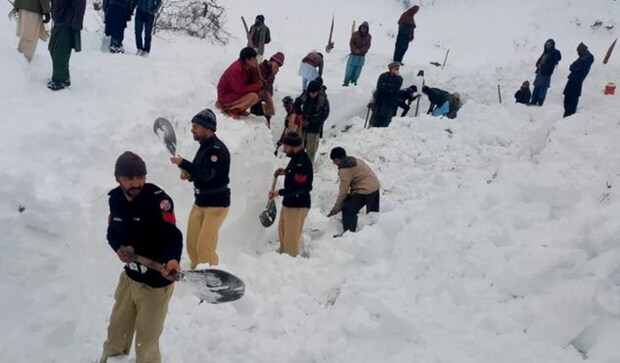 World
A sudden fall in temperature has severely affected people, already hit hard by poverty, and lack of food and fuel, in the trouble-torn country
World
The lashings were the latest example of harsh policies inspired by Islamic law or Sharia imposed by the Taliban after they captured Kabul and started controlling most of Afghanistan following the withdrawal of NATO forces led by the US in August 2021
World
The TTP, also known as the Pakistan Taliban, is believed to have close links to the al-Qaeda terror group. Set up as an umbrella group of several militant outfits in 2007, its main aim is to impose its strict brand of Islam across Pakistan