Sabarimala protests: People from weak sections of society being manipulated to spread violence, says Dalit activist
Sasidharan talks about the violent right wing mob protests at Nilakkal and Pamba in the name of protecting Sabarimala.
Mrudula Devi Sasidharan is a Kerala-based Dalit activist and journalist. When the protests against the Supreme Court's verdict granting entry to women of all ages to the Sabarimala temple began to get intensified, Sasidharan had warned people not to join the protesters because they were propagating the ideals of Hindutva.
She was then abused and trolled on social media because of her statement. On Wednesday, the protests against the apex court's verdict turned violent.
Sasidharan talks about the violent right wing mob protests at Nilakkal and Pamba in the name of protecting Sabarimala and the violence female journalists, who went to cover these protests, had to face:
These hate protests by orthodox devotees are raging right now. You had made a statement asking Dalits not to join these protests. Rahul Easwar and Pratheesh Viswanath are the main organisers of the protests. How do you look at the violent environment they are creating and how do you think this will affect the country?
I had been keenly watching these protests on the streets. This is a new form of protest called 'namajapa ghoshayatra', projected as a kind of Gandhian protest method. This looks very peaceful but it is not. It misguides people by making them feel it is very peaceful. People claimed to come to the streets in the name of devotion. But in fact, these leaders created no devotion, but fear.
I had been opposing this since the beginning of these protests. Because I knew that it is not in the name of any faith or devotion. It is for the janeu politicians to save their janeu politics. I could foresee that they will use the Dalits, Adivasis, the backward people for this. That is why I opposed it. My assumption has been proven right. Ayyappa devotees all around the world funded these protests. Sabarimala has a history of cheating people. They earned crores by saying that Makarajyothi gets lit by itself on a particular day during Mandalakalam.
This 'myth' was busted very recently. The digital technology grew, digital cameras became popular, forests receded. They realised that people will understand Makarajyothi is man-made, so the Devaswom board became dramatic. They made a statement that Makarajyothi is lit by the temple authorities. They have a history of propagating such lies.
You can't see the women who come and argue on channel discussions here on the streets. These women won't sing or outrage on the streets. These women won't block the roads. It was an Adivasi woman who put a death knot on her neck. The so-called upper caste privileged women will not come forward to hang to death. The women who have no food, no earning, no land to stand, Adivasi women who had protested for some land of their own are now made to die for Lord Ayyappa.
Rahul Easwar has turned out to be the wholesaler of faith. Pratheesh Viswanath claims to be the saviour of Sanatana Dharma. This creates anarchy on a global level. It will affect the Indian economy itself. When people in large numbers come on to the streets protesting, they are not engaging in the production process. Kerala is losing crores that way. The post-flood Kerala economy is especially broken. Kerala is struggling hard to get back to normalcy. This is not for the development of the country.
Why did such a sudden protest arise in Nilakkal?
Adivasis in localities around Sabarimala Sannidhanam and Pamba had been very loyal to the tantric family for a long time. Earlier, their ignorance was exploited in the name of faith. They just used this loyalty. The adivasis are still mentally enslaved and the orthodox Hindu protesters used this fact. Though the modern ideas of emancipation have been spread all over Kerala, the ideals of Hindutva have also been spread.
Around four women in Kerala made it public that they are going to visit Sabarimala. These women were not ensured any kind of security. Isn't that alarming?
I am so sad to say that the police system is not functioning in a democratic way. We have seen how police suppressed the Dalit self-respect convention at Choondi, Vadayampady during the protest against a caste wall built by NSS. Even the media persons were abused. All the protesters were detained within five minutes. That incident is in my mind. We Dalit women were abused by the police. A Dalit policeman was sent to the protest site to demolish the protest tent. He asked the protesters why they were angry when he was not enraged. They were using a Dalit to do this.
But here, in case of Sabarimala, I was exasperated to see police inaction. Why didn't the police approach these protesters the same way they approached us? I think social media intervened to make the inactive police force active. Kerala Police's Facebook page was continuously mentioned in posts regarding police inaction. Rahul Easwar faced a major setback. People realised Rahul Easwar's goals were not just limited to faith. Drunken protesters were arrested at midnight. The protest tent in Nilakkal was destroyed. Leaders like Shobha Surendran passed undemocratic comments regarding this. The Adivasi woman who tried to commit suicide was arrested.
Since I trust in government and democracy, I believe those women should get justice. If not, we must believe that we have walked backward to an inhumane, undemocratic and misogynistic world.
In India, Dalit-Bahujan-Adivasi minorities had been used as a tool for most of the communal aggressions. I stress upon this point because I work among the minority communities. They were used for the demolition of Babri Masjid. Adivasis were also used as Karsevaks. That is the truth. During the Muzaffarnagar communal attack, they used Dalits to kill Muslims. Ashok Mochi, the young Dalit man who participated in the Gujarat genocide, later turned into an Ambedkarite. We listened to him.
Imbibing venomous energy from Rahul Easwar who currently appears on TV channel discussions, common people — who struggle to live — and a community which I am a part of, got on the streets. This is my concern. I think we must work more to resist these attempts. There are changes, but in Kerala, Rahul Easwar and his team could spread communal venom. I must say Kerala renaissance is just a smoke screen. Kerala has turned out to be an intense communal spot.
Four female journalists were attacked at Nilakkal. As a journalist, how do you respond to this?
In a civilised society, attacking a woman is not right. I wonder why this is happening in Kerala. Sanatana Dharma asks its followers to respect women. But they attacked women journalists. They blocked the roads to check whether women are in vehicles. They used women to check vehicles. Till yesterday, we saw women being used to threaten women. Even women who traveled through the area were threatened.
Later, men took over. They were breaking the windows of a reporter's car. Female reporters from national media houses were attacked. They were hospitalised. We can get to know about things objectively only if there is media. The current world runs on technology. If they pause for five minutes, drastic changes may occur in Kerala, we can't even know. In such a context, these women reporters put their life at stake.
These women did not intend to enter the temple. They had identity cards as well. Reporters like Pooja Prasanna were completely blocked on their way. Police was inactive.
Reporters are not doing a 10-5 job. They are not doing an indoor job. They have to deal with violent situations, aggression, etc and report events.
Media persons were denied their basic labour rights. Labour rights and safe working environment are not provided to media persons, especially female journalists.
The attackers are propagators of the Arsha Bharatha culture. They had warned that if things go 'wrong', they will turn violent. That is an absolutely undemocratic statement.
A group of people thinks that striving to sustain certain rituals means reinstating Hindu dharma itself. They say that because gods like Rama used weapons, they will also take weapons and resort to violence.
If there is no police, I think people will get killed too.
India
The now-blocked BBC documentary on PM Narendra Modi, 'India: The Modi Question', has caused high drama across the country. Congress's Anil K Antony, son of AK Antony, quit the party over the movie. Students across colleges such as JNU, University of Hyderabad, have defied the Centre's diktat on it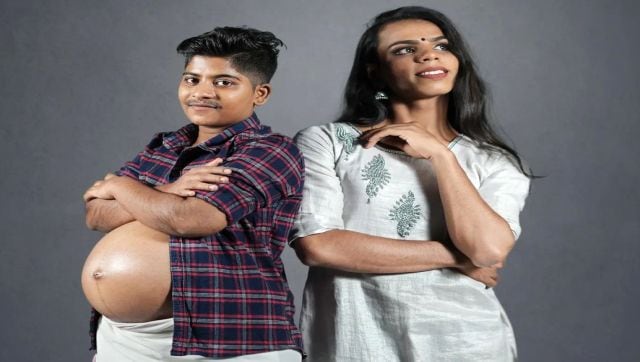 India
Trans couple Ziya Paval and Zahad made news for announcing their pregnancy on Instagram. Zahad, who was assigned female at birth and now identifies as male, is carrying their baby after he stopped his transition procedure. Doctors explain that any person with ovaries and uterus can get pregnant
Football
This was Kerala's seventh win at home that put them four points clear of FC Goa and ATK Mohun Bagan at third place in the table.