Ruby Rai & Saurabh Shrestha are victims of the system; the real problem lies elsewhere
The arrest of Ruby Rai and Saurabh Shrestha in the context of the 'toppers' scam is like throwing the baby out and retaining the bathwater.
In 1992, the Uttar Pradesh government headed by Kalyan Singh enacted an 'anti-copying' law which aimed at stopping mass copying in school and university examination, which was prevalent in the state. The new Act made the use of unfair means in examinations a cognisable offence. When Mulayam Singh Yadav of the Samajwadi Party came to power in 1993, he repealed the law. Students rejoiced and raised cheers for the new government.
While the effectiveness of dealing with the erring students using a stern law was debated, doing away with the law criminalising cheating, was guided more by political considerations rather than the interests of students. The majority of intermediate students were voters and constituted a major vote bank. Upsetting them would not have helped the new government in any manner.
While over the years some efforts have been made to stop mass cheating in the state, the fact remains that a lot depends upon political dispensation.
A senior bureaucrat who had served in Uttar Pradesh said, "During the Samajwadi Party rule, you will see that there is a sudden rise in the pass parentage of the students, with majority of them getting first division marks. But then, it is preceded by large-scale cheating in the exams. On the other hand, I have seen that cheating in board exams declines considerably during the BSP government, which, at least in this respect, refrains from indulging in politics".
In February this year, more than 70 students and teachers in Mathura district of Uttar Pradesh were booked for cheating in the board exam. The imagery was in many ways similar to the picture that went viral last year in March, in which family members and friends were shown climbing the wall of Vidya Niketan School in Vaishali district in Bihar, to help students with answer chits.
On 25 June, Bihar's Class 12 "topper" in Arts Ruby Rai, who had said political science is all about cooking, was arrested after she appeared for a re-test at the Bihar School Examination Board (BSEB) and failed miserably. Following which she was sent to judicial custody.
Rai, along with the science topper Saurabh Shreshtha, came under severe criticism when they failed to answer the most basic questions from the subject in which they 'topped'. During a television interview while Rai pronounced political science as 'Prodikal Science' and said that the subject relates to the art of cooking, Shreshtha failed to correctly identify the most reactive element in the periodic table and in the re-test failed to answer what linked water and H2O.
Those who are acquainted with the functioning of state boards like Bihar and UP will not be shocked at the ignorance of the toppers. In Uttar Pradesh and Bihar, many students who pass with distinction every year, in state board exams, lack even minimum knowledge of their subjects. But then, the bigger questions remains as to who should be blamed for this sad state of affair.
Former Cabinet Secretary TSR Subramanian, who headed the committee which was entrusted with preparing a new education policy for India, says, "An important point that has been made is that these students (who are accused of cheating) were the last in the chain. They did not even know what is happening. The deals were done by their parents. And parents were also led by the vested interests. Unless you get to the root of the problem, which is much bigger and deeper, arresting these students will be of no use".
The story of the Bihar topper went viral to an extent that Foreignpolicy.com on Tuesday ran a story with a headline "Indian Student Jailed After Accidentally Revealing She Cheated on Live TV". In the article, while talking about 'many embarrassing ways that students in India have been caught cheating in school', it wrote about Ruby Rai, who 'made it through her entire exam without being caught exploiting the system.'
However, while quoting Upendra Kushwaha, minister of state for HRD, it stressed that that not everyone is thrilled with the students' public humiliation. According to Foreignpolicy.com Kushwaha had said that that if anyone is to be punished, it is those who allow the state's poor educational infrastructure to continue to suffer.
TSR Subramanian, further commenting on the issue, adds, "See, you have to understand one thing—it is not possible that that the people in charge of education in the state and district, like the district magistrate, the district education officer, the principal of the college and others, were not aware of what was going on there for all these years. They all knew about it, but let it happen. It was their duty to check this. By arresting the foot soldiers, not much can be changed. The fact is that such problems emanates from the complacency of those in power".
For proper functioning of schools, a strong and transparent management is must, which in states like Bihar and Uttar Pradesh, is absent. In this context, the report of the committee for evolution of the new education policy makes a very important observation. It reads, "A school-led governance system with an appropriate framework of autonomy with accountability needs to be put in place to enable the school system to respond to changing circumstances, and to initiate remedial action where required. Towards this, schools need to be evaluated, both internally and externally, based on an accepted framework of standards, to measure school quality, and help to develop the professional competency of the school management, the school head and teachers, in a manner which contributes to autonomy, self-appraisal and performance".
Further highlighting the problem of able leadership in the school the report states, "Till recently, most states did not have an independent position of Headmaster in primary schools; one of the teachers was given additional responsibility of Headmaster. While Government secondary schools did have the post of principal, many remained vacant for years due to delays in recruitment, litigation and administrative apathy. A lack of effective leadership in government schools has contributed to indiscipline among students and teachers and falling academic standards".
Subramanian in his report highlighted that there is "large scale corruption in appointments, transfers, approvals to affiliate and grant recognition of institutions, even going to the extent of manipulation of examination results." And to counter this, the report suggest that "the process of selection, promotion and transfer of teachers and principals need to be made transparent, on established principles"
The report states, "Political intervention from all levels is all-pervasive in selecting the location of institutions, approval of grant-in-aid status, selection of examination centres, and all senior appointments, and in many states from VC to college Principals to District Education Officers. Any functionary or close observer could give any number of examples from his own experience to substantiate this point".
In this context, the arrest of Ruby Rai and Saurabh Shrestha is like throwing the baby out and retaining the bathwater.
Find latest and upcoming tech gadgets online on Tech2 Gadgets. Get technology news, gadgets reviews & ratings. Popular gadgets including laptop, tablet and mobile specifications, features, prices, comparison.
Arts & Culture
We perpetuate the caste system by negating the existence of caste, trivialising the experience of people from marginalised castes, unseeing the absence of a large part of the country's population from institutions.
India
It was not just the fact that Koshyari chose to make an intervention, his manner of doing so was immeasurably crass and was a direct assault on constitutional values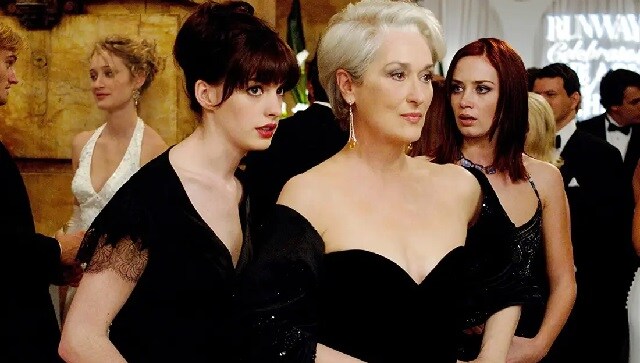 Entertainment
Despite having two women at its centre, The Devil Wears Prada ended up reaffirming and perpetuating harmful gender stereotypes for the most part.