RSS 'systematically capturing' institutions like Supreme Court, Election Commission, claims Rahul Gandhi
Rahul Gandhi alleged that the RSS' vision of India is that of a 'golden bird' which it views as a product.
New Delhi: Congress president Rahul Gandhi on Saturday alleged that institutions such as the Supreme Court and the Election Commission were being "systematically captured" by the RSS and said India cannot be run on one single idea.
There is a feeling among the people that one ideology is being imposed upon them, Rahul said at an interaction with academicians. "(RSS chief) Mohan Bhagwat in his earlier speeches has said, 'We are going to organise the nation'. Who is he to organise the nation? The nation will organise itself. In next couple of months, their fantasy will be smashed," he asserted.
During the interaction with eminent academicians from across the country at Siri Fort, Rahul said there are two visions of India and the Congress' vision is that India constitutes of people who live in it. The only way to understand India is talk to its people, he said.
Rahul alleged that the Rashtriya Swayamsevak Sangh's (RSS) vision of India is that of a "golden bird" which it views as a product. The product has to be monetised and utilised, and they will decide who will do this, the Congress chief said. "What we are fighting is the attempted capture of this 'golden bird' by the RSS. They have understood very clearly that electoral battle for them, they can win it once, but they can't repeatedly win it.
"They have understood that. So, now what they are doing is that they are saying elections will come and elections will go, let us capture all of India's institutions and let us capture the golden bird with a bypass surgery," he said.
The educational institutions, the Supreme Court (SC) and the Election Commission of India (ECI), all these are "systematically being captured", Rahul alleged. Citing an example, he alleged, "When Mr (Narendra) Modi came to power, a person from Gujarat was chosen to head the SPG. In a short time, he left the position. He told me that he refused a list of SPG officers handpicked by the RSS, and that is why he was sent home."
Rahul claimed that the reason behind this attack on institutions was that there were monetary benefits for the RSS. He cited the example of the Vyapam scam in Madhya Pradesh to allege that the BJP government there had taken "control" of the education system and then made money from it.
Rahul also took a jibe at Arun Jaitley, alleging that fugitive businessman Vijay Mallya had met the finance minister before leaving, but he did not act and facilitated his escape. The Congress chief also said that it was impossible for him to lead India, without having a "conversation with India". "The idea is, I should be a reflection of what is in your heart," he said.
Rahul told the professors that he knows that they were feeling the pressure and that an ideology was being imposed on them. "You feel that one syllabus has now suddenly become acceptable to every single institution in India and I want you to understand and realise that you are not alone when you are fighting this battle. "This sense, this feeling that you are getting is not only in your heart, it is in the heart of every single Indian person, it is in the heart of the farmers, it is in the heart of the labourers, it is in the heart of small and medium business," Rahul said.
A country of over a billion people cannot possibly be run on one single idea and the fact that people are allowed to express is the strength of the country, Rahul said. "Look at 3,000 years of India's history, we are going to win, we are not going to lose," Rahul asserted.
Attacking the government over its education policy, Rahul said government institutions should be given precedence over private institutions and the government should put money to strengthen them. "There has to be space for private institutions, but the guiding light, the foundation, the super structure has to be the public education system," he said.
"The quality private institutions must look towards government institutions and say look that is an IIT that is something we aspire to, it shouldn't be the other way round," he said, adding that the government has to put money into the system.
He also recalled that former US president Barack Obama had said the real competition for America was from the engineers, doctors and lawyers coming out of India. This was praise for the teachers of India, Rahul said.
The Congress chief asserted that when it comes to the Indian education system, two things are non-negotiable - teachers should be able to express and the they should be given a vision for their own future.
Rahul said the Congress was commencing its work in drafting a manifesto and invited teachers to form a delegation and come forward with their demands.
Politics
Prime Minister Narendra Modi on Sunday targeted Congress leader Rahul Gandhi for walking with Narmada Bachao Andolan activist Medha Patkar during the Bharat Jodo Yatra
India
Referring to Arun Goel's appointment, the Attorney General said his profile is important and not the voluntary retirement which is being made an issue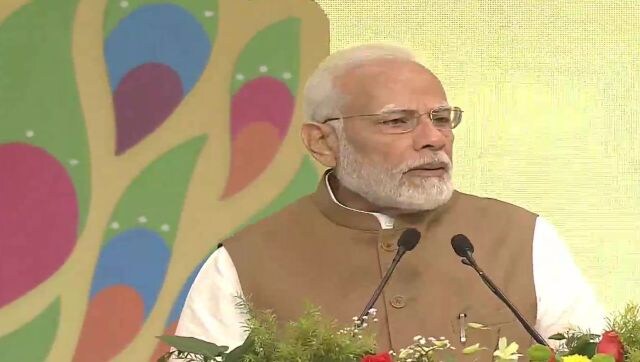 Politics
'In the past, the Congress had used words like 'neech aadmi', 'maut ka saudagar' and 'naali ka keeda' for me. I urge you to talk about development instead of playing this game of 'aukat', he said