RSS slams NYT, says article on deregistered Christian charity is an attempt to 'malign the Sangh'
The RSS has slammed The NYT for an article that shows the Sangh in a bad light, and connected the Right wing body with the Centre's decision of shutting down a Christian charity organisation in India
The Rashtriya Swayamsevak Sangh (RSS) has slammed The New York Times for an article that shows the Sangh in a bad light, and connected the Right wing body with the Narendra Modi-led central government's decision of shutting down a Christian charity organisation in India.
In an article titled 'Major Christian Charity Is Closing India Operations Amid a Crackdown', the NYT has written quoting Compassion International, "…they found themselves in murky back-channel negotiations with a representative of the Rashtriya Swayamsevak Sangh, or RSS, a Right wing Hindu ideological group that is closely connected with the governing Bharatiya Janata Party, or BJP, but that has no official role in governing."
"More than 11,000 non-governmental organisations have lost their licences to accept foreign funds since Prime Minister Narendra Modi took office in 2014. Major Western funders — among them George Soros' Open Society Foundations and the National Endowment for Democracy — have been barred from transferring funds without permission from Indian security officials," it further said.
The article filed with a New Delhi dateline mentions that one Washington-based representative of the RSS, Shekhar Tiwari, acted as an "interlocutor" in a back-channel negotiation between the Indian government and an umbrella organisation of Indian-American Christians.
Slamming the NYT article as a "baseless allegation", the All India Prachar Pramuk (media and publicity head) of RSS Manmohan Vaidya said, "Rashtriya Swayamsevak Sangh condemns the attempt of New York Times to malign the image of RSS."
Issuing an official note, Vaidya said, "The news published in New York Times on 7 March, 2017 regarding Compassion International's statement — 'back channel negotiation with RSS representative in Washington DC' is unfair and totally false. Rashtriya Swayamsevak Sangh works only in Bharat (India) and has no representative in any foreign country including USA. NYT never contacted the RSS in this regard. We condemn such an attempt by NYT to malign the image of RSS."
The New York Times in its report on 7 March wrote that Compassion International, a Colorado-based Christian charity, closed its operation after 48 years. "It is one among 11,000 non-governmental organisations who have lost their licences to accept foreign funds since Prime Minister Modi took office in 2014," the report said.
Quoting Compassion International's official sources, NYT writes that the organisation's executives came to know from an Indian newspaper report last year that their group had been added to the list of organisations whose transfers required prior permission by the Ministry of Home Affairs. "By summer, $600,000 in donations was stuck in an Indian bank account awaiting permission that did not come. In November, two of the group's main affiliates — in Chennai and Kolkata — were denied authorisation to use foreign funds," it said.
The newspaper further wrote that with an increasing sense of urgency, the CEO of Compassion International, Santiago Mellado was trying to find ways to reach to and plead its case with Indian officials. "But the only interlocutors they could find were through unofficial channels. In October, a Washington-based representative of the RSS, Shekhar Tiwari, reached out to John Prabhudoss, who heads an umbrella organisation of Indian-American Christians and has a long association with Compassion International and its leaders," it said.
"We are trying to navigate through understanding of the dynamics on the Indian side," he said. "We understand that the BJP and RSS are tied together somehow, so it seems to us that we also need to be talking to the RSS," NYT quoted Mellado as saying.
Quoting Indian officials, the paper said in a later article published on 9 March: "Indian officials say the charity's partners in the country had violated the law by engaging in religious activities despite being registered as a 'social, cultural, economic and cultural' organisation. They also say Compassion International had declined a government offer to re-register as a religious organisation, which would have allowed it to continue its work in India."
"India has long had a law regulating the use of foreign aid, but Modi's government has applied it more stringently than in the past, refusing to renew the registrations of more than 11,000 non-governmental groups, most of them small operations," the article added.
The paper further wrote, quoting Mark Toner, a spokesman for the State Department, "Washington would raise the issue with India, and urge New Delhi to work transparently and cooperatively in enforcing laws regulating foreign aid."
"Gopal Baglay, a spokesman for India's Ministry of External Affairs, responded hours later, calling the decision 'a matter of law enforcement, a matter pertaining to following the laid-down laws of the country'. Baglay also dismissed an account by the charity's executives saying that they had been approached in the United States by a representative of Rashtriya Swayamsevak Sangh, a right-wing Hindu organisation associated with the party of Prime Minister Narendra Modi, and had been offered leniency on the condition that they distribute donations through non-Christian service groups," the article added, quoting an Indian official.
What FCRA says?
The Foreign Contribution Regulation Act (FCRA) prohibits foreign donations for activities "detrimental to the national interest", including those that disturb religious harmony.
In December 2016, the Centre cancelled the FCRA licences of about 20,000 out of 33,000 NGOs after they were found to have allegedly violated various provisions of the Act, thus barring them from receiving any foreign funds.
Reacting to the government's crackdown on NGOs allegedly violating FCRA norms, Mathew Cherian, chairman of the Voluntary Association Network of India — the largest federation of NGOs in the country had reportedly said, "The quantum of funding for NGOs had dropped sharply from Rs 13,600 crore in 2013-14 to Rs 7,600 crore in 2014-15 . This decline could have a major impact on the employment of about 12.7 million people working in the 1.2 million NGOs."
Misleading headline
"The headline of the NYT's article itself is misleading for an outsider. What is the definition of a 'major Christian charity'? How many people in India have heard about Compassion International and its functioning? There are many Christian charity organisations working in various parts of the country and not all of them have faced a crackdown. If you go through the published article, you can find it is clearly a sponsored piece written on behalf of the said organisation," a senior RSS functionary told Firstpost.
India
The countrywide vaccination drive was rolled out on 16 January with healthcare workers getting inoculated in the first phase
India
As part of the celebrations, Union Health Minister Mansukh Mandaviya requested people to get themselves vaccinated and also help others to receive their jab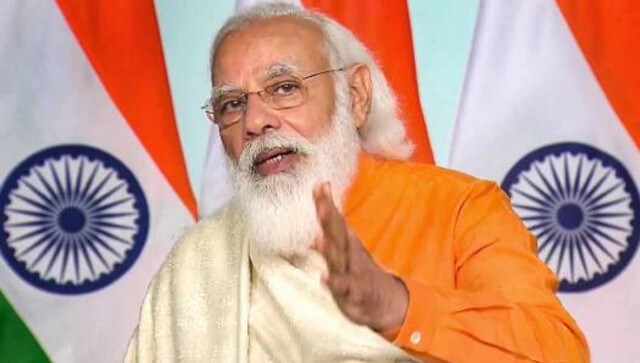 India
Huge celebrations have been planned for the occasion, with over 71,000 diyas to be lit at Varanasi's Bharat Mata temple