Rs 500, Rs 1,000 ban: Modi govt's intention fair, but failed those without bank accounts
The idea was to instill the banking habit among people by giving each households at least one bank account.
Sticking points in implementation of the Jan Dhan Yojna showed us how weak our banking sector is in dealing with such changes. And these points should have been factored in.
Usha Rani, 55, resident of Chilla Village in East Delhi is clueless as to how she would buy groceries for her evening meal. She, like lot of other women of her locality, who work as house help, prefers to keep a larger part of their savings with themselves and buy groceries and vegetables on daily basis.
Sadly, all her employers gave her Rs 1,000 and Rs 500 notes this month, which she is clueless about where to use.
Using debit card is still an 'unimaginable' thing for the likes of Usha, who do not know to read and write.
With the help of one of her employers, Usha deposits a regular sum in her bank account, but visiting a bank branch or an ATM to deposit or withdraw money is still a very rare thing for her.
For Usha, her old and rusted iron trunk is still her most accessible bank, and for millions like her.
In August 2014, Prime Minister Narendra Modi launched his very ambitious financial inclusion scheme Pradhan Mantri Jan Dhan Yojna (PMJDY). The idea was to instill the banking habit among people by giving each households at least one bank account.
As stated by the vision document of the PMJDY, the plan envisaged "universal access to banking facilities with at least one basic banking account for every household, financial literacy, access to credit, insurance and pension facility. In addition, the beneficiaries would get RuPay Debit card having inbuilt accident insurance cover of र 1 lakh".
In January 2015, in less that five months, 11.5 crore accounts were opened under Jan Dhan Yojana. The figure fetches the government a Guinness Book of World Records entry for opening the maximum number of bank accounts in the shortest possible time.
But along with this motivating figure was another that raised serious concern that was of non-operational or zero balance account. Out of total 11.5 crore accounts that were opened only 28 percent were operational.
At that time Finance Minister Arun Jaitley, while speaking on this issue of zero-balance accounts, had said that the direct benefit transfer will make sure that non-operational accounts are made operative in coming times.
That happened to a great extent. But that only made the accounts operational. That did not mean that banking habits were instilled among people at large.
As of now, under the scheme, 23.37 crore accounts were opened till 2 November. According to official statistics, 100 percent household coverage in majority of the states have been achieved.
Now consider this: According to official data 23.37 percent of the accounts are still having zero balance. When converted into numbers it runs into crores.
A report published in The Indian Express in September revealed how banks concerned about the huge number of non-operational accounts, were "quietly making one-rupee deposits, many from their own allowances, some from money kept aside for office maintenance. Their ostensible goal: to reduce the branch's tally of zero-balance accounts".
The report stated, "As many as 20 branch managers and officials told The Indian Express, on the condition that they not be identified, that there is 'pressure' on them to show that zero-balance accounts are falling in number."
In August 2014, Prime Minister Narendra Modi launched his very ambitious financial inclusion scheme Pradhan Mantri Jan Dhan Yojna (PMJDY). The idea was to instill the banking habit among people by giving each households at least one bank account.
During the field visit to different states to report about the implementation of the PMJDY in 2014 and 2015, it became evident that lack of financial literacy and appropriate banking infrastructure were some of the biggest sticking points.
The sudden launch of the PMJDY with a massive target of opening 7.5 crore accounts, which was later revised to 10 crore, left the banking infrastructure in lurch. Duplication of accounts, wrong seeding with Aadhaar for DBT, that followed the launch of the scheme highlighted the problems in banking infrastructure and lack of financial literacy.
Apart from the media glare of the national capital, in smaller towns and villages, people had to struggle to get their subsidy money. In many cases in Bihar, people were not regularly getting their DBT and LPG subsidy and intense apathy of the bank officials were evident.
In the entire PMJDY, it was complementary components of the plan (in-built accident insurance cover of Rs 1 lakh, and an overdraft facility of Rs 5,000) that motivated people to open accounts and not the fact that they were to become part of the formal banking structure.
And this is the reason a resentment is being slowly building among the people as they are clueless as to how to deal with the situation.
Former Reserve Bank of India (RBI) Governor Bimal Jalan while commenting upon government's decision said, "This is a very good move. Nobody can say that we should not do anything to tackle black money. It will have a clear impact on unaccounted transactions. The question now is of implementing it in a way that it does not cause any disruption in trade and daily transactions made by people. We have to see if we have the enough banking infrastructure in our country that can help the smooth implementation of this decision. Like in the rural areas people might face problem as there is still lots of cash transactions."
As highlighted by Jalan, formal banking and use of debit cards is still not a regular feat for millions of people living in rural and semi-urban areas. During the implementation of the PMJDY, it became evident that India's banking infrastructure was under immense constrain due to huge numbers of accounts that were to be opened under the scheme.
In this context, the government was supposed to have dealt this issue with some sincerity before launching the scheme.
The consequences of ignoring it are apparent. With a host of ATMs not working, banking staff grappling with insane amount of crowd and all sort of rumours doing rounds, the situation is becoming difficult.
In many cases, people when trying to exchange their Rs 500 and Rs 1,000 notes are forcefully given Rs 2,000 notes. For a person belonging to lower income group, buying vegetables for Rs 40 is becoming an impossible task. For someone like Ravi, who works as janitor at a private firm, it is like being "robbed of your ability to live in one stroke".
DK Singh, who works as caretaker of a hosing society in Delhi, says, "The problem is not that government has banned these notes. But the issue is that whether they made enough provisions to help customers replace it. Yesterday, after standing for three hours in the queue, I got one Rs 2,000 note. Do you think it is very easy to exchange it if you buy something even for Rs 500, when Rs 100 notes have suddenly become so scare?"
While there can be little doubt about the fair intention of the government behind the decision, the problem lies somewhere else. The problem lies in the inability of the government to aptly ascertain the capability of its banking structure, the extent of population which is still not part of formal banking structure and huge magnitude of cash transactions. If only government could have weighed in these factors and then acted, it would have been win-win situation for all honest stakeholders.
Business
This is the eighth time in a row that that status quo has been maintained
India
The 'annadata' narrative is slowly peeling off. Indians can now clearly see that beneath the costume of farmers exist many hardened criminals and anti-national elements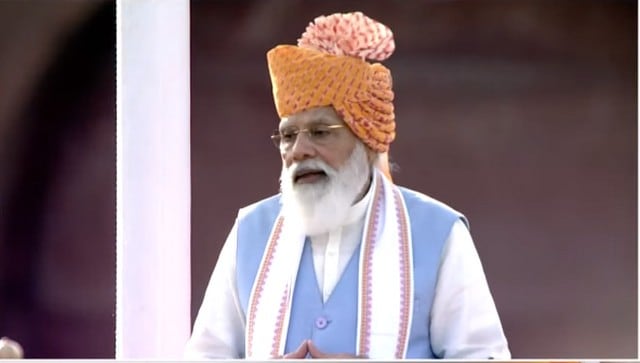 India
Responding to a question that opposition and critics term Modi an autocratic leader who takes all decisions on his own, Shah described the prime minister as a "democratic leader".