Roof over the head: How PM Modi's housing scheme for the poor is central to winning 2024
Free housing for the poor under Pradhan Mantri Awas Yojana has been a fundamental driver of the BJP's growth in the Hindi heartland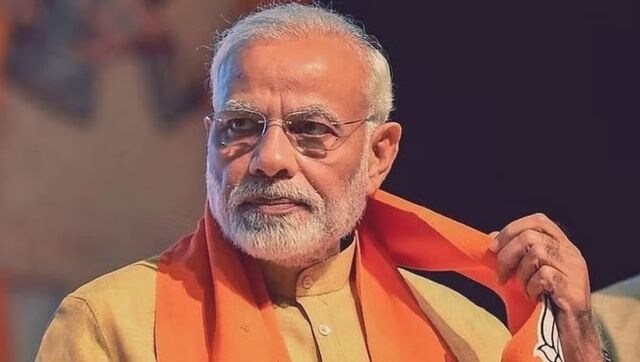 New Delhi: Soon after Finance Minister Nirmala Sitharaman announced a whopping 66 per cent hike in the Pradhan Mantri Awas Yojana (PMAY) to Rs 79,590 crore in the Union Budget, the most interesting political signal came from Lucknow. UP Chief Minister Yogi Adityanath publicly emphasised that the increased flow of funds would allow Uttar Pradesh to provide houses to all remaining beneficiaries of the scheme by 2024.
Free housing for the poor under this scheme has been a fundamental driver of the BJP's growth in the Hindi heartland, and Yogi's comments about "saturation" housing coverage by 2024 were a revealing indicator of the BJP's thinking on the political economy as India embarks on the road to 2024.
"In the last six years, UP has received 45.5 lakh houses under the scheme," Yogi said. "Recently, the state received 10 lakh new houses under the scheme and the budget has now provided for 4 lakh new beneficiaries who remained to get houses. In my estimate, UP will now be completely saturated."
Political mobilisation around welfare is crucial to the BJP's political fortunes. In the 11 Hindi-speaking states and in UP — the fulcrum of its electoral advances — this is even more so.
Between 2013 and 2019, the BJP swept four elections in UP: two Lok Sabha polls (2014 and 2019) and two assembly elections (2017 and 2022). Much of this upswing in political fortunes can be attributed to retooling of the social welfare state and political mobilisation around it.
The PM Awas Yojana, with separate urban and rural components, is a critical lever of this shift. In the runup to the 2022 UP polls, for example, Yogi Adityanath personally spent a lot of political capital in creating supervisory checks in the implementation of this scheme at the village level with labharthees (beneficiaries).
Three things stand out in the new allocations. First, by doubling down on the scheme, the government has signalled its intent. Government spending on PMAY was 11,096.15 crore in 2014-15. Its seven-fold growth over the eight years since is a clear indicator of PM Modi's emphasis on this aspect of his economic model (see Figure 1).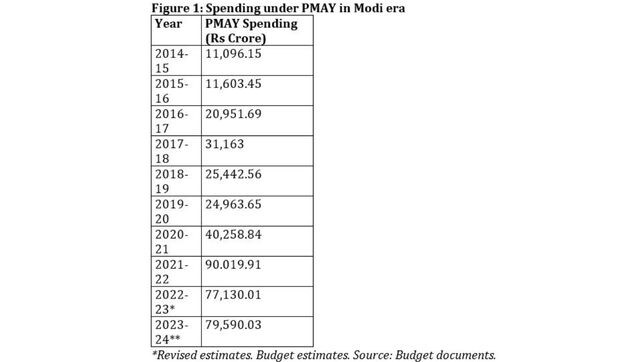 Second, most of this is for villages. Of the 79, 590 crore allocated to housing for the poor this year, as much as Rs 54,487 crore have been allocated to rural housing through PMAY-G (Pradhan Mantri Awas Yojana-Gramin). This is 172 per cent times more than the Rs 20,000 crore allocated in 2022-23. It is also much more than the revised estimates of Rs 48,422 crore for the same period.
Third, Modi often says in his speeches that 'Modi's campaign is being done by the poor brother and sister who, under Pradhan Mantri Awas Yojana got a pakka ghar [permanent house], got its keys and went there to stay'. The PMAY-G was formally launched on November 20, 2016. By November 2020, a whopping 17.5 million houses had been sanctioned under this scheme for the poor.
Over 12 million of these approved houses had already been constructed and over 1.6 million (1.4 million completed) were in UP (see Figure 2).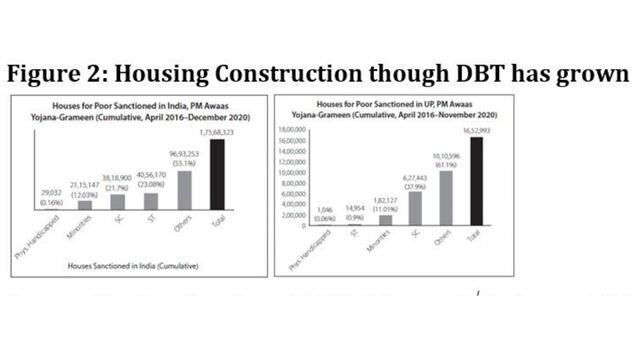 Beneficiaries (those who lived in kaccha/dilapidated houses) received DBT of Rs 1,20,000 to build their own houses and were also entitled to receiving 90 days of unskilled labour under MGNREGS in a scheme that was funded in a 60:40 ratio by the Union and state governments.
Finally, the importance of the emphasis of the housing scheme goes beyond the direct beneficiaries themselves. As Sitaram Goel, a leading social entrepreneur in Rajasthan's Bharatpur, told me, this scale of construction creates a "huge number of informal jobs" that may not be caught in standard economic data. Essentially in terms of all those linked to construction like masons, brick-layers, plumbers etc in the rural economy.
This is the highest-ever allocation to rural housing since PMAY-G came into existence. The initial target was to build 29.5 million houses nationally by 2024. Of this, government data shows that 21.5 million had already been built. The scaleup in coming year and implementation on the ground will be crucial to the BJP's political fortunes in key states ahead of the coming general elections.
DISCLAIMER: Nalin Mehta, an author and academic, is the Dean of School of Modern Media at UPES University in Dehradun, a Non-Resident Senior Fellow, Institute of South Asian Studies at the National University Singapore, and Group Consulting Editor, Network 18. He is the author of The New BJP: Modi and the Making of the World's Largest Political Party.
Read all the Latest News, Trending News, Cricket News, Bollywood News,
India News and Entertainment News here. Follow us on Facebook, Twitter and Instagram.
World
Prime Minister Narendra Modi today said that the Australian PM has assured of Indian community's safety after incidents of vandalism of temples
World
Fumio Kishida will hold talks with Prime Minister Narendra Modi. Both sides will discuss bilateral and regional issues of mutual interest. They will also discuss their priorities for their respective Presidencies of the G7 and G20
First Cricket News
PM Narendra Modi and Australian PM Anthony Albanese were in attendance at the start of fourth India vs Australia Test in Ahmedabad.