Renewable energy sector created 47,000 new jobs in India in 2017, employed 4,32,000 people in all: IRENA report
The renewable energy sector created 47,000 new jobs in India in 2017, employing 4,32,000 people, according to a recent report by the inter-governmental International Renewable Energy Agency (IRENA).
New Delhi: The renewable energy sector created 47,000 new jobs in India in 2017, employing 4,32,000 people, according to a recent report by the inter-governmental International Renewable Energy Agency (IRENA).
In all, 20 percent of the more than 5,00,000 new green jobs created globally in 2017 were in India, numbering 1,00,000 and bringing to 7,21,000 the total number of Indians employed in the sector, when those working with large hydel projects are included. (In India, only small hydel projects of up to 25-megawatt capacity are considered renewable projects). Worldwide, 10 million people work in the renewable energy sector now, the report said.
India installed 12 GW of renewable energy capacity in 2017 (Jan-Nov), up 12 percent from 2016, to achieve a cumulative installed capacity of 69 gigawatts (GW) as of May 2018.
 While the clean energy sector has developed in many countries, six countries—China, Brazil, the United States, India, Germany and Japan—created 70 percent of all new green jobs.
China employed the most number of people in the renewable energy sector, 3.8 million, followed by the European Union (1.2 million), Brazil (8,90,000) and the US (7,60,000).
"Renewable energy has become a pillar of low-carbon economic growth for governments all over the world, a fact reflected by the growing number of jobs created in the sector," said Adnan Z Amin, director-general of IRENA, in a statement.
India's progress
The number of jobs in India's green energy sector, excluding large hydropower projects, rose by 12 percent from 3,85,000 people in 2016 to 4,32,000 people in 2017.
The number of jobs in the large hydropower sector in India rose by 22.45 percent, from 2,36,000 in 2016 to 2,89,000 in 2017, as per the report.
This progress has been due to "the countries across the globe gradually switching to clean energy in sync with their commitments under the Paris Climate Agreement 2015", the report said.
India has installed 69 GW of cumulative renewable power capacity as of May 2018. The country will now have to add nearly 1.92 GW every month–what it has done every three months since May 2014–to meet its target of 175 GW by the end of December 2022.
The Bharatiya Janata Party-led government has committed to the Paris Climate Agreement 2015 to install 175 GW of renewable power capacity by 2022. This is enough to power 100 million bulbs (of 100 watt each) for an hour.
Of the total target, 100 GW is to come from solar power, 60 GW from wind power, 10 GW from biomass and 5 GW from small hydropower. However, India has been missing its renewables targets substantially, IndiaSpend had reported on 25 January, 2018.
The report had noted that during 2017-18, 4.8 GW of renewables capacity had been added until 30 November, 2017, against a target of over 14 GW, citing a government release. It had noted that the diversion of a national clean-energy cess to subsidise GST (goods and services tax)-induced losses and a new import duty to protect domestic manufacturers of solar equipment threaten could derail India's ambitious 2022 target.
Solar photovoltaic
The Solar photovoltaic (PV) industry remains the largest employer of all renewable energy technologies, accounting for close to 3.4 million jobs worldwide, including 2.2 million in China and 164,000 in India, the report said. "PV industry rose by about 9 percent from 2016 following a record 94 gigawatts (GW) of installations worldwide in 2017," it noted.
Biofuels, hydropower (both small and large) and wind are the other three segments that employ the maximum number of people across the globe.
Jobs in the wind industry contracted 0.9 percent in 2017 to 1.15 million worldwide. "While wind jobs are found in a relatively small number of countries, the degree of concentration is lower than in the solar PV sector," the report said.
China accounts for 44 percent of global wind employment, followed by Europe and North America with 30 percent and 10 percent, respectively, as per the report.
Large hydropower projects employed about 1.5 million people globally by 2017, 63 percent of them in operation and maintenance, the report found; 21 percent of these jobs, the most, were located in China, 19 percent in India and 12 percent in Brazil.
"By providing policy-makers with this level of detail about the composition of renewable energy employment and skills requirements, countries can make informed decisions on several important national objectives, from education and training, to industrial policies and labour market regulations," said Rabia Ferroukhi, head of IRENA's policy unit.
However, in India, these renewable energy jobs may not be able to help alleviate poverty, especially in its rural pockets, unless the renewables sector can offer permanent jobs with stability and other benefits to contractual employees expected to form around 80 percent of its workforce, as IndiaSpend had reported on 20 December, 2017, based on a report by the think-tank World Resources Initiative (WRI).
To ensure that this jobs boom is inclusive, the sector must train unskilled and semi-skilled workers from rural India, including women, the report had noted.
(Tripathi is a principal correspondent with IndiaSpend.)
Fwire
Iran's energy minister said that India is one of the frontrunners in the field of generating renewable energies and Iran will prepare the ground for the development of new energies in the country in cooperation with India.
India
India is among the top five countries in terms of usage of new and renewable energy and the sector is attracting FDI worth over $10 billion every year.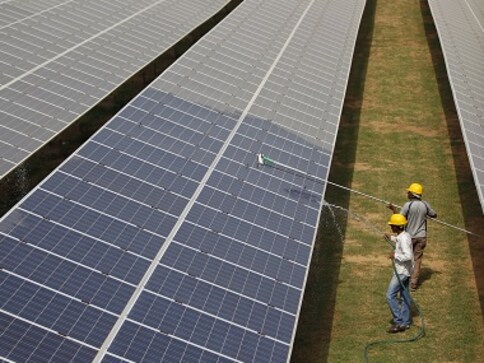 Business
Welspun's renewables arm has one of the largest operating solar portfolios in India spread across ten states