Refugees in Delhi: Centre's decision to deport Rohingyas has other Stateless migrants living in India worried that they could be next
In a four-part series starting Tuesday, Firstpost looks at how the Centre's decision to deport illegal Rohingya Muslims has worried refugees in Delhi that they could be next
Editor's Note: Over 40,000 Rohingya refugees are living in India. The Government of India's recent announcement to deport them back to Myanmar has worried not just the Rohingyas but also refugees from other parts of the world now living in Delhi. In a four-part series starting from Tuesday, Firstpost looks into the condition of these refugees and how the Centre's stand has sent chills down their spine, many of whom say they have no homes to go back to.
The destiny of an individual is tied to the destiny of the soil one is born on. If the soil is set on fire, what burns along with it is one's home, one's family, and one's dreams. And even if an individual manages to escape the burning homeland — sight fogged by chemical smoke, gunshots echoing in their ears long after they stop, and a maze of flames that could be the funeral pyres of civilians, who are almost always innocent — the only thing one is left with is a beating heart and a breath that hasn't stopped, both of which can be heard in a silence of peace.
As of 2017, 6.56 crore individuals have been forcibly displaced worldwide because of persecution, conflict, violence, or human rights violations, as per the UN High Commissioner for Refugees (UNHCR). As of December 2014, there were some 31,000 refugees and asylum-seekers registered with the UNHCR in India.
To find out what life is like for a refugee in India, Firstpost walked into their homes in the ghettos of Delhi. We interacted with the Chin Christians of Myanmar and Muslims from Afghanistan, Syria, Iraq, and Somalia.
After the central government's decision to deport close to 40,000 Rohingya refugees (a majority-Muslim ethnic group), claiming that they had links with the Islamic State and Pakistan's Intelligence Network ISI, refugees from other countries are restless. The central government's stand is sending chills down the spine of many refugees who say they have no homes to go back to.
During our visits, we heard stories that straddle hope and hopelessness. India has signed neither the 1951 United Nations Refugee Convention nor its 1967 Protocol. It doesn't have on its statute book a specific law to govern refugees.
The care and treatment of refugees fall under India's Registration of Foreigners Act of 1939, the Foreigners Act of 1946 and the Foreigners Order of 1948. The Indian Evidence Act, the Indian Penal Code and the Code of Criminal Procedure apply to refugees who are living on Indian soil. The only proof of identity that they have is the UNHCR refugee card, which, owing to its colour, is called the blue card. It has no legal validity because the state does not recognise it.
The refugees collectively complain that they wait indefinitely to hear back from the Foreign Regional Registration Office (FRRO) which issues them Long Term Visas (LTVs). For an LTV, they need to share a rent agreement and for renting a home, they need an identity proof that the landlord can understand and accept. From opening a bank account or acquiring a mobile SIM, both of which are now linked to the Aadhaar, life is tough.
The refugees in Delhi go about their days, picking up vocational skills and languages at Bosco centres (Part of the Don Bosco Global Network spread across 135 countries, running educational institutions, vocational and technical training centers), working at cola factories and serving as butlers/translators for medical tourists who speak Arabic or cooking at Middle Eastern restaurants.
The decision to push the stateless out of the state is taken from within that state. Until a decision is made and possibly even after it is made, for a refugee, home is where the heart isn't.
Read part 1: Living in India a struggle but Myanmar is a threat to our existence, say Chin migrants
Subscribe to Moneycontrol Pro at ₹499 for the first year. Use code PRO499. Limited period offer. *T&C apply
World
After four weeks of protests, the military in Myanmar opened fire on demonstrators in several cities on 28 February, killing at least 18 people, the United Nations said, in the most vicious effort yet to extinguish the unrest roiling the nation.
World
In Yangon, Myanmar police used rubber bullets to disperse a demonstration at Myaynigone junction, the site of an hours-long standoff the day before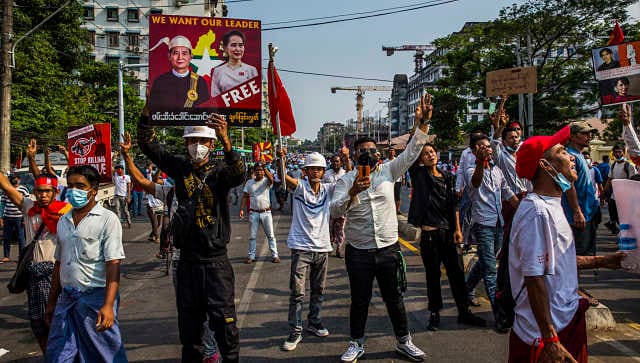 World
Before the brief experiment with hybrid military-civilian governance, the military had imposed its direct rule on Myanmar for nearly half a century