Modi's housing for all scheme fails to get private players; why govt needs to streamline approval process
Even though the government has laid the road by providing a new eco-system of opportunities for developers at the bottom and middle level of the pyramid, private developers still remain reluctant to the scheme
To realise the national objective of our PM Narendra Modi- 'Housing for all by 2022', the government needs to encourage responses from all stakeholders in the private sector.
In fact, the Pradhan Mantri Awas Yojana (PMAY) has been designed envisaging a bigger role for private sector, but it's a cause of worry for the government since no private sector participation has been enlisted under PMAY so far. Urban development minister Venkaiah Naidu said that the government till now approved Rs 90,000 crore of investments in affordable housing with none representing the private sector. He was disappointed that not a single proposal did come from them.
The private real estate sector faces considerable headwinds today. Rising cost pressures and a difficult regulatory scenario are among the primary concern areas that hold back private developers' participation in a big way.
Yet, reforms and policy initiatives of the Centre as well as some state governments have encouraged private developers to launch projects in the affordable segment in recent times. But the participation forms only a miniscule percentage.
Even though the government has laid the road by providing a new eco-system of opportunities for developers at the bottom and middle level of the pyramid, private developers still remain reluctant to the scheme.
So where does the challenge lies?
If we analyse there are several bottle necks and reasons that restrict the private developers, says M Murali, Managing Director, Shriram Properties. The bottlenecks are: the high gestation period of housing projects, lengthy and least transparent approval process, expensive capital, non-availability of land with absence of infrastructure and connectivity, spiraling land and construction costs, high fees and taxes as well as unfavourable development norms - needless to say about 'wafer thin margin' private developers get through this business segment. Thus first and foremost is that we have to make these Housing projects attractive and a viable proposition for private developers and to kindle their interest to take up.
The only challenge we as developers face is the current extremely cumbersome and time taking approval process. Also, it should be made time bound to a maximum of 45 days for grant of all approvals to commence work, says Mudhit Gupta, CMD, EMGEE Group.
Undoubtedly, it is an priority for developers as currently it takes nearly two to three years for a developer to commence construction after having entered into an agreement for land purchase. It is a cumbersome procedure doing the rounds for approvals across 150 tables in about 40 departments of central and state governments and municipal Corporations. Everyday delay means it is a drain on profitability for the developers, says Murali.
Realising long approval procedure as the major factor holding back developers, the government recently initiated provisions for online housing approval within 60 days in two cities - Mumbai and Delhi. The Centre is now in talks with all the states to implement this on a wider scale.
Once a single window clearance mechanism comes into place for affordable housing then there will be a mass participation by developers and hence also by banks and HFC's, says Rohit Poddar, Managing Director, Poddar Housing and Development Ltd.
Another major reason why developers are reluctant to enter into the affordable housing segment is due to the thin profit margins of the business model and lack of availability of funds from the private equity players, says Santhosh Kumar, CEO – Operations & International Director, JLL India.
So what is the tweak needed in PMAY? What can be the appropriate business model so that the goal of ensuring Housing for all by 2022 is met?
The PMAY scheme should take into account the differing price points based on the ready reckoned rates for that area and the subsidy should be linked to the same, says Poddar.
According to Murali, measures to attract private sector in real estate under Pradhan Mantri Awas Yojana can be prioritised in following ways:
Approval process should be streamlined: There must be transparent digital online approval process taking minimum time for approval and putting an end to unethical practices. Digital approval mechanism, better co-ordination among the multiple authorities in dealing with various permissions/approvals will encourage private real estate developers to invest in the affordable housing segment.
States can be asked to frame by-laws in a transparent manner for every division / region of a city and bring out checklist for approval compliance and the approval process should be made online thus eliminating intermediaries, avoidable unethical payments and expenditure. Stricter penal provisions should be clamped within a time limit of 10 years for any wrong reporting /compliance if it comes to notice in future.
Infrastructure needs to be provided: Availability of land with infrastructure like road, water and sewerage is a big challenge for private developers. Providing infrastructure is the obligation of the state as it collects cess and tax from the project. If the state can take care of this area, it can encourage more private players to take up the projects.
'Big bang measures' are necessary: We need measures similar to one brought in 2000 by the then PM Shri Vajpayee ji by introducing Section 80 IB (10) of the Income Tax Act which aimed at promoting constructions of housing projects. We can undoubtedly say that this was a break through provision introduced bringing in a big real estate revolution particularly in augmenting the housing supply.
To recall, the years 2000-2004 was the turnaround period in the real estate sector and in housing supply - with large number of private players entering and augmenting the housing stock/housing supply. But this good progress with increased housing supply was short lived. The following government at the Centre introduces MAT (minimum alternate tax), which dis-incentivised many of the players leading to dip in housing supply. The kind of measures that was introduced in 2000 will attract private players to participate in the national mission like PMAY in a big way.
No doubt, affordable housing segment will be the top runner in the next five years and this is where we can expect more favourable provisions towards affordable housing and Economically Weaker Section / Lower Income Group Housing from the government. Moreover, this sector has been given infrastructure status now, which should encourage more private participation in the coming years to avail the associated benefits. Thus, the segment offers tremendous scope for private players.
Find latest and upcoming tech gadgets online on Tech2 Gadgets. Get technology news, gadgets reviews & ratings. Popular gadgets including laptop, tablet and mobile specifications, features, prices, comparison.
India
The recent arrest of Umar Khalid is being seen as one of the most outrageous steps in a series of sustained attacks on the flag bearers of a certain cause.
India
At a time when a new National Education Policy proposes to make education "well-rounded, useful, and fulfilling to the learner", administrators of India's top Central universities only want to tame their students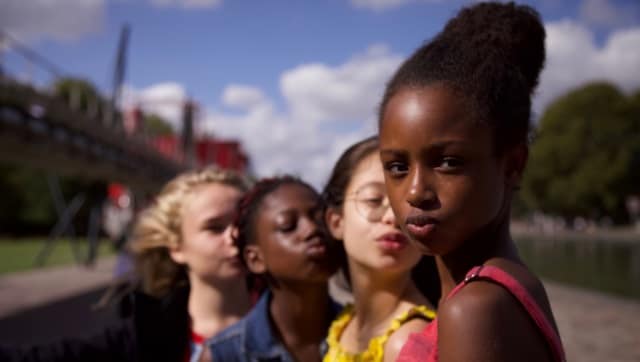 Entertainment
Cuties, Maïmouna Doucouré's debut feature, became a subject of intense social media ire when Netflix released a poster showing four scantily clad young girls striking suggestive dance poses. It was accused of promoting paedophilia, and consequently, petitions to ban the film's release and Netflix itself were signed.