Ramjas rampage and the politics of fear: Time to alter the precedent through democratic mobilisation and solidarity
On 21 February, members of the Akhil Bharatiya Vidyarthi Parishad (ABVP) – by attacking students and teachers at a panel discussion in Delhi University's Ramjas College – brazenly crossed that red line and perpetrated an act of terror – sheer, untainted, textbook terror.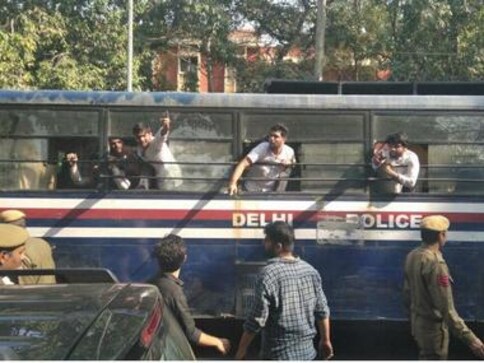 The politics of fear is something that is raw, real, infectious and runs deep. It is not an abstract philosophy, but a solid reality that is clearly identifiable and tangible. But even within this self-serving play of intimidation, there is a 'red line' that stands out across the entire spectrum – that of violence.
When this critical red line is tipped, the politics of fear turns into the politics of terror.
On 21 February, members of the Akhil Bharatiya Vidyarthi Parishad (ABVP) – by attacking students and teachers at a panel discussion in Delhi University's Ramjas College – brazenly crossed that red line and perpetrated an act of terror – sheer, untainted, textbook terror.
How does one identify an 'act of terror'?
Notwithstanding the subjectivities of the concept, one could define it as – any act of violence against soft targets that results in mass paranoia, fear, and obstruction of free movement – all to achieve an ideological or functional end. Going by this, ABVP's shocking assault fits the template.
Let's be more specific.
The Context of Violence
ABVP's opposition to the seminar organised by the English Department and Literary Society of Ramjas College is premised on a single thing – the invitation accorded to Khalid. Khalid, a PhD student at Jawaharlal Nehru University (JNU) conducting research on the Adivasi population of central India, was invited to talk about 'The War in Adivasi Areas' in the seminar titled "Cultures of Protest". While his academic background makes him a natural fit for the talk, Khalid has emerged as a much more polarising figure that many of us would like to believe.
Khalid shot to fame last year when Delhi Police arrested him – and two others – on charges of sedition for allegedly facilitating a demonstration in support of 2001 Parliament attack convict Afzal Guru (hanged in 2011). Accused by right-wing groups of raising 'anti-India slogans', he hasn't been convicted by any court of law so far and is currently out on bail. However, the damning allegations were sufficient fodder for a much larger lay audience to label him as a terror sympathiser.
The question here is — is ABVP (and its ideological affiliates) wrong in calling out Ramjas for inviting Khalid for a talk? That depends on how one perceives Khalid's dispositions, views, and behaviour. In short, it is open for debate.
While some argue that he had both the right and credence to speak in the seminar given his first-hand experience in resistance and academic insights on the Adivasis, others claim that Khalid is too controversial a figure for a college panel discussion. Yet others drag the line further beyond by synonymising him with the likes of Hafiz Sayeed, a proscribed terrorist who has killed people through organised terror.
But, what distinguishes Khalid and Sayeed – at the risk of making a blatantly obvious case – is the red line of violence. The latter is an employer of violence, the former isn't. This is a line of distinction that must be emphasised across all fronts, despite its glaring nakedness.
The Act of Violence
While the Opposition is subjective, violence in not. ABVP had all the right, within the entitlements of a democratic system, to oppose Khalid's participation through a vehement but non-violent protest. But, that was not the case. They resorted to rampaging and offensive disruption, causing physical harm or intending to do so. This is where the act of protesting clearly and loudly departs from the act of terror. Once again, this is a fine line that most media houses seemed to have overlooked in their reporting, casually using the term 'protest' in their reports.
By calling ABVP's violence a 'protest', let us not delegitimise the very act of protesting. What they employed wasn't a privilege of democracy, but rather an instrument of authoritarianism.
The narrative of aggression against Khalid further compliments the case for ABVP's terror agenda. After the incident, many have shockingly argued that the violence was justified, given Khalid's 'anti-national' dispositions. The term 'collateral damage' has also been thrown around, with reference to other students and faculty members being targeted.
Clearly, for the perpetrators of violence, Umar Khalid was the 'hard target' – an essential but not mandatory victim. But, despite his absence, they went ahead with the violence – attacking students and faculty in attendance of the seminar. What does this mean? That ABVP merely intended to send out a 'message' to all those who are willing to accord Khalid any medium of expression. Directly harming Khalid wasn't necessary for them anymore.
This reminds us of how terror groups pick alternative (read: soft) targets when they are incapacitated to harm the hard ones. In many cases, this is highly effective in doing what this particular agenda intends to do – fuel terror.
The Consequence of Violence
In just two days, ABVP's act of campus violence has had far-reaching consequences. Not unnaturally, students are petrified, and Delhi University's most eloquent professors appear to be at a loss for words, disoriented by the assault. Sinister messages of goons roaming around North Campus on motorbikes, hunting for individuals that they have identified during the follow-up "DU Fights Back" protests outside Maurice Nagar police station, continue to be circulated on social media platforms in abundance.
The outcome? Students hounded up inside their campus accommodations with doors tightly shut, and some even evacuating the campus.
Certain cultural groupings have found themselves on the frontlines of this pervasive hatred. Notably, the dramatics society of Ramjas College, Shunya, has been categorically targeted, many claiming to have received threat calls from nondescript individuals. A large number of them have already evacuated North Campus, thanks to ghastly rumours of targeted attacks by violent assailants. It is all but heartbreaking that Ramjas' most animated and jovial people now appear to be struggling to express, between sobs and tears.
The turnout at the protest march at ITO on 23 February also seems to be glaringly low. Many decided to not turn up, out of fear of being roughed up. This is not just a rational apprehension, but also a typical outcome of the politics of terror.
The Opposition to Violence
How does then one oppose the politics of terror? By not providing the fuel that runs its evil engines.
Fear and intimidation feed off from two things – passive acceptance, and institutional inaction. A surefire way to make sure that perpetrators of violence are successful in their agenda is to give them what they want – submission and retrenchment. When law enforcement fails, this agenda of violent subversion is only furthered. Given that the police did not take any suo moto cognisance of the violence as of Thursday noon, one begs to ask if the attackers made an active choice to cross the red line of violence because they already knew that law enforcement would be slack.
The above points – acceptance and inaction – must be the premise of the opposition to the violent subversion that has hit Delhi University. While the state is best placed to take direct and legitimate action on the latter, civil society (including the media) continues to remain the key influencer in the former.
By doing what they did, the ABVP has uncompromisingly thrown open the gates of our university campuses to a whole new level of popular violence – one that is spontaneous, pervasive, and somewhat appealing. In doing so, ABVP has only set a dangerous precedent.
But not without account. This is the time to alter that precedent through democratic mobilisation and solidarity – of the kinds that this country has never seen before. This is not about partisan politics, not this time. Neither is this about a particular university. This is simply about safeguarding an elementary entitlement of democracy – the right to speech.
also read
World
All of the affected women attended Kilbreda College, a private girls' school in Melbourne, in 1999. The first victim came forward in March, and the most recent incident was reported on Monday
Education
From enrollment websites, eligibility, courses, and colleges, all you need to to know about studying medicine in Malaysia
India
The courses include 'Social and Emotional Learning', 'Yoga: Philosophy and Practice', and 'Literature, Culture, and Cinema' in line with the spirit of the National Education Policy, 2020