Ramjas fiasco: Mark the irony, Left accusing Right of stealing its copyright over campus violence
If the Left cannot accommodate the Right and engage in a battle of ideas, violent fits like the one in Ramjas College will sadly continue.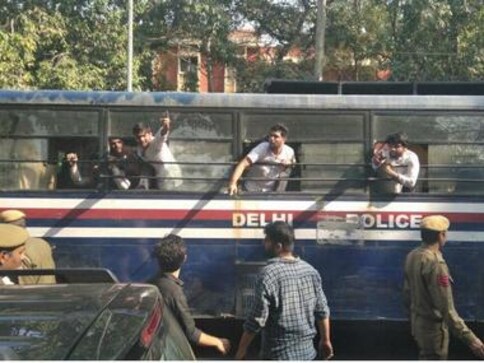 It is indeed tiring and bothersome to repeatedly call out the hypocrisy of India's intellectual elite. But this onerous and unpleasant task must be undertaken, if we want India to be a truly liberal society.
The context of this argument is of course centred around the recent violence that erupted in Delhi University's Ramjas College between members of the right-wing Akhil Bharatiya Vidyarthi Parishad (ABVP) and Leftist All India Students' Association (AISA) over inviting Umar Khalid, a Jawaharlal Nehru University student accused last year of sedition over anti-India sloganeering, for a lecture.
At the very outset, let us be clear. Violence has no space in political discourse. Ideas cannot be defeated by physical assault. Nothing can justify the use of force to establish thought-control.
ABVP workers would do well to introspect on and understand that violence affects both the perpetrator and the victim. No one emerges unscathed. If Leftist student unions indulge in habitual strong-arm tactics to maintain their writ over India's colleges and universities, actions of the right-wing student's union prove that it is trying to emulate the Left model of intolerance, and not replacing it with a model of tolerance. This is a slippery slope.
Umar Khalid is right. His 'venom-spewing' against the Indian state would have been limited to just a handful of listeners if the 'Culture of Protest' seminar held in Ramjas had he been allowed to proceed. But by responding to provocation and seeking to cancel it, the ABVP has managed to hand the ultra-Left radical a far bigger platform. It is the perfect example of how an idea can only be combated with a better idea and any attempt at use of force only increases its potency.
Khalid, who belongs to Democratic Students Union (DSU) – one of the front organisations for banned Maoist groups active in Delhi – has accused ABVP of enjoying government patronage.
"ABVP is only working to disrupt discussions in universities. The body enjoys government and institutional patronage. But we refuse to be bullied into silence by ABVP," Khalid was quoted as saying in a video.
The political narrative that has emerged from the Ramjas fiasco has dovetailed nicely with the return of the phoney intolerance debate. The Left-liberal brigade has been quick to point a finger at the government for promoting "violence in campuses" and the media and the academia, strongholds of the ideological and political Left, have laid all onus solely at ABVP's door, accusing it of trying to stifle freedom of speech through action.
Enough material exists in mainstream and social media to prove that the violent ABVP-AISA clash was an equal opportunity conflict but the truth, as always, has been lost in propaganda.
An elaborate charge has been levelled that the ABVP, emboldened by the political wind in its favour, is trying to break open universities, the last bastions of 'liberalism', through force and that this violence is a ruse to gain political foothold and banish all intellectuality. An argument in favour of this charge was also previously argued by Firstpost.
One marvels at the way the Leftist ideology has become synonymous with "liberalism". This remains 20th century's most stunning sleight of hand. Not just in India, the global intellectual establishment has been aligned to one ideology and there has been an attempt to root out non-Left thinkers and dissenting voices deliberately and systematically.
This has resulted in a strange phenomenon. Students who emerge from these centres of learning – members of the global elite – are indoctrinated with the left-wing ideology. This skewed and blinkered 'education' essentially queers the space for debate because pluralism is looked down upon and contrarians are neatly labelled as alien outliers, who are to be resisted at all costs.
There is an automatic and vociferous pushback against independent thinking at all levels – be it students or professors, media, lawyers, authors, artistes. In short, every member of the civil society who has had access to this mode of 'education' is intrinsically intolerant of dissent.
Strength in numbers enable these indoctrinated intellectuals to claim and subsume the 'liberal' legacy and from thereon, every debate becomes 'liberalism vs conservative', or 'liberalism vs nationalists,' 'liberalism vs right-wing hatred', as the case may be. Every independent thinker is outlawed or ostracised and this patently 'illiberal' act is done in the name of liberalism.
Writing for British magazine The Spectator, author James Bartholomew posits: "The academic world is overwhelmingly left-wing and the textbooks spin to the left. They distort the facts or omit them… There is no analysis of counter-arguments. In fact, no data is offered on which a counter-argument could be based. This is not education. It is not teaching children to challenge ideas and think for themselves. This is anti-education: Teaching them what they must think. It is as prescriptive as education in the Soviet Union."
We find Chris Patten, Chancellor of the University of Oxford and a former EU commissioner, expressing similar worry of claustrophobia invading British and American campuses. In his piece for Project Syndicate, he writes: "In the US and the UK, some students and teachers now seek to constrain argument and debate. They contend that people should not be exposed to ideas with which they strongly disagree… There are calls for "safe spaces" where students can be protected from anything that assaults their sense of what is moral and appropriate. This reflects and inevitably nurtures a harmful politics of victimisation – defining one's own identity (and thus one's interests) in opposition to others."
The situation is similar, if not more stark in India, mainly due to the weakness of our institutions.
The relentless attempt since Independence to cleanse the academia, policy-making bodies and educational institutions of non-Left thinkers has resulted in a stifling uniformity of thought.
Rajeev Mantri, co-founder of the India Enterprise Council, writes in Livemint: "Not only does the Indian Left enjoy state patronage and a pervasive grip on academia, it has a long history of being viciously intolerant towards contrary viewpoints. Economist and member of Niti Aayog Bibek Debroy had recounted recently how renowned Columbia University trade economist Jagdish Bhagwati was forced out of Delhi School of Economics in the 1950s."
Author and economist Sanjeev Sanyal, principal economic adviser in the ministry of finance, presents the clearest timeline of how the Left has wielded the power in its command to root out intellectual challenges.
In his column for The Week, he writes: "The Left dominance over the intellectual establishment has its roots in the systematic "ethnic cleansing" of all non-Left thinkers since the 1950s… The result of the systematic cleansing was that there were no non-Left academics remaining in the social sciences field in India by the early 1990s… Thus, economics students are mostly taught material written by Amartya Sen and his stable of academics but exposed only in passing to the thoughts of Friedrich Hayek, Milton Friedman or Jagdish Bhagwati, Sen's intellectual rival. Even when non-Left thinkers are included, their ideas are lumped together as exotic curiosities to be critiqued, rather than imbibed."
It is in this context that we must put Khalid's claim that "ABVP enjoys government patronage" and marvel at the post-truth world of Leftist hegemony. The irony is stark! Facing a political challenge for the first time in its hegemonic control over academia, the Left accuses the Right of stealing its proprietary right over violence.
If the Right resorts to brutality, we must condemn it with all our might. But we should be equally sincere and stringent in criticising the Left for playing the victim card after long subjecting its ideological rivals to mindless violence – a phenomenon that this writer is all too familiar with while growing up as a student in the Left Front-ruled West Bengal.
During his talk at the London School of Economics, Union Finance Minister Arun Jaitley said: "I find this absolutely strange that an argument is being raised that I have free speech to advocate that India should be broken into pieces and those who oppose me are hindering that right to free speech. Well, they too have a right to free speech."
This is the crux of the argument. A global wind of change is blowing across continents. If the Left cannot accommodate the Right and engage in a battle of ideas, these violent fits will sadly continue. None will emerge the better for it.
India
Due to the lack of coherent screening program in India, we still diagnose a significant proportion of cases in the later stages of the disease.
Politics
With all possibilities of a major structural and characteristic renovation that Rahul Gandhi's July 2019 resignation suggested now ruled out, the Grand Old Party represents the order of feudal decadence in the political terrain
India
We have come a long way since those fateful months of 1991 when the country finally decided to jump on the free market bandwagon