Rakesh Jhunjhunwala exclusive: 'Trading is mother of all my wealth… I only make mistakes I can afford… computer-based trading is like programmed sex'
Rakesh Jhunjhunwala is the renowned investor who has made billions from an initial capital of only Rs 5,000.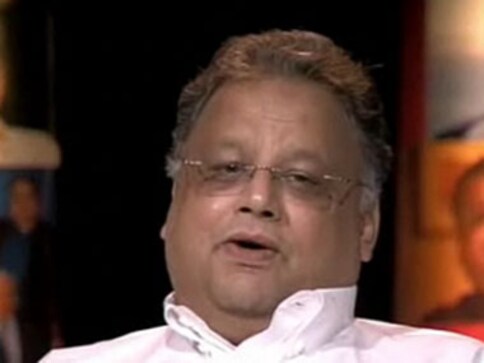 The captain of the Boeing 787 Dreamliner looked relaxed as his plane was cruising through clear skies at an altitude of 33825 feet. The magnificent aircraft was on auto pilot mode as its commander gazed at the controls with an assurance that comes only after flying thousands of hours under varied conditions.That's how Rakesh Jhunjhunwala appeared as I walked into his office.
Gazing at his four monitors which were flashing quotes of his favourite stocks, the maverick investor idly glanced at the Sensex. After a stupendous run in 2017 it was matching the Dreamliner in altitude. The conversation soon moved to the markets and whether 2018 would encounter some turbulence. Two cups of freshly made hot lemon tea arrived. Seeing the big man in a cheery mood, I asked him if he will do a rapid-fire Q&A session and he sportingly agreed.
Rakesh Jhunjhunwala is the renowned investor who has made billions from an initial capital of only Rs 5,000. That achievement has led the media to call him the 'Warren Buffet of India'. But that title by itself may not do full justice. Not everyone may know that he is as astute a trader as he is an investor. This makes him unique among the giants in the investing world. He can switch hats with ease and take a trading call on a stock, commodity or an index, even while evaluating the long-term cash flows of a potential investment.
He has a terrific ability to use leverage at the right time and take large bets when he feels there is an asymmetric opportunity available. And has no qualms admitting he is wrong if the position goes against him. He says in trading "you don't argue with price".
Excerpts from an exclusive conversation with the investing legend:
Did you ever think that a single stock in your portfolio could hit a billion dollars?
Not even in my dreams.
Is there any book that made a lasting impression on you?
Trader Vic - Methods of a Wall Street Master by Victor Sperandeo.
Is there any person who made a lasting impact on you?
My father and Mr Radhakishan Damani.
Would you say that being a trader made you a better investor?
Yes and vice versa.
How much has leveraged investments/trading contributed to your success?
Trading is the mother of all my wealth. That's where I get all the money to invest.
Dinner with Warren Buffet or dinner with George Soros?
Both.
What advice would you give to your younger self of 25 years ago as a trader?
Have a broad idea of the direction of the market; know what to stake and when to take a loss. The last being the most important.
What advice would you give to your younger self of 25 years ago as an investor?
Learning is a journey, not a destination. An open mind, broad judgement and intuition is as important as numbers.
Is there any single factor in an investment that matters a lot to you?
Quantum of opportunity and quality of management.
Would you buy a stock for investment just because someone you know well told you to?
Never, although I may examine it.
Which magazine you want to read as soon as it is published?
The Economist.
Is there any investor whom you admire?
Stanley Druckenmiller amongst others.
Are you worried about interest rates spiking up in the next two years?
Very much.
Would you say that INR risk in equities have come down for the long term?
No.
What is your view on crypto currencies like bitcoin?
It is the new tulip.
What keeps you motivated to trade and invest after achieving extra ordinary success?
Passion and the fact that the hunt is better than the kill.
What do you think separates the pros from the rest?
Hard work, open and independent mind, humility, the quest to learn and the devil's luck.
What are your thoughts on computer based trading systems?
I don't believe in it. It is like program sex!
What time frame do you use for your trading or non-core positions?
I always approach every act of trading with an open mind.
Does taking a loss have an emotional impact on you?
Never, because I am not afraid to make a mistake. I only ensure that I make one which I can afford. A setback well digested is the key to victory.
Would you say that the key to your trading success is emotional discipline?
Absolutely.
Have you had losing streaks? How do you handle them?
Certainly, I have had them. The way I have handle them is by reducing my position.
If you were starting again would you do anything differently?
Nothing except my personal habits, with a cigarette in hand.
Skill, intuition and luck: how would you weigh them?
All three of them as 1+ 1+ 1+ is not 3 but 33.
Is there any book which you would read again?
Buffet: The Making of an American Capitalist by Roger Lowenstein
What's your best advice for experienced traders who want to become independent and trade full time?
Trading is not for the meek.
How long did it take you to master trading?
I am still trying to!
Is the importance of finding one's own approach critical to success?
Absolutely! Absolutely! Absolutely!
Is there any big misconception in the market? Can't make money in trading, long term guarantees returns, timing is not possible, etc?
The only real rule in the market is that there are no rules.
(The author is a partner at Goldcrest Advisors LLP and attempts to decode what the market action is telling us. He tweets @dev_rivervalley. Blog: tradercrest.wordpress.com)
Business
Recent cases of inflation are not only adversely affecting India but also worsening the condition of other countries worldwide
India
With this, the net outflow by foreign portfolio investors (FPIs) from equities has reached Rs 1.66 lakh crore so far in 2022
India
Inflation and slowdown in the global economy means stagflation is a key concern for the global equity markets, therefore, FIIs (Foreign Institutional Investors) are relentless selling