Rajnath in Kashmir: Time's just right for peace talks, but does India have an acceptable solution?
Kashmir Valley has been shut for almost 50 days since Wani's death. Schools, bazaars, offices, businesses have been locked down, there has been curfew in parts of Srinagar and most towns of South Kashmir.
While most of Kashmir was burning in July, around 50 youths of Beerwah, a sleepy town at the base of the Pir Panjal's — on the road between Srinagar and Gulmarg — found an easy distraction.
In the middle of an open ground, they raised a net and created a volleyball court and started playing from dusk to midnight.
Beerwah is in Central Kashmir. It is some distance away from the epicentre of the ongoing turmoil in the Valley's southern districts. Historically, Beerwah and its adjoining areas have been calm even at the peak of agitations in Kashmir. But, this year, the flames that started with Burhan Wani's killing, reached even the deepest parts of the town.
Some time back, a Hizbul Mujahiddin poster sprung up in the middle of Beerwah, urging youngsters to join Kashmir's second 'intifada' and walk into Wani's footsteps. Simultaneously, a group of teenagers organised themselves into a gang of stone-pelters to attack Indian security forces.
A few weeks ago, the stone-pelters raided the volleyball ground, uprooted the net and warned the players against returning. "How dare you play volleyball while we fight for freedom. Come and resist the Indian government with us," their leader told the volleyball players.
"Nothing is going to come out of this. It is a futile exercise. We have been through this many times in the past," argued the volleyball players, only to be threatened with dire consequences.
A few days later, the volleyball players decided to raise their net again, just to see if the stone-pelters react. When they didn't, they started playing again. "Now nobody disturbs us. It seems the stone pelters are getting tired. Some of them have even started agreeing to what we told them earlier: Nothing is going to come out of this," says Mushtaq (surname withheld on request), the Beerwah resident who narrated this story.
Mushtaq, a former cricketer in his 30s, is right. The current unrest in the Valley is at a tipping point. It can't go on like this for ever. Something's gotta give soon.
The Valley has been shut for almost 50 days since Wani's death. Schools, bazaars, offices, businesses have been locked down, there has been curfew in parts of Srinagar and most towns of South Kashmir. Since the 2010 agitation that lasted for three months, this is the longest that the Kashmiris have gone on a strike and a rampage.
In a few weeks, it would be time to harvest the paddy in Kashmir's fields. In a few months, snow will start falling down, taking temperatures below zero in Srinagar and further down in south, central and north Kashmir. Both these events will distract Kashmiris from the ongoing stone-pelting and street marches.
A strike is not the aim of an agitation, it is just the means to the final objective of creating pressure for accepting demands of the agitators. And Kashmiris are getting restless for the next phase of their current stir: Negotiations.
Home minister Rajnath Singh, who landed in Srinagar on Wednesday, has gone to Kashmir with the burden of India's geopolitical future on his shoulders. If he returns from the Valley without finding a solution to the current unrest after his two-day visit, the ramifications for India and Kashmiris could be worrisome.
The good news is, he may have gone to Srinagar at just the right time.
Interestingly, the ground for Singh's peace mission has been created by the most unlikely source: the Indian Army. On Tuesday, during his visit to the Valley, Army chief General Dalbir Singh called for peace and restraint in Kashmir. He underlined the importance of "synergising efforts with all the other stakeholders."
The Army Chief's sober advice for restraint, peace and involving all stakeholders is a reminder that a muscular approach towards Kashmir can't help in the long run. Real solutions can come only through a political process and dialogue.
Ideally, unequivocal calls for peace and dialogue with all stakeholders should have originated from the Central government and India's political leadership. But, now that the Army Chief himself is advocating a different course, after obviously evaluating the ground realities, the home minister should carry the idea forward to its logical conclusion.
The current uprising in the Valley can now have only two endings. One, people get tired of relentless stone throwing, hartals and marches, and, like in 2010, give up the agitation midway. Or, the government successfully negotiates a solution with its Kashmiri interlocutors.

The biggest problem for Rajnath Singh, of course, is who does he talk to for restoring normalcy in Kashmir. Not many Kashmiris are willing to listen to the mainstream parties, including Mehbooba Mufti's ruling People's Democratic Party (PDP) that has become irrelevant in the current scenario because of its alliance with the BJP. Everything on the ground suggests the current unrest is being led by Kashmiri youths, who do not have a well-defined leadership hierarchy. Only Hurriyat leaders, whose calendar protesters are following, seem to have some clout left. But, since the Hurriyat insists on talks outside the parameters of the Indian Constitution, its leaders are persona non grata for the Centre.
During his previous visit, Rajnath Singh had returned empty handed from Srinagar. Except for PDP and National Conference leaders, nobody had come to meet him, making it impossible to start a dialogue. It would be interesting to see if the home minister has a different plan or a strategy this time.
Will he find a way to reach out to the Hurriyat? Or, will he try his luck once again with the civil society, hoping that somehow its leaders may help restore calm?
The Hurriyat on its part is on a wobbly ground. The pressure on it, especially after the ubiquitous chants of 'now or never' in the Valley, is also immense. After 50 days of agitation, violence, loss of lives, workdays and resources, it can go back to Kashmiris only with a solution that is acceptable to them.
To douse the fire in the Valley, Rajnath Singh will have to find a way out of these complexities and give Kashmiris a valid reason to end their stir.
The window of opportunity may just be opening for an honourable exit.
India
His remarks come at a time when dozens of panic-stricken migrant labourers reached Jammu from the Valley to head to their native places in Bihar, Chhattisgarh and other parts of the country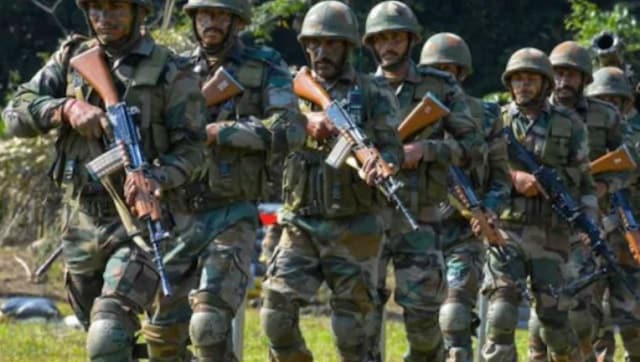 India
There is nothing in the situation that India has not faced before and overcome with resolve and Pakistan's desperation will soon convert into more frustration
India
Traditionally, the president participates in Dussehra celebrations in the National Capital