Rahul Gandhi questions BJP's healthcare policy in Gujarat, says 39% children in state victims of malnutrition
Rahul Gandhi said 39 percent children in Gujarat were malnourished and sought to know if this was the 'wonder' of the BJP government's healthcare policy
New Delhi: Congress vice-president Rahul Gandhi on Wednesday said 39 percent children in Gujarat were malnourished and sought to know if this was the "wonder" of the BJP government's healthcare policy in the state.
This was Gandhi's eighth question as part of a Congress strategy wherein Gandhi would put up one question daily to Prime Minister Narendra Modi ahead of the Gujarat Assembly polls.
Gandhi also flayed the Bharatiya Janata Party (BJP) government for its decision to give Bhuj's government hospital on lease to the Adani Group for its medical college.
22 सालों का हिसाब#गुजरात_मांगे_जवाब

प्रधानमंत्रीजी-8वाँ सवाल:

39% बच्चे कुपोषण से बेज़ार
हर 1000 में 33 नवजात मौत के शिकार
चिकित्सा के बढ़ते हुए भाव
डाक्टरों का घोर अभाव

भुज में 'मित्र' को 99 साल के लिए दिया सरकारी अस्पताल
क्या यही है आपके स्वास्थ्य प्रबंध का कमाल?

— Office of RG (@OfficeOfRG) December 6, 2017
In the tweet, the Congress leader said, "Thirty-nine percent children in Gujarat are victims of malnutrition. Infant mortality rate is 33 per 1,000, rising health care prices, shortage of doctors."
Gandhi said, "In Bhuj, a government hospital was given on lease to a friend (Adani Group) for 99 years. Is this the wonder of your health care policy?"
Gandhi has been putting one question every day in a bid to take on the Vijay Rupani-led government in Gujarat, where polling will take place on 9 and 14 December.
He previously put out posers on unemployment among youths, women safety, education, "undue benefit" to power selling companies, state debt, and the prime minister's flagship 'Housing for All' scheme.
India
Senior BJP leader Ravi Shankar Prasad said the allegations made by the Opposition party were bereft of political propriety and a new low in political discourse
India
Rahul, along with party MPs Pratap Singh Bajwa, Ravneet Singh Bittu, Deepinder Singh Hooda, Gurjit Singh Aujla, Jasbir Singh Gill and other leaders like Randeep Surjewala, also carried banners and raised slogans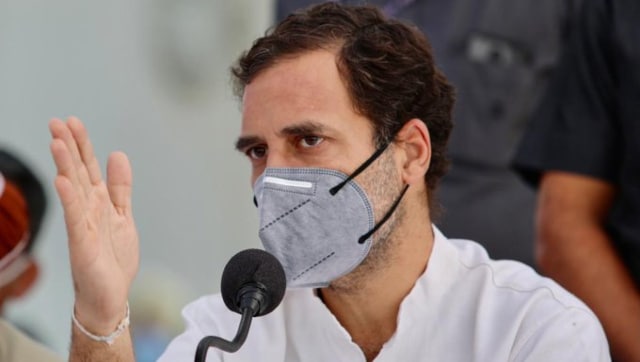 India
The Congress leader had asserted that any phone that he uses are tapped, adding that a Supreme Court-monitored probe should be ordered in the matter