R Rajaraman interview: Professor of theoretical physics on N Korea's missiles and peace on Korean Peninsula
R Rajaraman, emeritus professor of theoretical physics at the School of Physical Sciences, Jawaharlal Nehru University, and co-chairman of the International Panel on Fissile Materials (IPFM) has just returned from South Korea. Rajaraman had been invited in capacity as IPFM co-chairman to participate in the attempts being made by United States and South Korea to 'denuclearise' North Korea.
R Rajaraman, emeritus professor of theoretical physics at the School of Physical Sciences, Jawaharlal Nehru University, and co-chairman of the International Panel on Fissile Materials (IPFM) has just returned from South Korea. Rajaraman had been invited in capacity as IPFM co-chairman to participate in the attempts being made by United States and South Korea to 'denuclearise' North Korea.
Edited excerpts from an exclusive interview follow:
Earlier, President Donald Trump had been talking about destroying North Korea. President Kim Jong-un retaliated by calling him a mad dog. Now, both sides are willing to talk. How has this change come?
Rajaraman: For a long time during his election campaign, Trump declared he would not talk to Kim until he threw away his weapons. He maintained this position right into his presidency. Kim said equally harsh things about the US president. These exchanges continued for some time. Meanwhile, in mid-2017, Kim exploded what seems to be a thermonuclear or at least a boosted fission weapon. It was estimated to be a 120 kiloton bomb.
Earlier, Kim had been exploding bombs of a 20-30-40 ton capacity similar in many ways to what we did in 1998. He had also been improving on his missiles, building them to have a longer and longer range till he had a missile that could cover a 7000 to 8000-kilometre stretch right up to Los Angeles.
Of course, to demonstrate the range of his new missiles, he did not fire them across the Pacific towards the United States. That could have started a nuclear war! To show to the world how much distance the missiles could cover, Kim fired vertically: Into the atmosphere. The height to which it went was verified by US missile experts, and from that height they calculated that if the missiles were fired horizontally, they could reach the US mainland.
So now, Kim had in his hands, both a missile and bomb. What he does not seem to have (so far) is the ability to attach the bomb to the missile but it is believed that he can develop that in a few months. The US cannot afford to have even a single nuclear armed missile system attacking their mainland. Thus, what Kim has shown is that he has credible minimum deterrence. You cannot get more minimum than this.
How did North Korea succeed in making the hydrogen bomb: Something which we have not succeeded in doing. And how much time did it take for him to make it?

Rajaraman: Over the years, North Korea seems to have put together an excellent team of weapon and missile scientists. In the initial stages, they received help from the Russians and must also have got some assistance from the Chinese. Kim is also known to have received weapon designs from Pakistan in exchange for missile designs but that happened a dozen years ago.
Kim has built himself into a position of strength?

Rajaraman: Yes, it was only after he exploded the thermonuclear device that he was ready to start negotiations with the US. It was following this that the bluster from the US towards him was replaced by a willingness to talk. An important player in all this is South Korea, which has also been trying to have a rapprochement with North Korea. They held their olympics in which North Korean athletes took part. They even had a joint team at one of the events! South Korean president Moon Jae-in held two meetings with the Democratic People's Republic of Korea (DPRK) chairman Kim. He is preparing the ground for the possible meeting between Trump and Kim.
But now Kim is talking in terms of denuclearising his weapons?

Rajaraman: This is a matter of language. Denuclearise can conveniently mean different things. This word is obviously going to be interpreted differently by different people. But the presence of these weapons has forced the US to back off. These weapons have been built by North Korea with enormous difficulty. So it is unlikely that Kim will throw away his entire arsenal. Also, the nation has suffered from sanction after sanction.
When did the sanctions start?
Rajaraman: The sanctions started in 2003, when North Korea withdrew from the Non-Proliferation Treaty (NPT). As they began to do weapon testing, the European Union, US and United Nations imposed stronger sanctions blocking imports and exports. The Chinese helped North Korea withstand the effect of sanctions but the fact is that Kim has managed to survive. People who have visited Pyongyang report that it is not all gloom and doom. Kim has stabilised the price of essential commodities and that has made a difference.
How does South Korea perceive North Korea?
Rajaraman: South Korea is facing a nuclear and conventional threat right across the border. Seoul realises that North Korea can march into their country at any time. But at the same time there is an emotional coupling between the countries. Last month, I went to Seoul to attend a joint meeting of two bodies that I belong to: The  Asia Pacific Leadership Network and the International Panel on Fissile Materials.
Two of the colleagues participating hold important positions in the nuclear and strategic bodies of South Korea, who during our meetings would periodically disappear (presumably summoned by the government for consultations). We had other colleagues in our group from Russia and China who had recently visited North Korea. From these colleagues, I got a fair idea of the mood in both South and North Korea. President Moon has North Korean roots and his efforts to improve relations with North Korea has seen him drawing  flak from South Korean hawks. He should be applauded for working hard to bring peace to the region.
The North Koreans do not want a Muammar Gaddafi-like repeat...
Rajaraman: You are 100 percent correct! Libya is a dirty word in North Korea. Libya surrendered its nuclear programme and some years later, Gadaffi was dead. Countries like DPRK and Pakistan realise that nuclear weapons provide them with a minimum deterrence. For them, the American forces are a threat. Of course, at the same time they (North Koreans) also need sanctions removed.
How many nuclear bombs does North Korea have? Some experts claim they have around sixty...
Rajaraman:  No one knows. Rumours place it between 40 and 60 based on their understanding of how much missile material they have accumulated.
 How many nuclear tests have they conducted?
Rajaraman: I don't know the exact figure but they have been conducting tests from 2010 and have successfully tested weapons of increasing nuclear tonnage.
How much have they spent on this programme?
Rajaraman: It is difficult to assess how much they have spent but the impact of this has been enormous on their economy and they've had to manage the effects on the populace. They have no press freedom. They have a very strong internal security apparatus. The cost and impact of sanctions are even more than the cost of their weapons programme.
How much help have they received from China?

Rajaraman: Kim went to meet President Xi Jinping in Beijing twice this year. The two countries share a common border and Kim went by train. Xi assured him of all possible support. But at the same time China is part of the international community and has to go along with international sanctions.  So China has been forced to cut down their some of its trade with North Korea.
What about Russian support?
Rajaraman: Russians have been supporting them from the time of the Korean war. The North Korean process of  developing weapon technology has been a gradual affair and the missile scientists of North Korea have received a lot of assistance from Russia.
Its seems surprising that North Korea developed a hydrogen bomb while India's turned out to be a dud...
Rajaraman: There has been some controversy on that. Defence Research and Development Organisation's (DRDO) top scientist K Santhanam said it fizzled out but others say it hasn't. There is no reliable referee to decide on this. In any event, at present, we are not doing any more testing. We may be doing computer simulations but this falls short of testing.
The North Koreans released a video to show they were no longer testing weapons...
Rajaraman: The North Koreans have a testing ground in their mountains. The recently shown videos show they've exploded entrances to these mountains but they could have tunnels in other places.
South Korea must be feeling threatened by North Korea's nuclear arsenal...
Rajaraman: Yes, but both nations are having several rounds of discussions.
What about our own nuclear programme?
Rajaraman: We have both the energy programme and the weapons programme. For our weapons programme, those of us outside the government can only estimate how much plutonium is being produced. We are currently producing enough plutonium to make three to four weapons a year at the rate of four to five kilos of plutonium per weapon. How much of this plutonium is being assembled into weapons is something I do not know.
World
North Korea's Korean Central News Agency (KCNA) released photos of the warheads, dubbed Hwasan-31s. Leader Kim Jong Un visited the Nuclear Weapons Institute and inspected new tactical nuclear weapons and technology for mounting warheads on ballistic missiles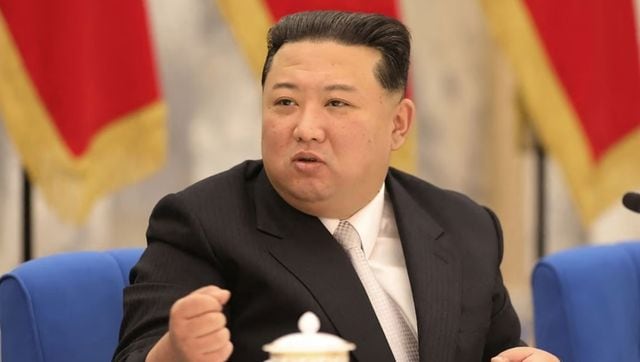 World
Kim's latest threat, a doubling-down on an earlier promise to ramp up nuke production 'exponentially', came ahead of a US Navy carrier strike group's scheduled arrival in South Korea
World
Kim Jong Un's remarks came as the isolated country conducted what KCNA called exercises aimed at improving its tactical nuclear attack capabilities and war deterrence on Saturday and Sunday to send strong warnings against the allies