Presidential Election 2017: Opposition leaders flock at Congress luncheon to build consensus on candidate, Nitish Kumar skips
Although no name has cropped up officially from the Opposition camp on a consensus candidate, the name of former West Bengal governor Gopalkrishna Gandhi has been doing the rounds.
Leaders of 17 opposition parties on Friday attended a lunch meeting convened by Congress president Sonia Gandhi in Parliament House as part of efforts to come to a consensus on a candidate for the presidential election. Reports said that they would explore the possibility of fielding a joint candidate for the presidential election.
The lunch was attended by former prime minister Manmohan Singh, West Bengal Chief Minister and Trinamool Congress chief Mamata Banerjee, Bahujan Samaj Party supremo Mayawati, Rashtriya Janata Dal chief Lalu Prasad, Nationalist Congress Party (NCP) chief Sharad Pawar, Janata Dal-United leader Sharad Yadav, Samajwadi Party chief Akhilesh Yadav along with his party leaders Naresh Aggarwal and Ramgopal Yadav.
Other leaders who attended included Kanimozhi (DMK), D Raja (CPI), Sitaram Yechury (CPM), and Omar Abdullah (National Conference).
Representatives of JD(S), Kerala Congress, AIUDF, IUML, RSP, and JMM were also present.
Senior Congress leaders, including party vice-president Rahul Gandhi, Mallikarjuna Kharge, Ahmed Patel and Ghulam Nabi Azad attended the meet as well.
The main opposition Congress is seeking a larger unity among non-NDA parties ahead of the presidential election which could be taken forward to the upcoming assembly polls in states like Gujarat, Himachal Pradesh and Karnataka, besides the Lok Sabha elections in 2019," News 18 reported further.
Apart from the presidential election ahead, the meeting also discussed forming a grand alliance for the 2019 Lok Sabha election besides focussing on present issues like the Kashmir conclave and the Saharanpur riots, the India Today reported. 
Although no name has cropped up officially from the Opposition camp on a consensus candidate, the name of former West Bengal governor Gopalkrishna Gandhi has been doing the rounds.
Besides Gandhi, The Times of India reported that "Speaker Meira Kumar's name has also been discussed in the Opposition camp as a possible candidate. However, the 'secular' camp will wait for the BJP to take the first step. JD(U) chief and Bihar chief minister Nitish Kumar recently asked the government to start the process of building a consensus on the presidential election, arguing that the Opposition will be left with no choice but to field its candidate in the absence of an initiative from the ruling camp."
Efforts are on to bring arch political rivals in Uttar Pradesh — the SP and the BSP — together on a common opposition platform ahead of the presidential poll.
Former JD(U) president Sharad Yadav who was an invitee to the lunch is also seen as one of the probable apart from NCP chief Sharad Pawar. However, although the NCP leader has ruled himself out of the race, it won't be an easy decision for Yadav to take given the conditions to contest for the country's highest constitutional post demands.
"If he contests presidential election then can't remain an MP. He will have to quit from membership of Rajya Sabha before he files nomination. The question which the JD(U) leader in conversation with Firstpost raised is interesting -- Will Sharad Yadav like to lose both, his position as an MP and the presidential election?" wrote Firstpost senior editor Sanjay Singh.
Bihar Chief Minister Kumar has also mooted a second term for incumbent Mukherjee and had even suggested that the ruling BJP try and build consensus on him.
What however surprised everyone was the decision of the Bihar chief minister to stay put in Patna. He in fact deputed Rajya Sabha MP from Bihar and senior JD(U) leader Yadav to attend the lunch on his behalf. His absence from the lunch even raised questions on the unity of the Opposition parties that they unequivocally flaunt before the BJP, Prime Minister Narendra Modi in particular.
"Nitish's absence from Sonia's lunch table becomes significant for the simple fact that he is only credible face in the opposition ranks. His decision to stay put in Patna on Friday on a day when Sonia is poised to discuss opposition unity and deliberate over names of the possible combined opposition candidate for presidential election takes the steam out of the whole exercise," Singh said in his piece.
With inputs from agencies
Find latest and upcoming tech gadgets online on Tech2 Gadgets. Get technology news, gadgets reviews & ratings. Popular gadgets including laptop, tablet and mobile specifications, features, prices, comparison.
India
In his address after laying the foundation stone for various infrastructure projects in Tamil Nadu, Shah said Narendra Modi has "waged a battle to end dynasty politics and corruption"
India
Khurshid, whose comments come after Kapil Sibal and others spoke critically of party's show in Bihar polls, added that there are forums within the party to air views and that doing so publicly "hurts it"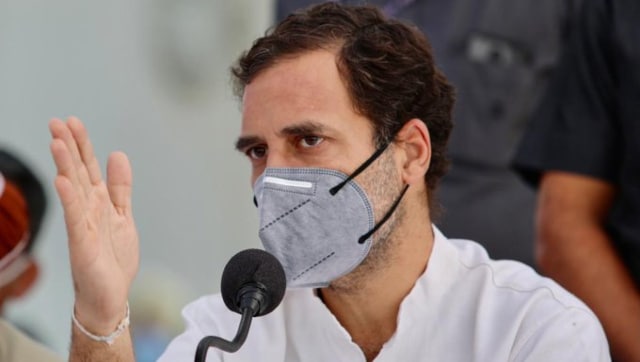 India
In a tweet attacking the Bihar CM, the Congress leader tagged a Hindi news report that claimed the incident was kept under wraps as elections were on