Prakash Raj exclusive: Everyone has the right to differ, but this is orchestrated trolling. And you cannot threaten me with continuous abuse
In an exclusive interview, Prakash Raj speaks his mind on the Mersal controversy, GST on handicrafts and why he worries that the Taj Mahal is in danger.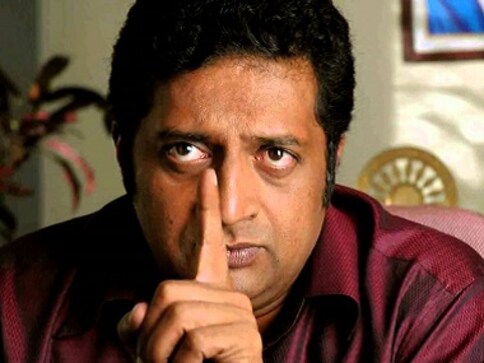 Award-winning actor, producer, director and philanthropist Prakash Raj is not a person to beat about the bush. Last month, he took on Prime Minister Narendra Modi, no less, over his silence on journalist Gauri Lankesh's murder. He said: "As a citizen of this country, I am disturbed, hurt and afraid by the silence of the prime minister. I am talking to my prime minister and I say your silence is chilling and I have a right to say this.''
In an exclusive interview with Firstpost, Raj speaks his mind on the Mersal controversy, GST on handicrafts and why he worries that the Taj Mahal is in danger.
We speak at a time when a Tamil film 'Mersal' starring Vijay is in the midst of a huge controversy – because of one scene where his character has criticised GST. Where do you stand on it? Do you see it as an unnecessary controversy?
It is unnecessary. The film has been censored. Let people debate about the right and wrong of it. All of us need not be on the same page on every issue. Let people scrutinise. But to bring in the religion of the actor into it shows that there is an agenda.
In fact, the Tamil Nadu unit of the BJP accuses Vijay of having an agenda in criticising the NDA government's economic decision...
I ask them, do you have an agenda? My point is you cannot gag. Period. Let us discuss, express our objections. But you cannot bring religion into it.
Does it make the job of filmmakers difficult if such objections are raised? Will it lead to a situation where the scriptwriter or the director will think twice before writing or filming a scene in a particular?
Has it been easy in the recent past? We are already made to think twice.
With reports that Kamal Haasan is entering politics, and the possibility of Rajinikanth doing the same, do you think it is the established political class's way of sending a message to the film industry-wallahs? That this far and no further.
So, does it mean you say such stuff and threaten? So say so directly. Why in the disguise of a film. Let us fight it out.
On Tuesday, you tweeted about the Taj Mahal and I quote: "Since you have started digging at the foundation of the Taj Mahal, when do you intend to bring it down. We can at least take our children and show it one last time.'' Do you worry the Taj is in danger?
Yes, it is my worry. Why would you hold the present generation responsible for what their ancestors did? It is like making a British child feel guilty for what his or her forefathers did to India. Will you hate them for it?
The other day, members of a right-wing group read out the Shiva Chalisa at the Taj Mahal complex. What do you have to say about that?
I have said what I had to say. I am speaking about my fears. People have to start thinking as well. We need to stop spoonfeeding.
You also tweeted on GST and I quote: "Machine culture has made our handcrafters who live on handmade products slaves of the marketplace. GST is wiping them out. Would you consider zero percent GST for them in your next meeting in November? Or would you be kind enough to at least suggest to rural India, a way to perish with zero percent pain and zero percent humiliation.'' Strong words, strong messaging...
Isn't it true? The British did the same with us. You have a country where the rural economy is unable to compete with the urban economy. It is fighting inequality already and on top of that, now you put GST.
When we speak of handicrafts, we are not talking only of weavers. We are talking of the tribes living on the fringes of the forests, collecting leaves, honey, even a cobbler. Wherever work is done, three-fourth is done by hand and one-fourth by an implement. It is their identity, their culture.
And in most parts, the machines have taken over...
Yes, already handlooms are dying because of the machines coming in. A handloom saree already costs much more and consumers won't buy them. We need social justice. Where is the social justice that BR Ambedkar spoke about? Is this the Swarajya that Gandhiji spoke about.
Yes, we believed GST will work for everyone's good. Great. I am not against GST. But now when we know of the problems, nothing wrong if we admit there are errors. When you bring in a new policy, there are bound to be hiccups.
And this is what you have found during your interaction with rural folk...
Yes. My villagers in the place I have adopted are helpless. I am meeting people, whether in Kondareddypalle in Telangana or near Mysuru. I am working with (theatre personality and handloom activist) Prasanna and am only asking the government if it can reconsider imposing GST on products prepared by tribals living in a forest. It is not only a huge economic burden on them but also disturbs the social fabric.
Earlier this month, you came under a very sharp attack after you criticised the fact that the prime minister was still following those who abused Gauri Lankesh after her murder. It has been some days since that. Did anyone reach out to you after all the abuse you were subjected to?
I do not belong to any political party. My statements are not political. You still want to badmouth me, I cannot help it. Everyone has the right to differ, but this is orchestrated trolling. And you cannot threaten me with continuous abuse. I can see the face behind it and I am going to hit back.
How will you hit back?
By continuing to talk. I know my integrity.
Do you think there is a fear factor in the country?
People do not question because they feel threatened. There is an attempt to induce fear. That is the ambience in the country today and I am appalled by it.
That includes the media?
In fact, when the Karnakata Assembly recently sent two journalists of Kannada publications to jail in June, I was the first one to raise my voice against it and stand up for them. I went and met the two journalists. You cannot stop the media.
Can we say the journalists can punish the MLAs? I am chiselled by one of the greatest journalists ever seen, P Lankesh. He taught me to be fearless and question everything. We cannot become a country where journalists are gagged.
A term often used these days is that the vocabulary in India has become too vicious and the atmosphere very toxic. Do you agree?
The social media is closely monitored. Every political organisation pays certain groups of people to troll individuals. But that is not the majority of people in India. However, this is the group that triggers and creates an atmosphere of hatred. It is like growing a plant using toxins and then eating the same.
Opinion
What makes the alliance better is that no other country works so resolutely and with a sense of purpose in the time of duress as Japan does; India needs such a partner in dealing with China
World
Turkey has declared a level-4 alert after a 7.8 magnitude claimed hundreds of lives. The "level 4" alarm calls for international assistance
World
Former British foreign secretary Jack Straw recently claimed that the UK government instituted an inquiry and a team visited Gujarat to investigate the 2002 riots