Politics, militancy, cops, reservation: Meltdown at Manipur University was at tipping point, V-C AP Pandey only triggered it
It is said a university is not a political party, and education is not an indoctrination. But the happenings at hallowed grounds of Manipur Central University, leading to a more than 85-day-long strike, is underscoring something quite the contrary.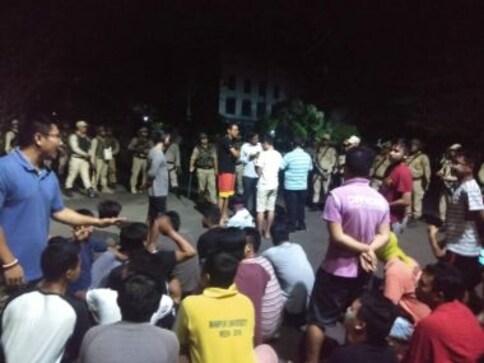 It is said a university is not a political party, and education is not an indoctrination. But the happenings at hallowed grounds of Manipur Central University, leading to a more than 85-day-long strike, is underscoring something quite the contrary.
A growing wrangle between the university's vice-chancellor on one side and a substantial chunk of students and the teachers on the other is fast assuming the shape of rowdy political slugfest the implications of which on next year's parliamentary elections cannot be lost on anyone. There are also muted allegations, albeit unsubstantiated and sotto voce, of Manipur University being used by militant elements.
Vice-chancellor Professor Adya Prasad Pandey, formerly an economics professor at the Banaras Hindu University, is being accused of a raft of administrative, financial irregularities and a move to saffronise Manipur's premier institution by the Manipur University Teachers Association (MUTA), Manipur University Staffs Association (MUSA) and Manipur University Students Union (MUSU). Since then, a wave of incessant allegations and refutations and counter allegations have followed bringing the university to a standstill since 31 May.
On Tuesday, the President of India approved a Union Ministry of Human Resources Development directive suspending Prof Pandey till the completion of the enquiry against him led by retired Justice of the Meghalaya High Court T Nandakumar.
Controversies and agitations are not new to Manipur University. Before Professor Pandey's appointment, there was a raging controversy over a decision to reduce the reservation of seats for the state's tribal students from 31 percent to 7.5 percent. And the appointment of Professor Pandey was intended to have a balming effect. That move misfired.
Manipur's demographics have an interesting geography. About 66 percent of the state's population, largely comprising Meiteis, live in about 10 percent of the land area limited to the valley while 90 percent of the state's land area largely comprising hills are home to about 34 percent of the total population who mainly hail from the Naga and Kuki tribal communities.
Plagued by insurgency for about half-a-century, there are about 200 armed militant groups operating in the state, each with its own plethora of demands and different modes and methods of meeting financial requirements.
This is broadly to also say that there are numerous big, medium and small functional power centres in the state where a person not familiar with the rough and tough of Manipur's melting pot will take a lot of time to understand, comprehend, analyse and then to act. Parachuting Professor Pandey from Banaras and expecting him to learn the complexities and nuances of Manipur's society in a very short period of time in itself was a bad idea.
Pandey was appointed the university's Vice-Chancellor in October 2016, two years after the BJP-led NDA government swept to power in a landslide verdict in the country. Less than a year after that the BJP wrested power from the Congress in the border state with Nongthombam Biren Singh being sworn in as Manipur's first-ever BJP Chief Minister.
Professor Pandey's experience in Imphal has not been particularly delightful. In February, he received a Rs 5 crore demand notice from one of the insurgent outfits. "From where do I get that kind of money," he asked.
Asked about the allegations against him, Professor Pandey says: "I had streamlined the financial and administrative processes and started the process of tendering for various works. This ruffled many feathers who instigated the civic organisations and students."
Skirting a direct query on whether he has 'close links' with the Sangh Parivar as alleged by the protesters, he says: "This 'saffronising' charge is a common allegation when things don't work out the way it is wanted by certain vested interests, be it in Hyderabad University or in JNU."
According to Professor Amar Yumnam, the head of the university's economics department: "From November 2016 to May 2018, Professor Pandey has been out of station for more than six months. His absolute non-commitment to the university is also exemplified by the fact that he attends office only after 12:30 PM if he in station. The mandated court meetings, executive council meetings, academic council meetings, finance committee meetings, nothing has been held as mandated".
"If that is not enough, he has been making expenses without approval as exemplified by the purchase of smart class rooms from a firm in Uttar Pradesh or the examination of answer scripts at excessive prices."
Requesting anonymity, a  top-level bureaucrat said: "The situation in Manipur University is not just because of the maverick actions of one single individual at the helm of affairs. He may only have sparked it. For instance, why has the problem come about now when Prof Pandey was made the V-C in 2016? This where the role of politicians come in."
Professor Pandey shares a similar view: "Of course, political parties are very much involved now. Processions by opposition parties have already taken place in the university campus".
Professor Yumnan disagrees: "Absolutely wrong. The problem arose from the appointment of an uneducated person as a V-C solely because of political and religio-political connections. This person does not know what a university is and does not even display willingness to learn either."
As the Manipur University happenings spill outside the campus and threatens to disturb the volatile politics of the state, one thing seems to be getting clear: It is the proxies coming out to the open who had, thus far, planned their moves from afar. It is more of a game of wits with political dividends in mind.
Football
The ongoing Tri-Nation International Football Tournament is the first international football competition to be held in Manipur.
Football
Manipur's long wait to host an international game ends on Wednesday as India start their tri-nation friendly tournament campaign against Myanmar.
Football
After Myanmar, the home team will next take on Kyrgyzstan on 28 March at the same venue.