PM Narendra Modi wears jacket made from recycled bottles: How are clothes made from plastic waste?
Prime Minister Narendra Modi turned heads in Parliament after donning a blue jacket made of recycled waste. Using clothes made out of used plastic is a big step toward sustainable living
Prime Minister Narendra Modi turned up at Parliament today during the ongoing Budget session. However, it was not his appearance in the Rajya Sabha that made the news, but his choice of attire that caused heads to turn.
But what was so special about the sky-blue 'sadri' jacket donned by the prime minister? Officials say that the garment was made out of recycled plastic bottles. The garment was presented to him by the IndianOil Corporation during India Energy Week in Bengaluru on 6 February.
Union Minister for Housing and Urban Affairs Hardeep Singh Puri took to Twitter later to praise the prime minister for donning the jacket.
My heartfelt gratitude to PM Sh @narendramodi Ji for wearing the jacket made from fabric using recycled PET bottles! Truly exemplifies his leadership for #LiFE Movement – India led global mass movement to nudge individual & community action to protect & preserve environment 🍀 pic.twitter.com/9Qb8V2GkPS

— Hardeep Singh Puri (@HardeepSPuri) February 8, 2023
As discussions and netizens praise Modi for throwing light on sustainable fashion, here's a closer look at how clothes, shoes are made from plastic and why they are beneficial to the environment.
Fashion from recycled plastic
IndianOil, which is the brains behind Modi's jacket, explained how they made the garment. The oil company said that the process of making the fabric from discarded bottles involves washing, drying, and crushing of collected PET bottles into small chips. The chips are then heated and passed through a spinneret to form polyester staple fibre which is given a fluffy, woolly texture in a crimping machine. This polyester staple fibre is then spun to produce yarn which is further knitted or woven into polyester fabric.
The process is pretty similar for other companies too that recycle plastic into fabric for clothes and shoes. According to science, the plastic bottles are first collected, then broken down into small flakes. Those flakes are later melted into tiny pellets, and they are melted again, filtered and spun into threads. These threads can be used for a range of textiles — from swimwear to shirts — all depending on the designers.
It takes about six recycled bottles to make a T-shirt, six bottles to make a bodysuit, nine bottles to make a sleepsuit and nine to make a dress.
Also read: From mountains to oceans: Plastic pollution exceeds Earth's safe limit
Growth of recycled plastic fashion
Recycled plastic used in fashion has been around for a long time — as long back as the mid-1990s. However, in recent times, more brands and designers are opting for this choice. Big brands and celebrities are going green in recent times.
Adidas, the sports giant, has shoes that are made completely out of recycled ocean plastic. The sportswear company added that its goal is to replace all virgin polyester with recycled polyester by 2024.
Similarly, Nike uses "some recycled material" in 60 per cent of its products, said Seana Hannah, Nike's vice-president of sustainable innovation. "Nike is the highest industry user of recycled poly and we divert more than one billion plastic bottles on average a year from landfills," Hannah was quoted as telling The Guardian.
High fashion designers houses such as Prada, Gucci and Stella McCartney have also incorporated recycled plastic into their clothes, in an attempt to be more sustainable or become the "conscious" choice.
And it's not just Modi who has opted to wear his green mantra on his sleeve. Actor Emma Watson at the Met Gala in 2016 in a Calvin Klein look created with fabric made from recycled plastic bottles, while at the Beauty and the Beast Paris premiere, she wore custom Louis Vuitton made using Newlife polyester that, once again, utilised used plastic bottles.
Tennis superstar Maria Sharapova turned heads in 2021 when she walked the red carpet at the British Fashion Awards. Her dress, designed by, Dutch designer Iris van Herpen, was made with fabric made from recycled Evian watter bottles.
At the 2012 Oscars, Meryl Streep stunned one and all in a gold Lanvin gown. The Hollywood star's fashion moment was also a green moment as the fabric was made from recycled plastic bottles.
Also read: India to ban single-use plastic: Why is it is so hazardous? Which countries have taken steps to get rid of it?
Beneficial to the environment
We are all aware of how plastic pollution is one of the bigger problems the world faces today. Plastic accounts for 85 per cent of all marine litter. The UN Environment Programme predicts that the amount of plastic in the ocean will nearly triple by 2040, adding 23 million to 37 million tonnes more waste every year.
As this problem persists and seems to be only growing, one solution to the issue is recycling. As of date, only nine per cent of plastic waste is recycled.
Hence, using plastic bottles instead of new plastic to manufacture clothes reduces the amount of plastic in the environment and uses much less energy. For example, making new polyester requires an enormous amount of heat, and two of the main ingredients are coal and ethylene (a derivative of petroleum).
It also helps in changing mindsets. The more big brands that make a public commitment to sustainability, the more people will become aware of the problem and hopefully change their behaviour.
Yet, the elephant in the room remains the fact that recycled plastic is still plastic and therefore participates in the plastics economy. There are also concerns about microplastics, which are tiny particles that shed from synthetic textiles like polyester every time they're washed or worn. These miniscule pieces of plastic are increasingly finding their way into human food, air, and water sources.
So, while it can't be a one-stop solution to the plastic problem, clothes from recycled plastic is a step forward towards a greener and healthier environment.
And by wearing a jacket made from recycled plastic, Prime Minister Narendra Modi has put the spotlight and taken the step in the right direction.
With inputs from agencies
Read all the Latest News, Trending News, Cricket News, Bollywood News,
India News and Entertainment News here. Follow us on Facebook, Twitter and Instagram.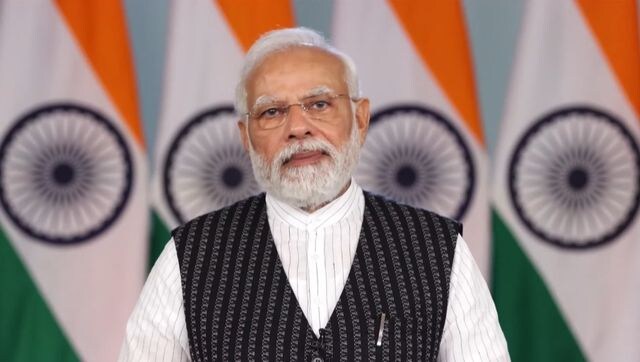 India
A man named Snehdeep Singh Kalsi shared his rendition version of the song 'Kesariya' from Brahmastra
World
India recorded 1,134 new cases recorded in the last 24 hours, with the active caseload currently at 7,026
Photos
Rahul Gandhi, the Congress leader, has been disqualified from the Lower House of Parliament after he was convicted by a Surat court in a 2019 defamation case. The move has triggered anger among the Congress and other Opposition leaders