PM Modi's note ban, Nitish Kumar's liquor ban hit Bihar's Beguserai district
In low-economy rural areas of Bihar's Beguserai, life has not come to a halt. People have found innovative jugaads to run their economy and sustain life.
In the age of Prime Minister Narendra Modi's bullet train, Bihar's Beguserai district's fascination with 'Ranthi express' was quite instructive, if not outright amusing. But what was Ranthi Express?
Ranthi Express was a brand of country liquor, brewed locally by liquor barons with huge political connections. The brew was so strong that one would metaphorically 'drop dead' after consuming just one pouch of the liquor. The consumer would be as good or worst as a corpse for a few hours after. And herein lies the reason from where this brew derived its brand – ranthi, in local parlance, refers to a stretcher used for carrying corpses.
Until Bihar Chief Minister Nitish Kumar dealt a deathly blow to Ranthi Express, by imposing a liquor ban in the state, it was a craze among the delinquent and unemployed youth. Thousands were hooked on to the promise that one pouch of this liquor would transport its consumers to a blissful netherworld, beyond pain and anxiety.
Though bliss and netherworld may appear to be oxymoronic, Beguserai is a land of umpteen such paradoxes. This immensely fertile Gangetic plain of Bihar is now highly industrialised. It was called the Leningrad of Marxists till it fell to the saffron wave in the recent past. The rich and the poor co-exist amicably, as they have realised over the years that power does indeed flow through the barrel of the gun.
But the people of this land have now been hit by two bans: On the Rs 500 and Rs 1,000 currency notes and on liquor. The denizens of the netherworld found both the bans to be quite devastating. Liquor barons have shut their shops and breweries have been locked. The roadside vends have turned into tea shops. People are not seen roaming on the streets in an inebriated state anymore, a sight which was common in the district till the ban on liquor was enforced.
"Accidents have drastically reduced and street brawls are less in number," said Dr Hemant, who owns the Life line hospital in Barauni. The positive impact of the liquor ban is quite palpable in the district.
But what about the currency ban? Raj Kumar Singh, who runs the KDM Hotel and an agency for the Enfield motorcycle (commonly known as bullet) points out that life was initially hit but is now returning to normalcy. "Bihar is a low economy state where an informal economy does not allow the life to be disrupted substantially," he said. In hotels, the business is picking up pace after an initial decline. But buyers for bullet motorcycles have increased two-fold. The reason for that is not far to seek.
In fact, those found in possession of excess cash rushed to the banks and deposited their money in substantial numbers in order to facilitate the purchase of the motorcycle. "They are coming with drafts and cheques to buy bullets (a motorcycle that symbolises masculinity in the region). "We expect to sell nearly 200 motorcycles this month, nearly double the sales of the previous month," Singh added.
Similarly, in the low-economy rural areas of Beguserai, life has not come to a halt. People have found innovative jugaads (simple work-arounds) to run their economy. For instance, a large section of grocers and street vendors are still accepting the banned currency notes as most of them are confident that they would get the cash deposited in their accounts and get the money back when the situation normalises.
The biggest worry in the region, however, comes from the farmers' inability to purchase fertiliser and seeds for the Rabi crop. But in Ramdiri village, barely ten kilometers from the district headquarter, villagers do not seem unduly alarmed over being cashless in their routine life. "In rural society, inter-dependence is so strong that we get support," they point out. "Even micro-ATMs are functioning in the region," they claimed, giving an air of self-assurance that didn't appear to be contrived.
Yet some are worried about the agriculture. "If a situation of cash-crunch persists, it would hit the hard wheat sowing," a farmer said. Do they foresee a disaster following the demonetisation? "Not at all, what we see in media is not reflected on the ground," they point out.
However, a communist leader in the midst of the crowd rejected this optimism and pointed out that the move was ill-conceived and had caused misery for the poor.
In this cacophony of a debate, local BJP MP Bhola Singh took the discourse to another level. While speaking with Firstpost, Singh, known for his loquaciousness, closed his eyes and compared the present ordeal with a mythological parable.
"You see Kunti sought a blessing from Lord Krishna to give her perpetual sorrow in order to remember God," he said. On being asked if Modi was Lord Krishna in his reference, he said, "No he is not, but this pain is for the good of people." Singh is a known party-hopper who began his career as a communist and ended up in the BJP.
Close to Ramdiri village lies Simaria, the birthplace of Ramdhari Singh Dinkar, the famous bard who valiantly fought against the emergency and coined the phrase, "singhasan khali karo ki janata aati hai (vacate the throne, lest the people will come)". In this erstwhile bastion of communists, the bans on currency notes and liquor are hardly frowned upon. In Bhola Singh's hyperbole it is seen as a blessing in a curse.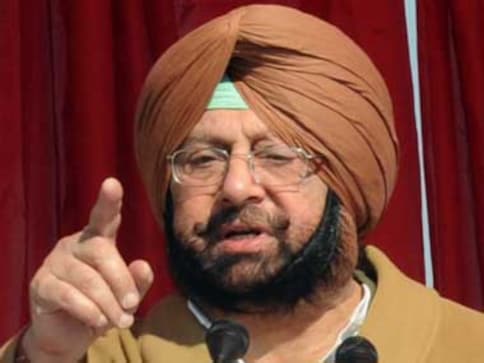 Politics
Amarinder, who was one of the Congress' powerful regional satraps, also said he had never experienced "this sort of interference ever as a chief minister"
India
Communal tensions have long simmered in Bangladesh, whose constitution designates Islam as the state religion but also upholds the principle of secularism.
India
The Nat community in the state claims that the move is paying off and is acting as a deterrent as more and more of its members are getting dissuaded from consuming liquor