PM Modi is God, greater than Gandhi: New ICCR Chairman Lokesh Chandra
Prime Minister Narendra Modi's government has appointed Lokesh Chandra as the chief of ICCR. In an interview, Chandra equates Modi to God.
Prime Minister Narendra Modi's government has appointed an 87-year-old Lokesh Chandra as the chief of India's cultural diplomacy arm — Indian Council for Cultural Relations (ICCR).
A scholar on Tibetan identity, a former Congressman, an Indira Gandhi loyalist and a man with RSS leanings, Chandra has now focused his attentions on Narendra Modi, and by the sounds of it is utterly smitten with the new Prime Minister.
In an interview with The Indian Express, Chandra talks about the "phenomenon" that is Narendra Modi. "Woh bhagwan ke avatar hain (He is reincarnation of God)," Chandra told IE. PM Modi is "a man of ideas and not ideologies," according to Chandra and "from a practical point of view supercedes the Mahatma."
And the new chief of the cultural body does not stop at that. Chandra tells IE how practically the Prime Minister supersedes Mahatma Gandhi but not before he again hails Modi as the "reincarnation of God."
"...who has made "a much more meaningful impact" on the lives of the poor than Karl Marx; and who is virtually an incarnation of God (woh bhagwan ke avatar hain). I have been a Congressman all my life. I was close to Indira Gandhi, I had personal relationships with several top leaders of the erstwhile Soviet Union. But for Modi, politics is only till the elections. After the polls, he is only thinking of the country."
Questioning Karl Marx's contribution to the society, Chandra tells IE that "Modi has made a much more meaningful impact to the lives of these poor." The Prime Minister fasting for Navratri during an official diplomatic visit to the US was also brought up by Chandra.
Another report in the ABP news, quoted Chandra as saying that Narendra Modi is here to "restore the Indian state's cultural reach to what it enjoyed under emperor Ashoka."
Dressed in Khadi, the newly-apppointed chairman of ICCR, in the interview said he wanted to connect South East Asian countries to India with the help of Mahabharata and Ramayana.
This idolisation is not new either in India or for Modi. Chants of "Har Har Modi" were the norm in the run up to the 2014 Lok Sabha elections, despite protests from some Hindu religious leaders, given that the chant 'Har Har Mahadev' is usually associated with the God Shiva.
In an earlier article on Firstpost, Sandip Roy noted how it is extremely common to deify our politicians.
Indira Gandhi was compared to Devi Durga after the war of 1971 with Pakistan.  A filmmaker even announced a biopic called 'Maa Durga' based on Gandhi which prompted this caricature by a Sikh website.
But that's not all. Temples have been built for these politicians, Modi's devotees have built him a temple in Uttar Pradesh's Kaushambi district and Mamata Banerjee has been dubbed as the goddess because she was the one to slay the "red demon"!
So in this context, Chandra's addition to this gamut of officials and senior politicians who are smitten by the Prime Minister hardly comes as a surprise.
India
Anubha Shrivastava Sahai, lawyer and president of the India Wide Parents Association, on the risks of holding board exams, and possible alternatives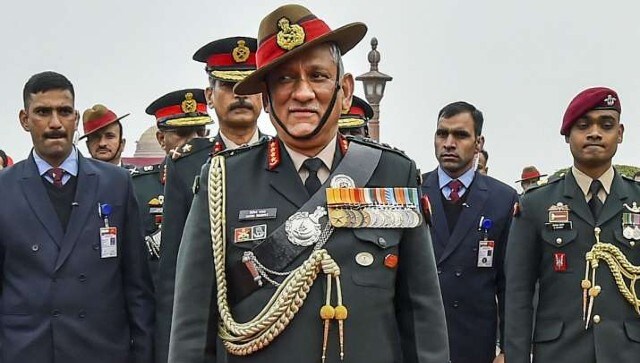 India
The Chief of Defence Staff said that a "capability differential" has come between the two countries over the years and that China has a "lead" over India on technology
India
Taking to Twitter, the former Union finance minister urged the government to allow walk-in vaccination and asked them to get rid of the need for pre-registration for taking the vaccine in India