PM gave go ahead for hot pursuit, #56inchRocks: Rathore erupts in praise of Modi for Myanmar op
Prime Minister Narendra Modi had given the go ahead to the Indian Army for 'hot pursuit' of militants into Myanmar, said Rajyavardhan Rathore.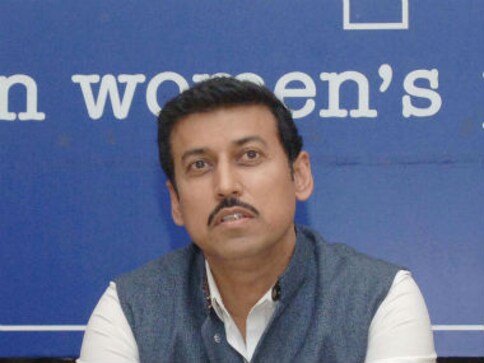 New Delhi: Prime Minister Narendra Modi had given the go ahead to the Indian Army for "hot pursuit" of militants into Myanmar in which two militant camps were completely annihilated, Union Minister Rajyavardhan Singh Rathore disclosed on Tuesday.
"It's become a habit for these militants to strike at the Indian Army or paramilitary forces or citizens of the nation and then cross over into safe havens being confident of the fact that Indian Armed forces will not pursue them," he told NDTV.
"This message is now very clear for all those who harboured intentions of terror on our country. Unprecedented though, but our Prime Minister has taken a very bold step and given a go ahead for hot pursuit into Myanmar," the minister said.
"Therefore, we are confirming that Indian armed forces crossed over into Myanmar and carried out strikes on two of the militant campas, annhilating the entire camps and they have returned back safely," he said.
Asked whether India will extend this strategy to other sectors like the western side, implying Pakistan, the minister said, "its undoubtedly a message to all nations that harbours any terror intentions, be it the west or the specific country where we went in right now.
"Even if there are groups within a country that harbours terror intentions, we will choose the time and place of hitting them," he said.
Asked whether Indian Army's operation had the support of the Myanmar Army and the government there, Rathore said, "Myanmar is a friendly nation and therefore there was complete cooperation, if the need required".
The Minister said the operation was carried by the special forces "entirely on their own".
To a question whether helicopters were used in the operation, he said, "we had many of the other forces waiting in readiness for any eventuality".
Does this mark a shift in India's strategy in dealing with terrorism, the minister was asked.
"I think it was the need of the hour as well, the entire nation wanted it and that's perhaps a reason why they voted a strong government at the Centre. It had become like a habit (for militants). It is not like a 'kushti' match that if you go back into your area nobody will catch you. This message is very critical that we will strike you wherever you are," he said.
The Minister told PTI, "Attacks on Indians not acceptable anywhere across the world and based on effective intelligence, we will carry out surgical strikes at the place and timing of our own choosing".
"We suffered no casualties in this operation. The Army has strong capabilities and it needed an equally strong leader to take such a bold decision," he said.
Friendship and zero tolerance will go hand in hand, he said, adding, "This is a beginning. India is strong. This message should go to everyone".
PTI
World
The US Army investigation focused on an operation by a special force operating in Syria, which launched an airstrike on an Islamic State bastion in Baghouz
India
Late Major Raghunath Ahlawat, 34, was leading his team on a counter-infiltration operation in the Uri sector of Jammu and Kashmir
India
If any infiltration bid is made by the enemy, we will foil them 100 per cent, said General Officer Commanding 16 Corps, Lt General Manjinder Singh