Plebiscite in Kashmir: Is Jyotiraditya Scindia missing the 'Crown'?
By reference to the 'crown' and 'plebiscite' in Kashmir, what message is the uncrowned Maharaja of Gwalior giving to the people of independent India?
According to a PTI report of 20 July, senior Congress leader Jyotiraditya Scindia said in Lok Sabha that there should be "plebiscite" in Kashmir as the situation in the Valley has deteriorated and the PDP-BJP government has "insulted" the "crown" of India.
"In Kashmir today, there is a need for plebiscite," he said using Urdu word 'rai shumari' while initiating a discussion in the House on Kashmir situation.
Probably realising the gravity of his statement, Scindia said, "I have never said there should be plebiscite. I have said there should be dialogue."
One would expect the scion of the princely state of Gwalior to weigh his words carefully. Scindia should note.
One, the "crown" ceased to rule India post independence. Two, it is the state of Jammu and Kashmir, not Kashmir which occupies only 15.73% of the state's area. Three, there are certain conditions precedent before a plebiscite can be held. Four, according to India's former high commissioner to Pakistan G Parthasarathy, "The Simla Agreement signed in 1972 after the Bangladesh conflict, by then Prime Ministers Indira Gandhi and Zulfiqar Ali Bhutto, stated that the issue of J&K would be settled bilaterally between India and Pakistan, discarding recourse to earlier UN Resolutions." Five, there is a democratically elected state government voted in by the citizens of Jammu and Kashmir.
For long, Pakistan has asked India to hold a plebiscite. A recap of events that led to the accession of the princely state of Jammu and Kashmir should clarify India's position.
Find below extracts from author's E book 'All you wanted to know about the Kashmir problem'.
The State of J&K had an area of 2,22,236 sq kms in 1947. Of this only 46% is in India's possession today, the balance is under forceful occupation of Pakistan and China.

*http://www.jammu-kashmir.com/basicfacts/tour/figures_ii.html
Prior to partition in 1947, British rule over India comprised two separate geographical regions. One comprised of various provinces administered by the Viceroy of India (constituted more than 60 percent of the land area of the country referred to as British India). The other comprised provinces ruled by Maharajas, Princes, Nawabs etc. There were 562 princely states of which 327 were petty states. All of these were collectively designated as "Indian States". For these States, the British looked after the areas of defence, foreign policy and communications whilst they were allowed governance in internal matters such as law and order, civil liberties, health, education and economic development. The State of J&K was one of them.
On 20 February, 1947, His Majesty's Government announced that British India would become independent. Facing the state's rulers on 11 July, 1947, Mountbatten said, "The Indian Independence Act releases the States on 15th August from all their obligations to the Crown. The States have complete freedom-technically and legally they are independent." (4 pg 411) At a meeting held on 25 July, 1947, Mountbatten advised the princes that they should accede to one of the two dominions, keeping in mind the 'geographical contiguity of their States', while surrendering power over three specified subjects, without any financial liability.
By 14 August, 1947, most states signed the IOA.
On 12 August, 1947 the Maharaja of J&K proposed a Standstill Agreement with India/Pakistan on matters pending (existing arrangements to continue) his final decision regarding the future of the State. Pakistan accepted whilst India asked the Maharaja to send its representative for discussions. The Pakistan government started putting pressure on the Maharaja on join Pakistan. It also started an economic blockade from Pakistan.
Whilst the government was pleading special reasons for inability to supply Kashmir with essential commodities, 'Dawn', the Muslim League's official organ, wrote on 24 August, 1947, "The time has come to tell the Maharaja of Kashmir that he must make his choice and choose Pakistan." Should Kashmir fail to join Pakistan, "the gravest possible trouble would inevitably ensure." (1 pg70) Pakistan had made its intent clear.
Q. Can Maharaja Hari Singh be accused of procrastinating on whether to join India or Pakistan?
A. The Maharaja is criticised for delay in taking a decision on accession but 'few have cared to ponder on the implication of the very first advice given by Mountbatten to the Maharaja not to join any Constituent Assembly until Pakistan set up her own'. (7 pg 65)
'Twice in September 1947 the Maharaja offered accession to India on the conditions that his reservations with respect to Sheikh Abdullah be respected. On both occasions Nehru insisted that Abdullah be released to head a popular government. As Hari Singh did not accept Abdullah the initiative proved abortive'. (8 pg 91)
Q. Why did Nehru dislike the Maharaja?
A. Briefly, KS Bajwa wrote, 'Abdullah launched the 'Quit Kashmir Movement' against Dogra rule. He was tried for treason and jailed for nine years on 20/5/1946. As a lawyer Nehru wanted to represent Abdullah but was stopped as he crossed into the state at Kohala. Nehru never forgave Maharaja Hari Singh for this action. On account of Nehru's friendship with Abdullah the Maharaja did not trust Nehru'. (8 pg 90)
Next in October 1947, Jinnah's personal envoy, Maj Shah, came to meet PM of J&K MC Mahajan to negotiate accession. Mahajan asked for blockade to be lifted but Jinnah refused pending settlement of accession issue. Failing in his efforts Shah warned of dire consequences. At that point, the Maharaja seemed tentative on accession to India. Guruji Golwalkar, Sarsanghchalak of the RSS, met the Maharaja on 17 October, 1947 and later apprised Sardar Patel of his favorable attitude.
Meanwhile, some 5,000 Pathan tribesmen invaded the State, on the night of 21/22 October; looting, killing and raping along the way. The Maharaja wanted the Indian Army to drive out the invaders for which he needed to sign the IOA. This he did on 26 October, 1947, which was accepted the very next day by India's Governor General, Mountbatten. Subsequent to Accession, Lord Mountbatten wrote a personal letter to the Maharaja, 'it is my Government's wish that, as soon as law and order is restored in Kashmir and its soil cleared of the invader, the question of the State's accession should be settled by a reference to the people'. (1 pg 76)
Note it was in a personal letter that Mountbatten asked for confirmation of accession by reference to the people of J&K.
However, Pakistan refused to recognise this accession.
Critics argue that this stipulation made the Accession conditional. 'Justice A.S. Anand believes that this statement does not and cannot affect the legality of the accession which was sealed by India's official acceptance. This statement is not a part of the IOA. Mr M.C. Mahajan, the former Chief Justice of India observed thus: The Indian Independence Act did not envisage conditional accession. The Dominion's Governor-General had the power to accept the accession or reject the offer but had no power to keep the question open or attach conditions to it'. (1 pg 76)
In the early hours of 27 October, 1947 began an operation that had never occurred in the history of warfare before. On 7 November, Indian troops won the battle of Shaltang, thereby removing all threats to Srinagar. Three days later, Baramulla was recaptured. The process of retreat by the enemy on all fronts began.
Indian Army soon realized that the only way to completely remove the raiders was by attacking their bases and sources of supply in Pakistan. On 22 December, 1947, India warned Pakistan that unless Pakistan denied her assistance and bases to the invaders, India would be compelled to take such action.
At that critical stage, Lord Mountbatten urged PM, Jawaharlal Nehru, about "the overwhelming need for caution and restraint". He stressed, "How embroilment in war with Pakistan would undermine the whole of Nehru's independent foreign policy and progressive social aspirations." (1 pg 81) On Mountbatten's advice, Nehru decided to lodge a complaint to the United Nations Security Council. That was done on 1 January, 1948.
On 5 January, 1949 the UN Commission for India and Pakistan proposed a resolution whereby the future of J&K would be determined by a democratic method of a plebiscite conducted by India under the UN's auspices but after Pakistan withdrew its troops from the State and disbanded Azad Kashmir forces. India declared a ceasefire on 1 January, 1949, occupied areas were not recovered.
Q. Why has India not held a plebiscite in J&K?
A. UN resolution provides that Pakistan was to withdraw its troops from the State (Mirpur, Muzzafarabad, Gilgit and Baltistan (POJK). Since Pakistan has not withdrawn its troops, India could not conduct a plebiscite. Note that the UN did not contest accession of the princely state of J&K to India.
Also Lt Gen NS Malik wrote, 'Similarly the so called "Two Nation Theory", under whose umbrella Pakistan was formed, applied only to British ruled India and not the princely states, and hence a state being Muslim majority did not disqualify it from joining Indian Union. (Note that Kapurthala in Punjab was a Muslim Majority State). In the same context, referendum in J&K is illegal as it was not agreed by Muslim League to hold referendum in princely states but left to their rulers to accede to India or Pakistan, contiguity being a criteria for the same.' (10)
Note that Nehru's promise of plebiscite was made in his All India Radio broadcast of 23 December, 1949. However, according to former CJI MC Mahajan the IOA and the Indian Independence Act 1947, of the British Parliament gave no legal or constitutional authority to Nehru or Mountbatten, the then governor general, to make that promise. Justice AS Anand presented a series of arguments to conclude, 'This position brings one to the conclusion that to hold a plebiscite would be repugnant to the Constitution of India and J&K'. (1 pg 85)
Externally, India has not used law, international institutions and inherent strength to make Pakistan vacate POJK.
Jyotiraditya Scindia's sister is married to the son of Karan Singh, the former Maharaja of Jammu and Kashmir. By reference to the 'crown' and 'plebiscite', what message is the uncrowned Maharaja of Gwalior giving to the people of independent India?
Is Scindia missing the 'Crown'?
(The author is an independent columnist. On Twitter: @sanjeev1927)
Read E book All you wanted to know about the Kashmir problem.
References
1 The Constitution of Jammu and Kashmir Its Development and Comments. Third Edition 1998 by Justice AS Anand
4 Patel A Life by Rajmohan Gandhi pg 2
7 Kashmir Crisis Unholy Anglo-Pak axis by Saroja Sundarajan pg 3
8 Jammu and Kashmir War, 1947-1948: Political and Military Perspective' by Kuldip Singh Bajwa pg 3
9 Kashmir and It's People: Studies in the Evolution of Kashmiri Society by MK Kaw pg 3
10 Solution to J&K problem lies in New Delhi by Lt Gen N S Malik http://www.indiandefencereview.com/news/solution-to-j-k-problem-lies-in-new-delhi/.
India
The application form will only be considered complete when it is filled completely, payment is done correctly and relevant documents are uploaded to the official website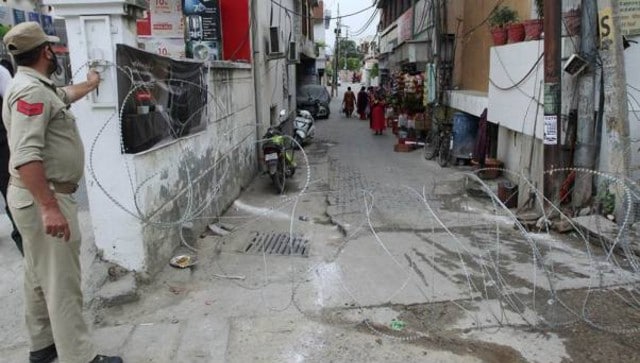 India
The court asked the health secretary of the Union Territory to come out on affidavit within two weeks giving a detailed report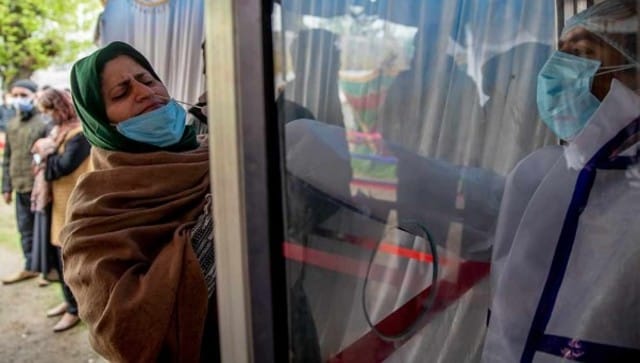 India
COVID-19 cases have seen a sharp rise in the last one month in Jammu and Kashmir with the number of active positive cases having crossed 30,000 on Saturday. The Srinagar district remains the worst hit with over 8,872 active cases and 546 deaths