Persecuted for being Pardhi: Members of this denotified tribe battle bias, daily harassment
Members of the Pardhi tribe in Bhopal have seen little change in circumstances four months after a woman from the tribe immolated herself allegedly due to police harassment
Nearly four months since the shocking self-immolation of a woman from the community who alleged she was the victim of police harassment, there has been little change in the conditions of the Pardhis.
The case of 30-year-old Indarmal Bai from Bhopal was widely reported last November, when she set herself on fire — reportedly after local policemen repeatedly tried to extort money from her. A mother-of-two who made a living sorting scrap and selling cosmetics at village fairs, Indermal had complained that the policemen threatened to arrest her on trumped up charges if she did not pay them Rs 20,000. Hours after her demise in hospital, Indarmal's 14-year-old son too attempted suicide, but was saved.
Found mostly in Maharashtra and Madhya Pradesh, the Pardhis were among the 150+ tribes labelled 'criminal' under the 1871 Criminal Tribes Act. After India gained independence, it denotified these tribes in 1952, but the Pardhi community hasn't been able to overcome the stigma.
"We have been labelling the Pardhis as petty thieves since 1871 when the Criminal Tribes Act was passed, and until today — even after the Act has been scrapped — nothing has changed," says activist Pallav Thudgar who works with Muskaan, an organisation devoted to the wellbeing and education of Adivasi communities in Bhopal.
The stereotypes dog members of the community from early life; denied of opportunities, most Pardhis resort to jobs like scrap collection. The Ministry of Justice, meanwhile, holds there is insufficient evidence of atrocities against the tribe, so quotas/reservations cannot be put into effect. This belies the Pardhis' experience of daily persecution, says Pallav. "Society has not given them space to explore the concept of work. When, for a mere sack of rice you are asked to produce a bundle of documents, what exactly can we expect from the administration in terms of education or jobs?" he wonders.
When Pardhis attempt to set up roadside stalls or seek work on construction sites, they are reportedly chased away by authority figures who suspect them of being thieves. "It is easy to exploit the Pardhis because of the stigma attached to the tribe. Our privilege prevents us from understanding the issue. People argue that if the Pardhis are labelled as criminals, they must have committed crimes sometime in the past. Of course there must have been a time when someone stole something, but it is as common as a theft happening in any other community. Moreover, who is to answer why there is a situation where they are having to steal?" asks Pallav.
Pallav, and many activists like him who work with the Pardhis, feel it was the State that wronged the community when they drove them (and other denotified tribes) away from their natural environments, after the Wildlife Protection Act of 1972 came into effect. "The government took away the tribe's homes, stripped them off their skill set and shattered their occupational system which gave them food and resources. The tribes were never as much a threat to the forests as big businesses are today," says Pallav.
At a jansunwai held in the wake of Indarmal Bai's death, numerous denotified communities from across the country congregated at Gandhi Bhawan in Bhopal and described the growing abuse of their women.
The Pardhis described how their bastis of Rajiv Nagar, Baskhedi and Gandhi Nagar have a barrage of policemen showing up at any given time to "investigate" alleged crimes they think members of the community have committed. Bribery and the threat of false cases lead to a cycle of harassment that ends only when the person pays up, or when there is a death, like Indarmal Bai's.
Indarmal's is not the first suicide in the community. Data collected by Muskaan indicates a high prevalence of suicidal ideation — possibly linked to the oppressive circumstances of the Pardhis' life. "We are close to publishing a study about the growing number of suicides. It indicates a minimum of 70 unnatural deaths within 200 Pardhi families over the last five years alone," says Pallav.
Local authorities have seemingly turned a blind eye to the treatment meted out to Pardhis.
For instance, an independent fact finding team appointed to investigate the case of Indarmal Bai was told by the Gandhi Nagar thana inspector (TI) that she had 'caught fire while burning scraps' and there were cases of theft registered against her. The TI further denied that Indarmal had been subjected to any harassment at all.
Community members and activists staged protests to demand an FIR be filed against the three cops who allegedly abetted Indarmal's suicide. It's only recently that a case has been registered in Jabalpur High Court but even after three hearings, the police hasn't been given any notice.
Previously, another fact-finding team spoke to cops at the Kamla Nagar police station regarding the harassment of Pardhi children who worked as waste-pickers. Then child welfare officer Amar Singh was quoted as saying: "Pardhis commit crimes and rag-picking is only an excuse to steal."
Among the rare sunshine stories from the community is that of 20-year-old Tasveer. As a child, Tasveer worked as a rag-picker and (along with his parents) was locked up by the police several times. With the help of Muskaan, Tasveer was able to complete his school and college education.
"The story of Indarmal Bai is the story of every person in our basti. Every day is a struggle — figuring out if you'll have something to eat or if you'll be thrashed and abused by the police for some reason or the other," he says.
Tasveer adds that there has been no support from the government beyond "the promises made in speeches", and that no real solutions can emerge from those "sitting on the outside". "For any intervention to work, you need to come and see what really happens in the bastis, how we live, what we think, why we're tormented," he says. "There are conflicts like violence that are a reality within the community and we are working to eliminate them so we can stand united against the forces of hegemony."
"People think we are lazy or incompetent. We're more than capable of taking care of ourselves if only we'd be seen as part of society," Tasveer adds. "We do not want food or shelter from the government. What we want is the space and opportunity to earn them without being discriminated against."
India
The accused were caught from the forest of Mahuapani Hathi Ghat, where they were distributing the meat among themselves after killing a calf on Friday night
India
Earlier, on Tuesday, there was a curfew in place for 24 hours and citizens were asked to celebrate the Eid-al-Fitr and Akshaya Tritiya festivals at home.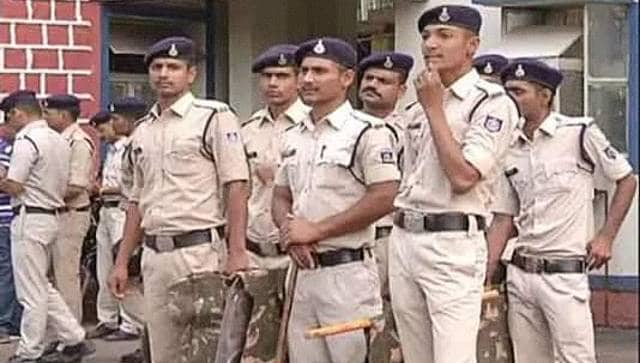 India
Earlier, the administration had announced a 24-hour curfew on 2 and 3 May but relaxed it for nine hours on Monday