People will prefer Vande Bharat train over flights, says PM Modi
Prime Minister Narendra Modi flagged off the Gandhinagar-Mumbai Central Vande Bharat Express train at Gandhinagar on Friday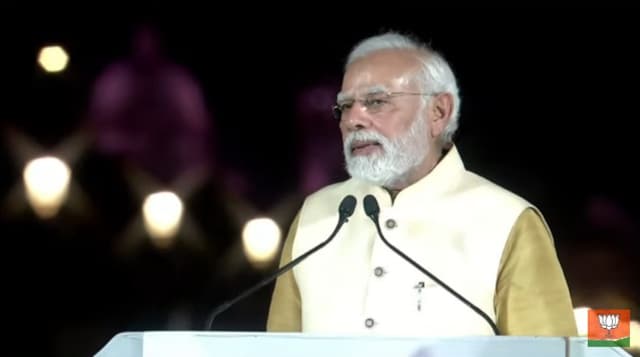 Gandhinagar: Prime Minister Narendra Modi on Friday flagged off the updated version of the Vande Bharat Express train from Gandhinagar-Mumbai and took a ride on the high-speed train to Kalupur station in Ahmedabad.
At the flagging-off ceremony today, the Prime Minister said that once people experience the Vande Bharat trains they would prefer it over flights.
"Vande Bharat makes 100 times less noise inside the train than an aeroplane. People who are used to travelling on flights will prefer the Vande Bharat train once they get to experience it," Modi said after flagging off the Gandhinagar-Mumbai Vande Bharat Express.
"The train between Ahmedabad and Mumbai will make travel between two big cities of the country comfortable and also reduce the distance between them," he added.
Further, he said, "today is a big day for India in the 21st century, for urban connectivity and for India to become self-reliant."
He announced that under the FAME ( Faster Adoption and Manufacturing of Hybrid & Electric Vehicles in India) scheme, 7,000 electric buses have been approved in the country. Under the FAME scheme, electric buses will be manufactured for poor, middle-class comrades in cities to get rid of smoky buses.
He added that India of the 21st century is going to get new momentum from the cities of the country.
With changing times, it is necessary to continuously modernize our cities with the changing needs. The system of transport in the city should be modern, there should be seamless connectivity, and one means of transport should support the other, it is necessary to do this, he further said.
Today's India considers speed, speed, important, and considers fast development as a guarantee. This request for speed is also visible in the Gatishakti National Master Plan today, the prime minister stated.
It also appears in the National Logistics Policy, And this is also evident in the drive to increase the speed of our railways. he further stated.
Prime Minister Narendra Modi flagged off the Gandhinagar-Mumbai Central Vande Bharat Express train at Gandhinagar on Friday.
PM Modi is currently on a two-day visit to Gujarat.
Read all the Latest News, Trending News, Cricket News, Bollywood News,
India News and Entertainment News here. Follow us on Facebook, Twitter and Instagram.
Photos
The second and final phase of polling for the Gujarat Assembly elections saw big names from across the state come out to exercise their democratic duty. From Prime Minister Narendra Modi to former cricketers Irfan and Yusuf Pathan, the heavyweight voters were all smiles as they cast their vote
World
The 18th G20 Summit will be held from September 9-10 next year in New Delhi. Together, the member nations of the G20 comprise over than 80% of global GDP, 75% of global trade and 60% of the world's population
Politics
The G20 is a major forum for international economic cooperation that represents 85 percent of global GDP, more than 75 percent of world trade and two-thirds of the world's population