Pathankot attack: Investigation team admits four terrorists were from Pakistan
The Pakistani Joint Investigation Team (JIT) admitted that the four terrorists who attacked the Pathankot Indian Air Force base were from Pakistan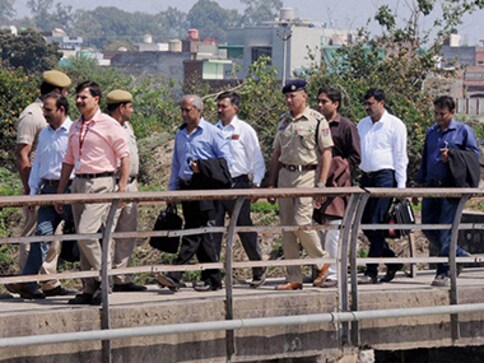 The Pakistani Joint Investigation Team (JIT) admitted on Thursday that the four terrorists who attacked the Pathankot Indian Air Force base were from Pakistan, according to The Indian Express report. The investigation team was at National Investigation Agency (NIA) headquarters in New Delhi to question witnesses connected to the attack that took place on 2 January.
Seven security personnel were killed in the attack. Though the terrorists were later shot dead, the incident exposed a major breach in India's border security. Earlier, the NIA team had identified the four fidayeen as Nasir Hussain, Hafiz Abu Bakar, Abdul Qayum and Umar Farooq, reported The Times Of India. Reports also suggested that Pakistan had enough evidence to link them to extremist group Jaish-e-Muhammed.
A senior official was quoted by The Indian Express saying that both the countries have shared the identities of the attackers and will decide on the next course of action.
The report further stated that apart from giving their list of demands, the NIA has put down a list of questions and asked for audio samples of Jaish-e-Mohammed chief Maulana Masood Azhar, his brother Abdul Rauf and Nasir's mother Khayyam Baber and have sought access to Azhar and Rauf.
Apart from the details of the four terrorists, the NIA will also share details about the people who had cooperated with them and facilitated their entry into India through Bamiyal village on Indo-Pak border. According to the PTI, DNA samples were taken from the energy drink that the attackers are believed to have consumed before carrying out the suicide attack.
Suspended Gurdaspur Superintendent of Police Salwinder Singh, his cook Madan Gopal and friend Rajesh Verma were also questioned by Pakistan JIT. Singh has claimed that he, Verma and cook Gopal were abducted by four or five heavily-armed terrorists near Punjab's Kolia village on 2 January.
The three were earlier questioned by the NIA on 26 March in the national capital and have been living under the agency's supervision since then, the sources said.
With inputs from agencies
also read
India
The chargesheet was filed on Monday in a special NIA court in Mohali district in Punjab against Lakhbir Singh alias Rode and Harpreet Singh alias Happy Malaysia in the Ludhiana Court complex bomb blast case,
India
The case is linked to the Bhopal terror funding case involving the proscribed organization, Jamaat-ul-Mujahideen Bangladesh (JMB)