Parliamentary panel puts Modi govt's higher education claims into question
A question mark has been posed by a parliamentary committee on the Modi government's claims that it's determined to make India a hub of higher education.
A big question mark has been posed by a parliamentary committee on the Modi government's rhetorical claims that it's determined to convert India into a hub of higher learning with a number of refurbished valuable institutes such as IIT, NIT and IIM.
Taking stock of the current situation prevailing in the education sector for higher professional studies including several universities, the panel points out "acute shortage of faculty" in these educational institutions as it expresses anguish on finding that out that this problem has emerged as "the biggest handicap for the development and growth of higher education vis-a-vis maintaining the quality of education".
It is not the first time that the Department-related Parliamentary Standing Committee on Human Resource Development headed by Satyanarayan Jatiya has pointed loopholes in the system for higher education. But the committee has expressed regrets that despite serious concerns expressed earlier, "situation continues to be grim with no improvement foreseen in the near future".
In its deposition before the committee, the Human Resource Development (HRD) ministry had said that the total number of sanctioned teaching posts in various Central Universities was 16,600 (2376 Professors, 4708 Associate Professors and 9521 Assistant Professors).
Out of these teaching posts, 5928 teaching posts were laying vacant (1277 Professors, 2173 Associate Professors, and 2478 Assistant Professors) for a considerable time.
Stressing that the availability of adequate and qualified faculty is a pre-requisite for quality education, the committee tries to determine the cause of the grave crisis of faculty.
There can be only two possibilities, either young students are not attracted towards the teaching profession or the recruitment process is a prolonged one and involves too many procedural formalities, it tries to diagnose the problem.
In either case, it is for the HRD and University Grants Commission are liable to become proactive in overcoming the crisis expeditiously, the Jatiya committee report which is already with Parliament said.
This report assumes importance in view of the repeated interference by the Union government in the functioning of the institutions of higher learning in Jawaharlal Nehru University, Benares Hindu University, Hyderabad University and Allahabad University and IITs among others, thus causing an atmosphere of uncertainty in their smooth functioning.
It is needless to say that the minimum qualification for faculty recruitment in IITs is a Ph.D and there is also an "acute shortage" of scholars who prefer to take up teaching profession in IITs. Thus, it would be desirable to evolve new strategies for attracting and retention quality faculty members which inter alia include year round selection process through video conferencing.
But the shortage of Ph.D holders has intrigued the committee and it has sought evaluation report from the HRD ministry.
"The Committee would like to have an evaluation report, if any, about the quality and standard of Ph.D holders across the country to understand why suitable candidates are difficult to find for the vacant positions. Maybe we need to reorient the entire system of evaluation of Ph.D and other research scholars," the committee said.
Besides the paucity of faculty members to teach in the institutions, the committee observes that the projected demand in respect of National Institutes of Technology (NITs) was to the tune of Rs 3000 crore (Rs 2000 crore for 20 old NITs and Rs 1000 crore for 10 new NITs). But an allocation of only Rs 1444.90 crore has been made available to NITs.
There's been steep rise in the number universities and colleges since 1950. While the number of universities has gone up to 740 (about 34 times) from 20 since 1950, the number of colleges has also shown multiple increase from just 500 to 40160 now.
It may be pointed out that millions of students are rendered jobless even after completing their studies in 46 Central Universities, 342 State Universities, 227 State (Private) Universities and 125 Institutions Deemed to be Universities.
The 12th Plan Approach Paper mentions that about 18 per cent of all Government education spending or 1.12 per cent of GDP be spent on higher education. But the committee finds this allocation is insufficient, thus it has recommended rise to 25 per cent and 1.5 per cent respectively.
However, the overall scenario regarding the declining allocation over the years shows altogether a different picture. This is also reflected in the low achievement of the Gross Enrolment Ratio (GER) which is taken as an indicator of the growth and development of Higher Education Sector in the county. It is however disturbing that India low with respect to GER.
To achieve higher GER and for "making India an educational hub globally", the government needs to make more allocation of funds and ensure efficient utilisation of money.
It may be pointed out that Rashtriya Uchchatar Shiksha Abhiyan (RUSA) was created to increase GER from 18% to 30%. The government's apathy towards higher learning can also be judged from the fact that against a demand of Rs 4000 crore raised by RUSA for 2016-17, the government doled out only Rs 1300 crore.
Similarly, the demand raised by UGC for 2016-17 was Rs 3698.71 crores but the Budgetary Expenditure allocated to the schemes is Rs 2105 crores for same fiscal. The slashing of funds, needless to say, hampers functioning of the institutions.
India
The University Grants Commission has clarified that the teaching-learning process must continue in offline, online or blended mode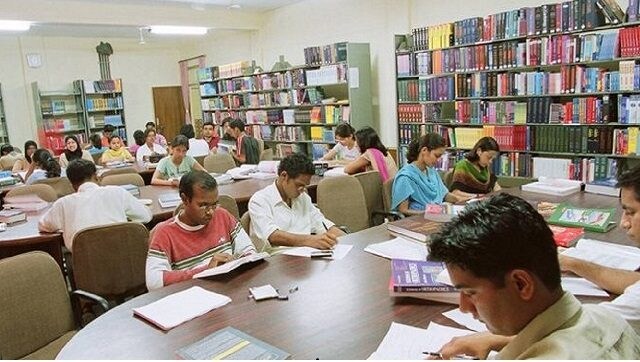 India
To aspire for a perfect assessment solution when everything else is unequal and in a state of disarray is like looking for a needle in a haystack