Paresh Rawal says actors, cricketers can bridge India-Pakistan chasm; why is social media outrage so tepid this time?
Actor-turned-parliamentarian Paresh Rawal just committed an act of sacrilege and it's surprising that the social media is not exactly bursting with outrage.
Actor-turned-parliamentarian Paresh Rawal just committed an act of sacrilege and it's surprising that the social media is not exactly bursting with outrage. He said he would love to act in Pakistani movies and he loves all Pakistani television serials. In what could have been immediately branded as unpatriotic, he said he did not agree on the ban on artistes from across the border. The social media nationalists and hyper-patriots have not reacted to it in the usually explosive fashion. Twitter is not on fire and angry responses have been few and far between.
Rewind to a few weeks back when his post on Twitter said that writer Arundhati Roy should be tied to a military vehicle instead of the stone-pelter. This was with reference to an Army Major tying a person in Kashmir to the bonnet of an army jeep and taking him around for hours to deter stone-pelters from attacking defence personnel. He was responding to a fake video where Roy purportedly ranted against the Indian Army. His post instantly made him a patriot of the highest order on social media and Roy became the enemy of the country. Television channels were soon spewing venom and bile on prime time shows castigating the latter and lionising him.
The scene is so different today. We are yet to see whether angry anchors would froth from their mouths slamming his latest statement to a news agency but the reaction on social media certainly has been tepid. But we have to watch the way things pan out. How can he get away by saying our television shows are boring and their shows are good in all departments — story, writing and language? He also said artistes and cricketers are not the ones who come throw bombs.
By saying that cinema and cricket bridge the gap between the two countries and disapproving of the ban on both he has delivered an unsubtle blow to the idea of muscular nationalism close to the heart of his party and its millions of social media warriors who go by the ugly generic name 'trolls'. His remark makes him a peacenik — a softie seeking solution to the problem with Pakistan by means other than war and a person not subscribing to chest-thumping jingoism. Really, how can he do that?
This has to be an act of incredible courage. In times when almost everyone in the party, including cinema celebrities like him, feel compelled to make jingoistic comments every now and then to affirm their 'we-ness' with the party's sympathisers, he risks standing out as a sore thumb. To be fair to the BJP, it does not appear to be encouraging its senior leaders and others to make pathetic remarks; it even distanced itself from the earlier statement of Rawal on Roy. But its ideological fellow travellers, for some reason, feel unless they express themselves on nationalism and issues close to the heart of the party with sufficient nastiness they are not in the league. Singer Abhijeet is a case in point. Of course, this does not mean that trolls on the other side of the ideological divide are any more civil in their conduct.
Perhaps it is the nature of the beast called social media. If you are not crude enough, you get no attention. That makes perfect gentlemen in private life go nasty online. It's a trap. Intelligent people lay down the rules of engagement with trolls and know where to draw the line. Rawal, realising that the earlier episode was out of character, is perhaps trying to make amends. Unlike several others, the parliamentarian has displayed the confidence to speak something that is not in sync with the dominant sentiment in the ideological ecosystem of the Indian Right. The polite acceptance of his remark can only do good to the BJP.
How would the trolls react to him now? Well, imagine the same remarks coming from a Congress leader or some intellectual not in alignment with the 'Right' way of thinking. The social media would be full of vitriol now, getting more hateful with every tweet. If have to note whether the outrage is selective and is more about targetting identified enemies than about the cause of the nation. The television debate, if at all there is one on specific channels, would be instructive too. It would reveal whether the patriotic rant is only a matter of convenience.
also read
India
On the day of the inauguration of the new Parliament building (28 May), Modi will be presented with the 'Sengol' by the 293rd head priest of Madurai Sri Harihara Desika Swamigal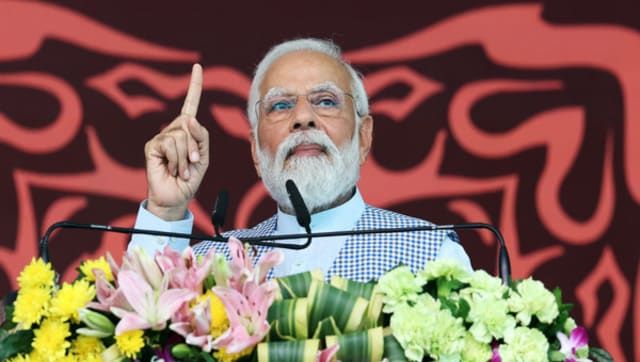 Politics
The rallies will be aimed at winning the 2024 general assembly elections from Uttarakhand by 51 per cent of votes
India
Rajasthan, where the ruling Congress is caught in a leadership tussle between Chief Minister Ashok Gehlot and his former deputy Sachin Pilot, goes to the polls this year-end.