Opposition leaders questioning Assam NRC should look at EU members' focused policies on illegal immigration
Indian politicians raising questions about the Assam NRC can learn a thing or two from the rest of the world on addressing illegal immigration.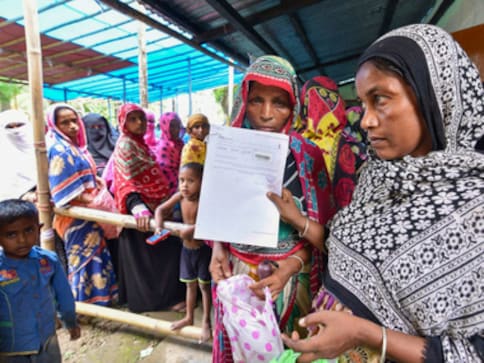 Illegal immigration of Bangladeshis is back on India's national agenda, courtesy the final draft of the National Register of Citizens (NRC) in Assam. Opposition parties are either criticising the list or adding riders to question the implementation of the move, which is aimed at identifying illegal immigrants in Assam and deporting them back to their country.
The implementation of the NRC is in its initial stages, and being such a mammoth exercise, there are bound to be a few glitches. However, these glitches have been turned into a bogey to raise questions about the basic concept of identifying and deporting illegal immigrants — largely Bangladeshis — from India.
In the wake of this controversy, it would be interesting to see how the rest of the world is tackling the issue of illegal immigrants. On this subject, author Thomas Nail almost prophetically writes in his authoritative work The Figure of the Migrant: "The 21st Century will be the century of the migrant. At the turn of the century, there were more regional and international migrants than ever before in recorded history. Today, there are over 1 billion migrants."
Sharp decline in non-EU citizens in member states
A large number of countries are grappling with this issue, which is not a regional concern anymore but has become a global challenge.
The European Union has been at the forefront of addressing the issue of illegal migrants. According to a recent report by Eurostat, an official agency of the European Union (EU), "In 2017, almost 6,20,000 non-EU citizens were found to be illegally present in the EU; this was down by 37 percent compared with one year before and by 71 percent when compared with the unprecedented levels of 2015."
One of the key reasons for this dramatic fall in the number of illegal immigrants is the national policies to check immigration that EU nations adopted separately.
The Eurostat report further mentions, "Following the receipt of an order to leave the territory of an EU member state, some 2,13,500 non-EU citizens were returned to another country in 2017: the vast majority of these (1,88,900) were returned to non-member countries."
"The number of non-EU citizens who were refused entry into the EU stood at 4,39,500 in 2017; this was the highest figure recorded since 2009."
This indicates that EU nations are tackling the problem of illegal immigration with clear focus and producing productive results.
The flow of irregular migrants entering the EU had reached unprecedented levels in 2015, peaking at 2.2 million people found to be living in member states illegally. But within two years, the figure has fallen sharply to 6,18,780.
"These declines reflect not only a reduction in the number of irregular migrants following the exceptional migration flows of recent years, but also changes in national policies among the EU member states in reaction to these events, which may have impacted how checks on illegally present non-EU citizens were performed/enforced," the Eurostat report says.
The number of non-EU citizens who were issued with orders to leave fell for five consecutive years between 2008 and 2013, but then rose in successive years to reach a relative high of 5,33,400 in 2015. The two most recent reference periods for which data is available revealed that the number of non-EU citizens who were issued with an order to leave the Union fell and then rose again, hitting 5,16,100 in 2017.
If we look at individual countries in little more detail, Greece and Germany witnessed a marked spike in the the number of illegally present non-EU citizens in 2015. This figure peaked in Greece that year, at 9,11,470, but then dropped rapidly to 2,04,820 in 2016 and again to 68,110 in 2017. In contrast, the number of non-EU citizens identified in Germany rose to a high of 3,76,435 in 2015, remained near unchanged in 2016 at 3,70,555, and fell by more than half to 1,56,710 in 2017.
In France and the United Kingdom, the number of non-EU citizens found to be illegally living there rose in 2014 and 2015 and fell in 2016 as these countries had made cracking down on illegal immigration a high priority.
Glaring difference in India 
In stark contrast, if one looks at the trends in India, there has been an increase of nearly 8 million illegal immigrants from Bangladesh between 2004 and 2016, according to government's own admission.
The government of the Congress-led United Progressive Alliance had mentioned in a reply to a question in Parliament that there were 12 million illegal Bangladeshi immigrants in India at the time. Till December 31, 2001, around 5 million lived in Assam alone, while West Bengal topped the list with 5.7 million, according to the then Minister of State for Home Affairs, Sriprakash Jaiswal.
In 2016, incumbent Minister of State for Home Affairs Kiren Rijiju, representing the Bharatiya Janata Party-led led National Democratic Alliance, told the Rajya Sabha, "As per available inputs, there are around 20 million illegal Bangladeshi migrants in India."
In his book, Nail wrote that the percentage of the total number of migrants who are "non-status or undocumented" was rising, which "poses a serious challenge to democracy and political representation".
It is clear that there is a global consensus on how to deal with this matter, with many countries quelling the flow of illegal migrants successfully. The key to this has been a national consensus on tough immigration laws and strong processes of identifying and deporting illegal migrants. As a result, several countries have been able to trim the number of illegal immigrants significantly. The Indian political class raising questions about the NRC can probably learn a thing or two from the rest of the world.
The author is the CEO of the Indraprastha Vishwa Samvad Kendra and author of Know About RSS. The views expressed are personal
Explainers
The trilateral security partnership between Australia, the UK and the US aims at countering Chinese aggression in the Indo-Pacific. Experts say the deal could alter the balance of power in the region and that deterrence seems to be the best course of action against Beijing
Explainers
Richard Sharp is under investigation for helping ex-prime minister Boris Johnson secure an £800,000 loan just weeks before being appointed to the post in February 2021. Now, the furore over Gary Lineker has seen fresh calls for him to step down
Explainers
Democratic lawmaker Aisha Wahab introduced the bill just a month after Seattle voted to outlaw caste discrimination. This issue has come to the fore in California since 2020 when the employment regulator sued Cisco Systems on behalf of a low-caste engineer. But some claim it will further fuel instan