On Independence Day, Narendra Modi promises to build museums dedicated to tribal freedom fighters
Prime Minister Narendra Modi announced on Independence Day that the government would build museums dedicated to tribal freedom fighters.
Birsa Munda, Sidhu-Kanhu Murmu, Jatra-Turia Bhagat (Bihar-Jharkhand), Rani Gaidinlu (Manipur), Veer Narayan Singh (Chhattisgarh), Alluri Sitarama Raju (Andhra Pradesh) — these are the few names of freedom fighters who contributed immensely to India's struggle for Independence, yet remain mere footnotes or at best a paragraph in history books.
What about the rest who don't even get a mention?
This less illuminated area of India's freedom struggle seems to have caught the eye of Prime Minister Narendra Modi, who announced from the ramparts of Red Fort on Monday, on the occasion of 70th Independence Day, that the government would build museums in every state exclusively dedicated to tribal freedom fighters.
"We want to have museums in each state dedicated to tribal freedom fighters, where their contributions and memoirs related to them would be displayed," said Modi in his address.
Historians such as Sumit Sarkar, and a few others have written about subaltern history but its reach has largely remained limited to academic circles. Modi wants the information to be disseminated among the common masses.
Is building museums enough?
Historians consider building museums dedicated to tribal freedom fighters a good idea, but they think there's a need to revamp the academic curriculum and incorporate the same in text books in a bigger way.
"Modi's idea of building museums in each state is a good idea and it should be done. But, there is also an urgent need to restructure our syllabi, where the contributions of lesser mentioned tribal freedom fighters get more space. New text books need to be written. This will help India's young generation to know about tribal history," says Prof Saradindu Mukherji, member of Indian Council for Historical Research.
"Along with tribal leaders, we need to highlight the contributions of peasants in the freedom movement. They contributed immensely and had been a major force in mass movements," adds Mukherji.
Modi was right when he said many big personalities associated with the freedom struggle have been named in text books and public domain. He said even not-so-big freedom fighters have been named. There is a need to recognize the unsung tribal heroes.
Among large number of tribal freedom fighters, Birsa Munda is the only tribal leader to have been elevated to mainstream level, as his portrait hangs in the Central Hall of Parliament.
"The British projected the tribal uprising as a mere protest against British rule and not as a voice of freedom movement. The reason is that the British tried to impose their system on tribals, who were independent and out of the mainstream socio-legal framework. The British Raj put economic sanctions on tribals by forcefully introducing their system on them and it resulted into tribal uprising across the country. The tribals fought for India's freedom at par with those in the mainstream. Undoubtedly, it's commendable on the part of the PM to have expressed his willingness to address this issue long overdue," says Chhattisgarh-based archaeologist Rahul Singh.
India
The 20-day mega campaign titled 'Seva aur Samarpan Abhiyan' will begin tomorrow (17 September) and will conclude on 7 October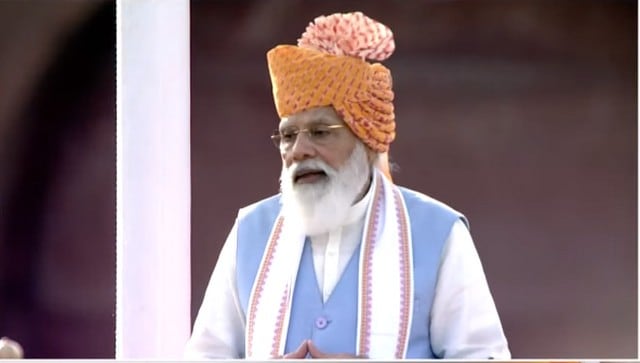 India
At the same time, Modi said, we should not forget the mantra of "Davai Bhi, Karai Bhi' (get vaccinated, strictly follow COVID protocols).'
India
The buildings will provide modern, secure and functional working spaces, the Prime Minister's Office said