North-South tussle over 15th Finance Commission, govt should seek measures to bridge gap, not widen it
The north Indian states which are ruled by the BJP will be beneficiaries of changed population criteria in the new Finance Commission.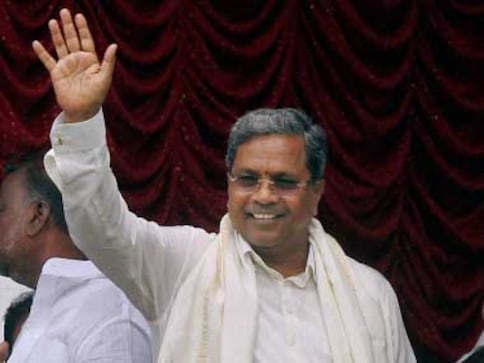 The Andhra issue is enveloping into North-South divide as political protests intensify over the terms of reference of 15th Finance Commission.
Siddaramaiah called for a united fight by the chief ministers of the south Indian states over 15th Finance Commission considering 2011 Census for arriving at population weightage for devolution of Central funds to states instead of the earlier practice of 1971 census. "This will further affect the interests of the south, we need to resist," Siddaramaiah tweeted, and tagged the chief ministers of Kerala, Tamil Nadu, Andhra Pradesh, Telangana, Maharashtra, Puducherry, Dravida Munnetra Kazhagam leader MK Stalin and Congress MP Shashi Tharoor.
Andhra Pradesh, Telangana, Karnataka have questioned the Centre's claims that it is providing funds to these states stating that it is not a generosity. The south Indian states contribute more to the tax kitty than what they get in return. Andhra Pradesh chief minister N Chandrababu Naidu on 13 March accused the Narendra Modi government of diverting tax revenues collected from the south to fund development projects in northern states.
The DMK leader Stalin wrote a letter to 10 chief ministers urging them to jointly fight with the Centre over the 15th Finance Commission. Meanwhile, Kerala finance minister Thomas Isaac has called for a meeting of the finance ministers of the southern states on 10 April to discuss the matter.
The south Indian states which have successfully contained population growth rates will now be punished with reduced allocations. Thus the anti-Centre protests are more substantive than symbolic. The BJP called Karnataka chief minister's latest move as election eve divisive politics. But, the protests despite their political overtones have a substantial base.
The north Indian states which are ruled by the BJP will be beneficiaries of changed population criteria in the new Finance Commission.
As of now, not just the devolution of Central funds take 1971 Census into consideration even the Parliament seats are fixed on this criteria. If the 15th Finance Commission's terms of reference to decide the Central transfers to states is based on the 2011 Census, tomorrow, the same can be applied to Parliament seats too. This would further upset the political balance in favour of north Indian states where the BJP is strong. The BJP finds south India a hostile ground for its penetration and, therefore, these states would be punished. The states like Uttar Pradesh dominate the Indian political scene as it has the highest number of seats in Lok Sabha. If 2011 census is applicable to decide the number of Lok Sabha seats, south India will be further politically marginalised. The 15th Finance Commission's new formula thus not only raises fiscal concerns but even political fears among the south Indian states.
Quite surprisingly, the Narendra Modi government which claims to be a votary of cooperative federalism has asked 15th Finance Commission to consider 2011 census without consulting states especially the south Indian states which would be hard hit by this change. The 14th Finance Commission has given only 10 percentage weightage for 2011 census, while 90 percentage was given for 1971 census.
To understand and appreciate the growing political concerns of south Indian politicians and parties, the actual financial loss to these states, if 2011 census is taken into consideration, need to be explained. V Bhaskar, who was special chief secretary finance to the government of Andhra Pradesh, and joint secretary, 13th Finance Commission, in his article on Challenges before the Fifteenth Finance Commission published in Economic and Political Weekly, 10 March, 2018 said that while Uttar Pradesh gains Rs 35,167 crore, Andhra Pradesh will lose Rs 24,340 crore. Similarly, while Bihar, Rajasthan, Madhya Pradesh gains Rs 32,044 crore, Rs 25,468 crore, Rs 14,735 crore respectively Tamil Nadu, Kerala and Karnataka will lose Rs 22,497 crore, Rs 20,285 crore and Rs 8,373 crore respectively.
Over the last 40 years, starting from the 7th Finance Commission till the 14th Finance Commission, eighth finance commissions have been mandated to use the 1971 population for the purpose of computing state shares. Why this change now? Should the south Indian states be punished either for controlling population or for their political preferences hostile to BJP?
V Bhaskar further states Challenges before the Fifteenth Finance Commission, "Population is an important criterion that significantly affects a state's share of the devolution pool. This is because it enters the computation of state shares both directly and indirectly. The XIV-FC allotted a weight of 17.5% to 1971 population. Directly, 17.5% of a state's share in the divisible pool was determined on this basis. Indirectly, the 1971 population figure was also used to scale the income distance criterion (to which it had allotted a weight of 50%)."
Besides this fiscal concerns, the south Indian states have already been complaining of the imposition of Hindi. The Central government decision to have milestones on national highways to be written in Hindi, the advice to all the Union ministers to make their speeches in Hindi and making Hindi compulsory in CBSE schools are only a few illustrations of Hindi hegemony sought to be imposed on southern states.
The comprehensive sense of discrimination among the south Indians espoused by the political spectrum cannot be so easily wished away. This has the potential to impact the unity and integrity of the country. Thus, the north-south divide needs to be bridged both in perception and the concrete manifestation.
World
Kishida will meet Prime Minister Narendra Modi and also deliver a speech on Japan's Indo-Pacific strategy and its new defence posture. Fifteen years ago PM Shinzo Abe first spoke about Indo-Pacific cooperation during his visit to Delhi
World
Kishida, who is on a two-day trip to India, said he hopes to promote a vision of a free and open Indo-Pacific, a Tokyo-led initiative for greater security and economic cooperation that is geared toward curbing Beijing's growing assertiveness.