No solution to Delhi's air pollution crisis: NGT lifts ban on construction activities, but prohibitory orders to continue
NGT on Friday lifted its ban on construction activities in the Delhi-NCR while directing that preventive measures to control air pollution be taken.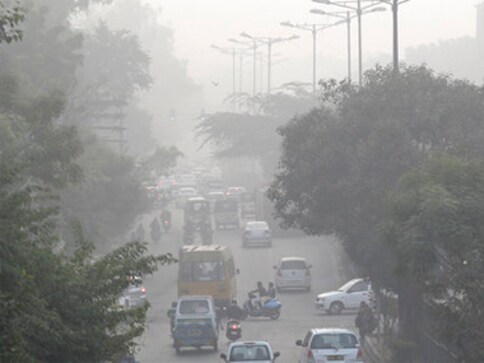 The National Green Tribunal (NGT) on Friday lifted its ban on construction activities in the National Capital Region (NCR) while directing that preventive measures to control air pollution be taken.
The tribunal further added all other prohibitory orders regarding industries, stubble burning etc. will still remain in place. It also said that sprinkling of water will continue where particulate matter is high including in the states of Punjab, Haryana and Uttar Pradesh.
It also directed the Delhi government to ensure that only CNG vehicles get stickers for exemption during the odd-even scheme. Furthermore, the NGT also asked the Delhi government and its neighbouring states to submit an action plan on steps to curb pollution within the next two weeks.
The Environment Pollution (Prevention and Control) Authority had on Thursday lifted the ban on construction but Lieutenant Governor Anil Baijal had kept it in abeyance as the matter was pending with the NGT on Friday.
Meanwhile, Delhi transport minister Kailash Gahlot asked EPCA chief Bhure Lal to recommend to all other cities in NCR to implement the odd-even scheme to curb air pollution, reported The Hindu. Citing the Graded Response Action Plan (GRAP), Gahlot wrote, "It needs to be appreciated that unless GRAP is implemented across all NCR towns, pollution level in Delhi as well as neighbouring towns cannot be brought down," according to the report.
Air quality still 'very poor'
Air quality in NCR showed no improvement on Friday as the Air Quality Index (AQI) remained in the "very poor" category. The US embassy put the figure for Friday at 299 at 7 am.
In central Delhi, the Lodhi Road monitoring station put the PM10 levels at 246 and the PM2.5 levels at 347, according to the System of Air Quality and Weather Forecasting And Research (SAFAR). The situation was almost as bad in south Delhi, with PM10 levels at 242 and PM2.5 levels at 357 on Mathura Road.
Similar situations prevailed near the airport, where the levels were at 211 and 339 for PM10 and PM2.5 respectively. North Delhi was more of the same, with Pitampura reporting 227 and 341.
Air quality to worsen over weekend
SAFAR on Friday forecast that air quality may dip over the weekend due to incursion of moisture and fall in inversion layer which will keep pollutants trapped near the surface.
EPCA member and Centre for Science and Environment (CSE) researcher Usman Nasim also told IANS the pollution levels in the region may go up in the coming days due to climatic conditions. "Pollution may increase in next few days due to withdrawal of north-west winds. As wind speed goes down, pollution levels to go up. As per SAFAR, AQI will remain in very poor quality," he said.
'Only God can save us'
As pollution level climbed to 12 times above the recommended limit this week, government officials said they knew what was needed to control the smoky haze, but nothing would be done, at least this year.
An estimated $600 million is needed to provide farmers with alternatives, but the Bharatiya Janata Party and opposition parties in power in New Delhi and nearby Punjab, Haryana states are squabbling over who will pay, said three federal government officials who have been briefed on the situation.
"Nothing more is likely to happen this year," one of them told Reuters. "We're now praying. Only God can save us."
The official said he had bought pollution masks for his family and installed air purifiers at his home in New Delhi, now the most polluted city in the world, according to the Brookings Institute. The city is home to more than 20 million people.
"We've tried our best to tackle the situation, but as policymakers we've failed to address the main problem of stubble burning," the government official said.
Diplomatic intervention
Expressing concern over the adverse smog condition in Delhi, the dean of Diplomatic Corps, Frank Hans Dannenberg Castellanos said he will be meeting the Ministry of External Affairs (MEA) on Friday to discuss the poor air quality in the city, reported ANI. "We'll meet MEA and discuss measures which were taken by other countries facing similar problem," Castellanos said.
"As a diplomat we are concerned for our tourists coming to India and the nationals living here but this doesn't affect only us," he added.
Meanwhile, high levels of air pollution in the national capital has affected the health of the Costa Rican envoy in New Delhi, prompting her to retreat to Bengaluru.
Ambassador of Costa Rica to India Mariela Cruz Alvarez appealed to the people, saying the "blue planet is crying" due to pollution. In a personal blog post, she said, "This past week the levels of pollution in Delhi reached impossible numbers. The consequences of breathing this air I had no idea-until I reached Bangalore and my system collapsed."
With inputs from agencies
Politics
In an apparent bid to bury the differences with the chief minister, Sidhu had separately requested Singh to come for the installation ceremony and said he had "no personal agenda".
India
The announcement becomes significant in the wake of the fact that the child deity was kept in a makeshift structure since December 1949, when it was first installed inside the Babri mosque by a crowd of devotees
India
Restaurants and bars (including in hotels and in malls) are allowed to open from 10 am to 11 pm with 50 percent of the seating capacity and adopting requisite social distancing norms