Nirmala Sitharaman, French defence minister Florence Parley discuss ways to ramp up India-France strategic ties
Nirmala Sitharaman and her French counterpart Florence Parley deliberated on a host of key issues, including the regional security situation, transfer of critical technology for various defence projects
New Delhi: India and France on Friday held wide-ranging talks aimed at further boosting defence and security ties, with a focus on co-development of military platforms, and enhancing cooperation in the maritime sphere.
Defence minister Nirmala Sitharaman and her French counterpart Florence Parley deliberated on a host of key issues, including the regional security situation, transfer of critical technology for various defence projects and ways to ramp up overall strategic ties, an official said.
All aspects of defence and security cooperation between the two countries as well as ways to enhance maritime cooperation were discussed in the meeting, the official added. Parley, is on a two-day visit to India, will call on prime minister Narendra Modi and meet National security adviser Ajit Doval. She is expected to lay the ground for French president Emmanuel Macron's upcoming trip to India.
Parley is also likely to push for a follow on order of additional Rafale fighter jets, after the delivery of 36 jets under a Rs 58,000 crore deal finalised last year. The French embassy  in a statement on Thursday said Parley's visit is aimed at strengthening all aspects of France's "fast developing" defence cooperation with India, its foremost Asian strategic partner.
It said Parley's talks with Sitharaman will range from defence cooperation, in particular maritime security, joint exercises of the armed forces and counter-terrorism to industrial and technological partnership under the 'Make in India' initiative.
India
At the Shanghai Cooperation Organisation's 21st Summit, Modi cautioned the global community against possible terror threats, expressed concerns over drugs and weapons smuggling and warned against a worsening humanitarian crisis in the country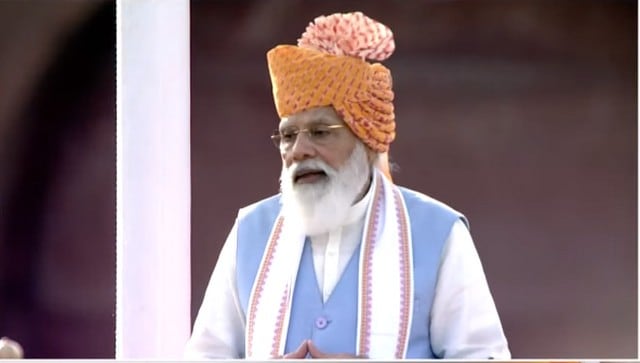 India
At the same time, Modi said, we should not forget the mantra of "Davai Bhi, Karai Bhi' (get vaccinated, strictly follow COVID protocols).'
India
The buildings will provide modern, secure and functional working spaces, the Prime Minister's Office said