'Never expected foul play': Who said what on the Sunanda Pushkar murder case
With an FIR being registered in the case almost a year after the death of Sunanda Pushkar's death, here are some of the prominent reactions on the case.
In a dramatic twist to the Sunanda Pushkar death case, the Delhi Police confirmed on Tuesday that she was murdered, with the medical board calling her death 'unnatural'.
A year after the death of MP Shashi Tharoor's wife, the Medical Board said that her death was 'unnatural' and was due to poisoning. "She died due to poisoning. Whether the poison was given orally or injected into her body is being investigated," Delhi Police Chief BS Bassi said.
The police also said that Pushkar's husband and Congress leader Shashi Tharoor will be questioned.
Pushkar was found dead in her hotel room number 345 of the Leela Palace in New Delhi's Chanakyapuri on 17 January, 2014. Her body was found by Tharoor.
With an FIR being registered in the case almost a year after the death of Sunanda Pushkar's death, here are some of the prominent reactions on the case:
Shashi Tharoor (Congress): I am stunned to hear that the Delhi Police have filed a case of murder against unknown persons in the demise of my late wife Sunanda. Needless to say, I am anxious to see this case is investigated thoroughly and continue to assure the Police of my full co-operation. Although we never thought of any foul play in the death of my wife, we all want that a comprehensive investigation be conducted and that the unvarnished truth should come out.
In the meantime, I join all members of Sunanda's family in asking for full information about the basis on which the Police have come to this conclusion. We have not been provided with copies of the post-mortem report and other reports of the inquiry like the CFSL report till date. We repeat our request for a copy of these reports to be provided to us immediately.
BS Bassi (Delhi Police Commissioner): We have got the final medical report from AIIMS. The Medical Board has told us that Sunanda Pushkar's death was unnatural and due to poisoning. The latest medical report sent to us says she was poisoned. The board also told us that the poison was taken either orally or injected. Post-mortem report does not say whether poison was taken or injected. We need to send samples abroad for further tests. An FIR has been registered. We are taking all necessary measures in the case. It is now clear that Sunanda Pushkar's death was not natural.
Raashid Alvi (Congress): Now, the police has finally filed an FIR. Why did the police keep this pending for one year? I hope the police conduct their investigation with honesty. A charge under Section 302 is not an ordinary charge. It is a murder charge. How the investigation is conducted is the responsibility of the police. Till now, no claims made by the police point fingers against Shashi Tharoor.
Subramanian Swamy (BJP): The only crime Sunanda committed was that she wanted to tell the truth. I found a conspiracy for silence in this case. The people involved were very powerful people. This is a very big murder. Very big names are involved. Even the hotel has to be investigated. But it is not an ordinary murder of passion. It was a murder involving money, a murder that would've hurt the reputation of people in high-profile places.
This murder was carried out by gangsters from foreign countries. It's a national security issue. I want to establish a principle. There is a right to life. No one can deprive anyone of that right. I'm happy that the police has finally developed the nerve to register an FIR. I have to congratulate Dr Sudhir Gupta, who withstood tremendous pressure at the cost of his career. Shashi Tharoor is a liar. The more he opens his mouth, the more trouble he is going to get into.
Ashish Dass (Sunanda Pushkar's brother): I am totally shocked. We were not expecting this at all. The whole family is devastated. We want the police to go into detail and find out the truth. I never thought it could be this serious a thing. We want the police to get to the bottom of this.
Ashok Kumar (Sunanda Pushkar's cousin): We always knew that this was a case of murder. This decision (taken by the police) was delayed. We had said from the beginning that this was a murder case. We want punishment to be given to the people involved in this murder. We want Tharoor to be interrogated. Without Tharoor's involvement, this murder couldn't have taken place. We are satisfied that the investigation is going in the right direction.
Abhishek Manu Singhvi (Congress): It is most important not to sensationalise this case. It is not known whether the poison was self-administered or given by another person. The Delhi police commissioner himself said it. The fact that there is a registration of a case a year after the murder raises questions. I totally disagree with Subramnian Swamy's approach.
Renuka Chowdhury (Congress): We can't rule out anything. Let the facts come out first. We need to patient for the facts to come out and then take action dispassionately. The government has to answer for why this FIR has been registered right before the Delhi elections. This is not an issue of the Congress. It is not a political but a personal issue.
GVL Narasrimha Rao (BJP): We cetrainly hope the investigation is finished soon. This is a high profile case. If the investigation is not finished soon, law and order and justice would suffer.
India
'Today India is firmly moving ahead in the world under the leadership of Prime Minister Narendra Modi,' Adityanath said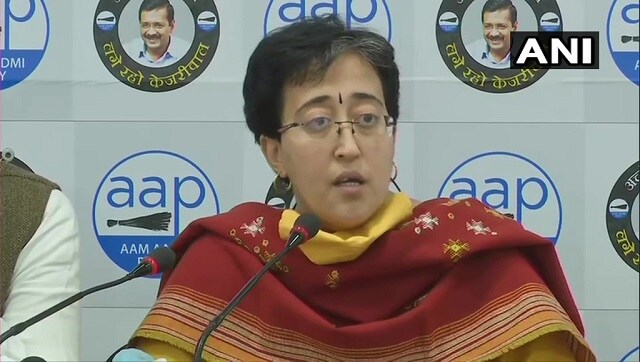 India
Punjab Police booked Tajinder Bagga last month on charges of making provocative statements, promoting enmity and criminal intimidation
India
Bagga, a BJP spokesperson, was arrested from his residence in Delhi in connection with a case registered against him in Mohali in April, Punjab police said