NDTV's stand on Chidambaram interview raises troubling ethical questions
'When asked to bend they crawled': This remark described the spinelessness of the Indian media during the Emergency years in the mid-1970s
'When asked to bend they crawled'
This remark described the spinelessness of the Indian media during the Emergency years in the mid-1970s. Forty years on, the media, at least a major section of it, appears to have turned crawling into a fine art. There's no Emergency around, no visible pressure from the government to toe the line and no low-ranking official vetting content, yet many news outfits are on sycophantic overdrive. The impression that the media is the publicity arm of the ruling establishment is getting so strong that someday the government might actually intervene and ask them to develop a spine and stand up because it is getting too embarrassing.
Former Union minister P Chidambaram's assessment of the media in his interview to The Indian Express doesn't come without a context. "I want to raise a more fundamental question. Why are people falling in line? You are looking at it as a criticism of the government's action. I am asking a different question, I am asking the media: why are you guys falling like nine pins to unjustified demands, if any, from the powers that be? I don't know, if the powers that be made any demand. But why are you guys falling like nine pins? It's sad. If the media, which fiercely protests, or used to fiercely protest any suggestion that the media should be restrained — why is it capitulating?" he told the paper.
There's a backdrop to his remark.
Speaking to NDTV he sought proof of Indian military's surgical strike on terrorist camps in PoK. The interview was never aired by the channel. The apparent reason: National security. When asked about this by website The Wire, NDTV responded thus: "...Like all decisions we take at NDTV, we are driven by editorial and journalistic integrity and the belief that the political mud slinging regarding the surgical strikes without a shred of evidence was actually damaging to our national security. We do not believe that we are obliged to carry every shred of drivel that has now come to pass as public discourse. I'd also like to stress that this is part of our normal editorial policy not to provide a platform to outrageous and wild accusations that thrive only on publicity..."
In his interview to The Indian Express, the former finance minister sought answers from the channel on three questions: One, which part of it constituted a threat to national security; two, which part is drivel, and three, which part of it was bizarre political bickering. He said he was still waiting for a response. If the development is indeed true, then it is one more case of a respectable channel losing its moral-ethical compass.
News organisations ensure that the content they produce pass through several filters, for reasons both quality and credibility, but consideration of national security — an expression that could be politically-loaded — was never one of those. It's a new 'new' in Indian journalism. And it raises some troubling questions.
If BJP president Amit Shah's views on the surgical strikes could be aired then why not Chidambaram's?
How do you define national security? Is it an arbitrary call, suitably elastic in its moral aspect depending on the needs of those making newsroom decisions? In times when the government-media nexus can create and perpetuate artificial reality through the official narrative sanctified by the expression national security, shouldn't there be scope for the counter-narrative? What if the same statement was made by a few former generals and not a political leader; would it still be against national interest? Where does all that leave journalists who are supposed to dig the truth out by asking questions? When the editors have the right to decide what is in national interest then why question the right of the government to do the same?
It's curious that a respectable news outfit would seek to dismiss as drivel doubts expressed by someone who has been in the thick of India security matters for long years. This would be acceptable if the other view, which again comes without 'any shred of evidence' was treated with equal disdain as well. If proof is expected of one side, then it is only fair that the other is asked to do the same too. If BJP president Amit Shah's views on the surgical strikes could be aired then why not Chidambaram's? Again, as editors how do you draw the line in such cases?
There is nothing on record so far to show that this has been done at the behest of the government. But even if it is a purely editorial decision, it still raises troubling questions. Editors can and do excise stuff for reasons of quality, clarity and journalistic standards. But that rarely involves blocking out one part of a narrative. That would be less about editing and more about censoring.
That's why NDTV's decision to put 'national security above politics' — whether voluntary or forced — is hard to digest.
India
With no more than 10,000 Indians eligible for green cards a year, a vast majority of applicants have no choice but to wait for their turn
World
The appointment of ISI chief Lt General Faiz Hameed as a Corps Commander gives him a shot at becoming the Army Chief next year when General Qamar Bajwa's term ends.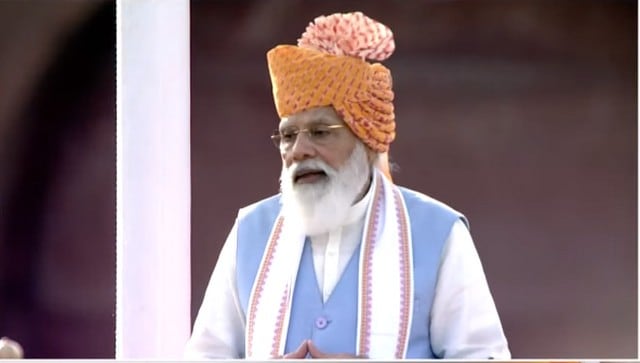 India
Responding to a question that opposition and critics term Modi an autocratic leader who takes all decisions on his own, Shah described the prime minister as a "democratic leader".