Navjot Singh Sidhu hug controversy: Congress leader gets Shatrughan Sinha's support, Bajrang Dal's Rs 5-lakh bounty
Following the backlash by the BJP government and the Congress party as well, Veteran Army officers have come out in support of Navjot Singh Sidhu. They termed the attacks being directed at the minister for his "hug" as "petty", according to Indian Express.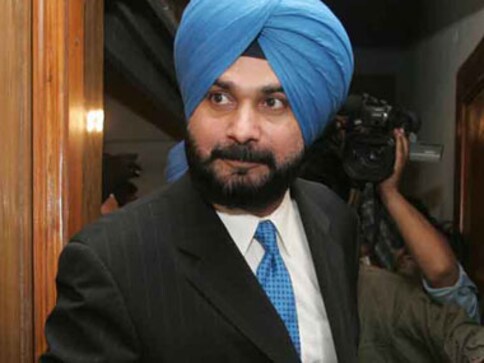 Cricketer-turned-politician Navjot Singh Sidhu has come under attack for embracing Pakistan army chief Qamar Javed Bajwa for the swearing-in of Imran Khan on 18 August. Political leaders around the country. The Bajrang Dal on Tuesday issued a Rs five lakh bounty on Sidhu's head after BJP and Congress leaders slammed Sidhu for his actions.
Following the backlash, veteran army officers have come out in support of Sidhu. They termed the attacks being directed at the minister for his "hug" as "petty", according to The Indian Express.
The Bharatiya Janata Party (BJP) on Saturday attacked Sidhu for hugging Bajwa and for sitting beside the President of Pakistan-occupied-Kashmir (PoK) at the swearing-in ceremony of Imran  and demanded his suspension from the party immediately.
"It is not an ordinary thing. Sidhu is not an ordinary man but a minister in the Punjab government. And every Indian has taken this issue very seriously," he said asking why Sidhu did not object when the PoK President was made to sit next to him. Firing salvos at the Congress president Rahul Gandhi, Patra asked, "Did you grant permission to Sidhu to go to Pakistan? Will you suspend him before his arrival in the country?". Slamming Sidhu, he said that before hugging Pakistan's Army Chief, did he not remember how their army killed innocent people and army men in India.
However, BJP leader Shatrughan Sinha supported Sidhu who debated that even Atal Bihari Vajpayee and Narendra Modi had hugged their Pakistani counterparts during their visits to that country. Sinha said Sidhu had already made himself clear on the issue and "I don't think there is any scope for any controversy".
"I have already said our former prime minister Atal Bihari Vajpayee during his visit to Pakistan had hugged his Pakistan counterpart, Nawaz Sharif. Our present prime minister Narendra Modi had also hugged Nawaz Sharif during his visit. I think the whole thing has been blown out of proportion," Sinha, a member of Parliament, told reporters in Delhi on Tuesday.
The Congress spokesperson, Sanjay Jha in response attacked the BJP asking if they remember what LK Advani had told Jinnah and telling them to hit 'refresh'.
Hmmm.... so the #BJP is upset with #NavjotSinghSidhu . Have they already forgotten what Shri Advani Ji had to say about MA Jinnah??? Time to press REFRESH. Who invited Gen Pervez Musharraf back to India despite Kargil betrayal? #JawabDo

— Sanjay Jha (@JhaSanjay) August 21, 2018
Sanjay Jaat, the president of the Rashtriya Bajrang Dal (Agra unit), has offered Rs 5 lakh to anyone who brings the head of the former cricketer and Punjab minister Navjot Singh Siddhu to him, for 'betraying the country', according to The Asian Age. In a video which has gone viral on social media, Sanjay Jaat is seen accusing Siddhu of supporting a government "which thirsts on the blood of Indian soldiers".
Punjab chief minister Amarinder Singh on Sunday ticked off Cabinet colleague Sidhu for hugging the Pakistani army chief, who, he said, was responsible for the killings of Indian soldiers on the border, even as the cricketer-turned-politician defended his action. "I think it was wrong of him (Sidhu) to have shown the affection he did for the Pakistan army chief. I am not in its favour... the fact is that the man (Sidhu) should understand that our soldiers are being killed every day. My own regiment lost one major and two jawans a few months ago," said Amarinder Singh, a retired officer of the Indian Army's Sikh Regiment.
In response, on Monday, Sidhu had said that he was prepared to give a strong reply to all when needed. "Whenever the reply has to be given, I will give and I will give it to all... It will be a strong reply." Simranjit Singh Mann, the president of Shiromani Akali Dal (Amritsar) in turn defended Sidhu in a tweet stating that he has proved that the Sikhs don't have any conflict with Pakistan, in fact, we do support them.
Pakistan cricketer, Mohammad Hafeez, praised Sidhu, saying he brought a sense of peace and security in the country.
Tavlen Singh Arroor, a political journalist tweeted about the incident demanding Sidhu to apologise, while calling Pakistan her enemy.
Imran on Tuesday thanked  Sidhu for attending his oath-taking ceremony. Terming the Punjab cabinet minister "an ambassador of peace", Khan said, Sidhu was shown amazing love and affection by people of Pakistan during his visit.
A complaint was filed in a court in Muzaffarpur on Monday against Sidhu seeking registration of a case against him under sedition and other charges for hugging Pakistan Army chief. The complaint was filed by advocate Sudhir Kumar Ojha in the court of Chief Judicial Magistrate (CJM) Hari Prasad. The court fixed 24 August 2018 as the date for hearing the matter. In his complaint, Ojha contended that Sidhu's gesture of "hugging" Bajwa has hurt his feeling and those of other Indians.
Clearing the air on Tuesday, the Punjab minister who was the only Indian who attended the swearing-in ceremony, said he went to Pakistan with government approval and said he did not go there for any political gain.
Talking to the media the Congress leader later said that while Bajwa had walked to greet and hug him, he had reciprocated the gesture when he was informed by Bajwa about a sentimental gesture proposed for the Sikhs. Sidhu said that he cannot show his back if someone offers their hand of friendship. He even said that this is a big country but people are being narrow-minded, if ministers are allowed to visit such countries without invitation, he went with the invitation.
With inputs from PTI
World
Musk argued in the filing to a Delaware court that the number of users actually shown advertising on the platform is about 65 million lower than the firm's 238 million figure.
World
Twitter on Thursday said the notion Elon Musk was "hoodwinked" into inking a $44 billion buyout deal defies reason and the facts.
World
An adorable video shows a cute dog walking into a cafe and listening to a musician playing guitar