National Health Policy 2017: Medical experts deem targets unattainable, say new laws needed
Experts have doubted the attainability of targets set by the National Health Policy 2017, as it avoids the task of chalking out a clear path to synergise relationship between public and private players
Experts have doubted the attainability of targets set by the National Health Policy 2017, as it avoids the task of chalking out a clear path to synergise relationship between public and private players.
These fears come at a time when the new document emphasises on strategic purchasing of secondary and tertiary care from the private sector.
Dr Jayalakshmi Sridhar, a Chennai-based doctor and health consultant, told Firstpost that the health policy has hardly any information regarding how the government plans to partner with the private sector. "It's a crucial factor, as 70 percent of India's healthcare is provided by the private sector. The attainability of targets set by the policy will depend on the government's partnership with the private sector," she said.
A report published by McKinsey and Co. in 2012 suggested that a constructive and transparent dialogue between the public and the private sector was required to enhance public healthcare in India.
Analysing the health scenario of the country during the 2002 to 2010 period, the report said, "Several pilots of public-private partnerships have been successful. However, none of them were scaled up to meet India's health challenges."
Incidentally, 2002 was the year that marked the announcement of India's last health policy, which had also failed to meet desired expectations on many accounts.
Explaining the urgency to synergise the public and the private health sectors, she said that the private players have been allowed to grow at an unregulated pace in India during the past few years, because of the resources they bring in.
"There is little monitoring and quality control of private healthcare. Such a condition leads us to the question as to how this industry will help us achieve targets of the policy," she said.
Citing the sordid state of private healthcare in India, she pointed out how tuberculosis treatment is one example which indicates why private healthcare is not always the right medium to attain national goals. "There are several studies showing that many private sector health practitioners are neither diagnosing the disease properly nor are they following the prescribed treating regimen," she said. "How can we expect the private sector to treat tuberculosis when we do not know how to diagnose and treat the disease?"
Pointing the perils of such flawed treatment, she said that this has not only jeopardised the attainability of the national target for eradicating tuberculosis, but has also caused antibiotic resistance in bodies infected with the disease.
Adding that eradication has been a major initiative of the central government since the last few decades, she added, "Due to flawed diagnosis and treatment, medication  becomes lengthy and cost of treatment shoots up. Consequently, many patients stop their treatment and finally develop antibiotic resistance."
Antibiotic resistance in patients' bodies will result in extra visits to the doctor, hospitalisation or extended hospital stays, more expensive antibiotics to replace the older ineffective ones, and sometimes even death.
Ashok Aggarwal, activist and advocate in the Delhi High Court, told Firstpost that to attain the goal of universal health care, a separate law is needed to make public health a right. "Many patients do not get proper treatment, because it's often unaffordable for them. Private healthcare is expensive and public hospitals are over-burdened with little space and infrastructure left to facilitate treatment," he said.
He said that a law must be drafted, so that no patient is denied medication, and until then the target of 'universal healthcare' set by the policy is likely to remain unattained.
Following are the major goals set by the national health policy, 2017:
- Progressively achieve universal health coverage
- Reinforce trust in public healthcare system
- Increase life expectancy from 67.5 to 70 by 2025
- Reduce TFR to 2.1 at the national and sub-national levels by 2025
- Reduce under-five mortality to 23 (per 1,000 live births) by 2024
- 90 percent of all people diagnosed with HIV+ should receive sustained anti-retroviral therapy, and 90 percent of all people receiving anti-retroviral therapy will have viral suppression, and 90 percent of all people living with HIV should know their status by 2020
- Achieve and eliminate status of leprosy by 2018, kala-azar by 2017, and lymphatic filariasis in endemic pockets in 2017
- Achieve and maintain a cure rate of above 85 percent in new sputum positive patients for tuberculosis and reduce incidence of new cases, to reach eliminated status by 2025
- To reduce premature mortality from cardiovascular diseases, cancer, diabetes or chronic respiratory diseases by 25 percent by 2025
- Increase health expenditure by government as a percentage of GDP, from the existing 1.5 percent to 2.5 percent by 2025.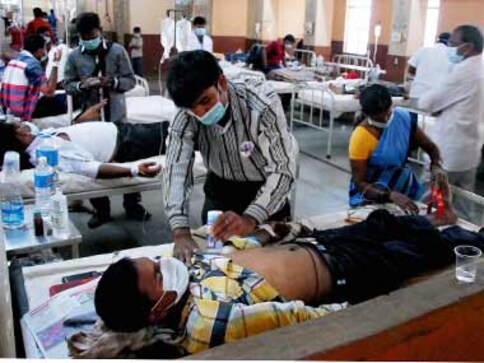 India
The ministry of health and family welfare has made it easier for central government employees to avail CGHS benefits from private hospitals.
India
The Karnataka Assembly on Wednesday in Belagavi passed a bill to regulate the functioning of private hospitals across the state.
Business
While the government's directive to doctors to prescribe only generic names unsettled pharma companies, the NPPA's (National Pharmaceutical Pricing Authority) move to cap prices of medical devices such as stents and knee implants created discomfort for the manufacturers.