Narendra Modi's decision to curb fake currency inflow was a calculated strategy
In yet another 'surgical strike,' Prime Minister Narendra Modi on Tuesday evening announced that Indian currency in the denominations of Rs 500 and Rs 1,000 would cease to be legal tender from the midnight of 8 November.
In yet another 'surgical strike,' Prime Minister Narendra Modi on Tuesday evening announced that Indian currency in the denominations of Rs 500 and Rs 1,000 would cease to be legal tender from the midnight of 8 November.
While the PM's announcement sent the nation into a tizzy, with many labeling it a sudden and hasty decision, it has been a well-calculated strategy of the government to introduce this change.
If one may recall, the government had earlier given a hint that it would thwart illegal activities related to Fake Indian Currency Notes (FICN).
Minister of State for Finance, Arjun Ram Meghwal, in a written reply to a question raised in the Rajya Sabha in August, had said, "As per the study, the face value of FICN in circulation was found to be about Rs 400 crore. It was found the value remained constant for the last four years. To check the menace of counterfeiting of bank notes, the Ministry of Finance, Ministry of Home Affairs, Reserve Bank of India, security and intelligence agencies of the Centre and states are working in tandem to thwart the illegal activities related to FICN."
Meghwal had referred to the findings of the study conducted by the Indian Statistical Institute (ISI), Kolkata, commissioned by the National Investigation Agency (NIA), which mentioned that the quantum of counterfeit currency in circulation nationwide was at Rs 400 crore at any given time, with Rs 70 crore entering the system every year.
The first-ever study on counterfeit currency — 'Estimation of the quantum of FICN in circulation', also pointed out that intelligence and security agencies were able to intercept only one-third of the fake currency (worth Rs 70 crore) pumped into the Indian market every year.
The study pointed out that fake notes of Rs 1,000 denomination constituted about 50 percent of the total value of FICN and had asked the government to take immediate steps, since these figures were only indicative of the extent of the menace.
Meanwhile, in the last two years, the government has taken a number of steps to curb the menace of black money in the economy including setting up of a Special Investigation Team (SIT); enacting a law regarding undisclosed foreign income and assets; amending the Double Taxation Avoidance Agreement between India and Mauritius, and India and Cyprus; reaching an understanding with Switzerland for getting information on bank accounts held by Indians with HSBC; encouraging the use of non-cash and digital payments; amending the Benami Transactions Act; constitution of a multi-agency group at Central Board of Direct Taxes for facilitating coordinated and speedy investigation in the cases of Indians allegedly having undisclosed foreign assets and whose names are included in Panama papers leaks; and implementing the Income Declaration Scheme 2016.
All these gradually paved way for the final strike made by the PM on currency.
Sources of FICN
The Central Bureau of Investigation (CBI) and the NIA are the central agencies for the investigation of fake currency note cases. According to intelligence sources, the counterfeit Indian currency notes are being pumped into the country through a crime network in the South and Southeast Asian region enroute Bangladesh, Nepal, Thailand, Malaysia, Sri Lanka and the United Arab Emirates (UAE).
Investigations have also traced a new route of smuggling of fake currency from China via Nepal. "As per the investigation conducted by the terror funding and fake currency cell of the NIA, Pakistan is the major supplier of FICN in India. In 2015 alone, around 10 cases had come to the notice where FICN had entered by sea or air from Pakistan. A major chunk of fake Indian currency comes through Bangladesh and to check the inflow, NIA has been training Bangladesh police to identify fake notes," an intelligence source said.
"A report prepared jointly by RAW, Intelligence Bureau, CBI and Directorate of Revenue Intelligence has mentioned that the Inter-Services Intelligence (ISI) of Pakistan has been raking in an annual profit of around Rs 500 crore by circulating counterfeit notes in India. The ISI makes a profit of 30-40% on the face value of each counterfeit Indian currency note produced in Pakistan," the source added.
In 2007, CNBC-TV 18 had reported that a special investigation conducted in New York, London and New Delhi found a few unscrupulous agents of Western Union were willing to transfer money through the hawala that involved large cash. The hawala system is an ancient, trust-based method of sending money across borders that is now under threat due to funding in terror related activities.
"It appears that the fake currency seized is what is actually in circulation. However, what appears to be a mere 2 percent is actually 20 times more. This widespread circulation of fake money leads to a deterioration in currency value. This gives rise to illegal activities like funding terror activities," said Prof Arun Kumar, economist and author of The Black Economy in India.
Use of FICN
Counterfeit Indian currency notes are used in terror funding, to fund human and drug trafficking, and other nefarious activities like arms and cattle smuggling.
According to National Crime Records Bureau (NCRB) data in 2013, 2014 and 2015 – 194 767, 175 488 and 178 022 fake currency notes of Rs 1,000 denomination, and 429 757, 334 681 and 299 524 of Rs 500 denomination respectively were recovered in India.
Technology to track black money?
With the PM check-mating the illegal peddlers of FICN, black money hoarders and terror-funding racket with the announcement, the social media went viral with reports that nano technology, a first in India's history, will be used in the Rs 2,000 denomination note to be released by the Reserve Bank of India.
According to reports, the Rs 2,000 note will have an embedded nano chip to track hoarding.
According to sources, the new Rs 2000 denomination currency note — the highest legal tender in the country to be issued by the RBI — is reportedly designed keeping in mind to eradicate the black money issue using state-of-the-art indigenous nano technology.
If the technology is, indeed, introduced, it will be a game-changer. The currency notes will be embedded with NGC (Nano GPS Chip), which acts as a signal reflector. When a satellite sends a signal requesting location, the NGC reflects back the signal from the location, giving precise location coordinates, and the serial number of the currency back to the satellite.
The benefit of an NGC-embedded currency is that it can be easily tracked and located even if it is kept 120 metres below the ground level. The NGC can't be tampered with or removed without damaging the currency note. Since every NGC embedded currency can be tracked, the satellite can identify the exact amount of money stored at a certain location.
Find latest and upcoming tech gadgets online on Tech2 Gadgets. Get technology news, gadgets reviews & ratings. Popular gadgets including laptop, tablet and mobile specifications, features, prices, comparison.
Lifestyle
In the face of the coronavirus pandemic and lockdowns, fashion weeks across the world have been forced to recalibrate their existing practices, priorities, and their very role. The upcoming Lakme Fashion Week also grapples with these concerns in its first-ever digital edition.
Lifestyle
Following a parched few months in luxury retail, can digital fashion weeks like LFW offer greater business to designers?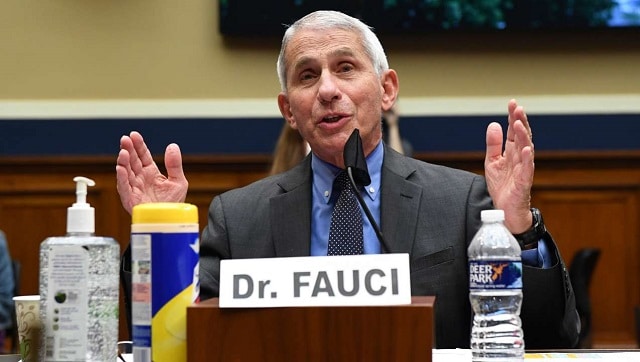 World
Trump seems to have made the calculation of trying to cast Fauci, a man who has served six presidents, as the villain of the piece. It is, to put it kindly, an interesting strategy. To put it bluntly, it looks like a misguided ploy that may end up costing him a second term