Narendra Modi in Tel Aviv today: It is time Muslims rethink their idea of Israel
On 4 July, Narendra Modi became the first Indian prime minister to visit Israel.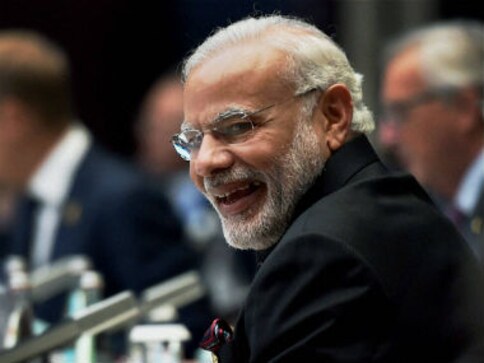 On 4 July, Narendra Modi became the first Indian prime minister to visit Israel.
His trip marked 25 years of the establishment of full diplomatic relations between Israel and India, fostered by the visionary former prime minister PV Narasimha Rao. Modi's three-day trip is long overdue and historic.
For their part, Israeli presidents and prime ministers have visited India: Ezer Weizman set the precedent in 1997, followed by former prime minister Ariel Sharon in 2003 (the first Israeli PM to visit India) and in 2016, Israeli president Reuven Rivlin visited India.
Historically, Muslims all over the world have viewed Israel with suspicion. When Muhammad proclaimed his prophethood, he expected that the Jews would support him, but they did not.
Christians have also had an antagonistic relationship with the Jewish people. Their discrimination and hatred towards Jews in Russia and elsewhere in Europe forced them to migrate from 1880s through the Second World War. Most of them finally settled in the US and Israel.
When Islamic general Salahuddin Ayyubi conquered Jerusalem in 1187, he treated the Jews with respect. In modern times, Morocco treats its Jews well. But it's also true that anti-Jewish sentiment permeates with Muslim world, perhaps because Muslim clerics fail to distinguish between genuine criticism of Israel for occupying the Palestinian land and a hatred of the Jewish people.
In recent years, publishing houses based in New Delhi's Abul Fazl Enclave area have sought to promote anti-Jew hatred by publishing Urdu translations of books by anti-Jewish Western writers. For example, a book by Victor E Marsden on The Protocols of the Elders of Zion, translated by Muhamad Yahya Khan into Urdu as Yehudi Protocols – Greater Israel Ke Aalami Saihooni Mansoobey Ki Khufiya Dastatwezaat Ka Pehla Angreezi, Urdu Tarjuma ("The Jewish Protocols – The First English-Urdu Translation of the Secret Documents of the International Zionist Plan for Greater Israel"), was published by the Abul Fazl Enclave-based Milli Publications. The entire book, an anti-Jewish forgery, is aimed sowing the hatred of Jews among Indian Muslims.
Milli Publications also published an Urdu translation of They Dare to Speak Out by Paul Findley. The Urdu version is titled Shikanja-e-Yehud - "The Sinews of the Jews." It brought out another book by Paul Findley into Urdu titled Israel ki Deeda Danista Farebkariyan – "Israel's Deliberate Deceptions."
Indian Muslim leaders must keep in mind that Israel has more Muslims, percentage wise, than India. According to the The World Factbook, Muslims comprise 17.6 percent of Israel's populations compared to India, where Muslims make up 14.2 percent of our population.
Most Muslims also think that Israel has occupied the Al-Aqsa Mosque. Although this mosque is in Jerusalem, its management is controlled by a WAQF trust and its imam is appointed by the Palestinian president. To guard against any damage to the mosque, Israeli police ensure that no extremists enter the mosque while posing as Muslims.
When I was working at the BBC in London, my colleague Shahzeb Jillani visited Jerusalem. Shahzeb was surprised that the Israeli soldier asked him to prove that he was a Muslim by reciting the second Kalima in Arabic, which read: "I bear witness that none is worthy of worship but Allah, the one alone, without partner; and I bear witness that Muhammad is his servant and messenger." Only after Shahzeb recited the Kalima in Arabic did the Israeli soldier allow him to enter the mosque.
In recent times, the relationship between Muslims and Jews was further strained after Iran's leaders called for the annihilation of Israel. In many parts of the world, Muslims mark the last Friday of the fasting month of Ramzan as Al-Quds Day. However, not many Muslims know that Al-Quds Day was started by Ayatollah Khomeini after the 1979 Islamic Revolution to express support for the Palestinians and to liberate Jerusalem from Israel. We must keep in mind that much before the Islamic State, it was Khomeini who revived armed jihad in modern times after he issued a fatwa in 1989 calling for beheading Salman Rushdie for writing The Satanic Verses.
Supporting the Palestinians can be a moral act. But the Muslims who mark Al-Quds Day do not speak for the Muslims who are systematically being killed in Balochistan by the Pakistani Army. Muslims also do not raise voice against the killings of Shias in many parts of the world because most Sunni clerics think that Shias are not Muslims. Pakistani Muslims who mark Al-Quds Day do not even remember Brigadier Zia-ul-Haq, who later became Pakistan Army chief and dictator, for butchering thousands of Palestinians during Black September when he commanded a military division in Jordan in 1970. So, the reason why Muslims mark Al-Quds Day is due to hatred of Jews and Israel.
Indian Muslims must evolve their view of Israel. After all, it is West Asia's only democracy. In August 2007, a delegation of Indian Muslims led by Maulana Jameel Ahmed Ilyasi, leader of the All India Organisation of Imams of Mosques, visited Israel. Ilyasi, who died in 2009, represented a half million Indian imams. Ilyasi said that his visit aimed at "developing a dialogue between Judaism and Islam in the Indian subcontinent, where more than 40 percent of the world Muslim population lives." Such visits by Muslim leaders are relevant also because Muslims remain unaware of the ground realities involving the Palestinians and the Israelis.
Sometimes, trips by world leaders are hugely consequential. The visit of Pope John Paul II his native country of Poland in 1979 made such an impact in the minds of people that it hastened the demise of communism in Europe. Similarly, the visit of US president Richard Nixon to China in 1972 saw the dawn of a new era of prosperity for China.
In March 2006, US president George W Bush visited India to foster India-US relationship and stated that India was the only country where Muslims had experienced sustained democratic experience for more than half a century while also making note of Sania Mirza's achievement. Bush also reportedly introduced Manmohan Singh to his wife Laura as "The Prime Minister of India, a democracy which does not have a single Al-Qaeda member in a population of 150 million Muslims".
Jewish organisations have also made special efforts to take Muslim journalists from India on study trips to Israel.
Muslims in India must keep in mind that their success lies in India's prosperity. As India makes rapid progress, the fruits of economic development and growing educational opportunities will inevitably reach Muslims as well. However, India's economic progress lies thanks in its strong security partners: Israel and the US.
The relationship India has with Israel and the US is not limited to just matters of security. Israel has made huge contributions to agricultural research in India, which adds to our food security.
Since Modi's trip is the first by an Indian prime minister to Israel, it is bound to strengthen the security and economic cooperation between the two countries and improve the prospects of their people.
The author, a former BBC journalist, is a contributing editor at Firstpost and executive director of the Open Source Institute, New Delhi. He tweets @tufailelif
also read
India
The clip also shows the Indian Prime Minister making the inaugural address at the G20 Summit and even announcing inclusion of the African Union (AU) as a permanent member of the G20
India
As the leaders arrived one by one, they were greeted by PM Modi, in the backdrop was showcased the Konark Wheel from Odisha. The wheel with 24 spokes has been adapted into India's national flag embodying India's ancient wisdom, advanced civilisation, and architectural excellence
India
The Opposition INDIA bloc allegedly adopted a resolution to "end the Sanatana culture" in the nation during its third meeting, PM Modi alleged