Simultaneous elections in India: Narendra Modi and BJP must use their numerical advantage to make it a reality
Prime Minister Narendra Modi and the BJP have a chance to make a beginning provided they have the requisite political will.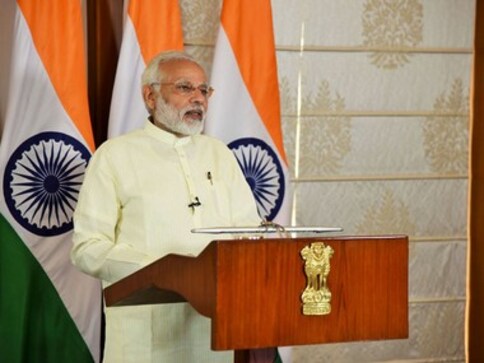 The merits of holding simultaneous parliamentary and Assembly elections are well accepted. The country would indeed benefit from the idea and its actual occurrence if it happens any time in future.
Since the issue was referred by President Ram Nath Kovind in his address to joint session of Parliament there couldn't be any doubt left that the government of the day was serious about implementing the idea which Prime Minister Narendra Modi had been advocating for over a year.
The president in his speech had said: "Citizens alive to the state of governance in the country are concerned about the frequent elections in one part of the country or another, which adversely impact the economy and development. Frequent elections not only impose a huge burden on human resources but also impede the development process due to the promulgation of the model code of conduct. Therefore, a sustained debate is required on the subject of simultaneous elections and all political parties need to arrive at a consensus on this issue."
He was basically saying what Modi had been saying all this while. So far it is only the prime minister and his party, the BJP is the only ones who are throwing their might behind the idea. But fact remains that the BJP currently has a brute majority in Lok Sabha and has the highest numbers on its own in the Rajya Sabha. In 14 states the party has its chief minister and five other states are ruled by its NDA alliance partners and thus an idea of this kind becomes a forceful idea. A senior BJP leader told Firstpost the irony is when we talk to them or when they talk to us privately they are agreeable to the idea but soon as they talk about in public they change the tune.
It's a fact that till 1967 parliamentary and state assembly elections were synchronized but as Congress became weaker in some states, some fragile coalitions came up in the states and with Indira Gandhi at the helm things at the Centre changed.
One is not sure as to when this idea would if at all would be implemented. It's a herculean task with too many complications at hand. This has to be initiated by the Election Commission and would require a constitutional amendment to make the term of state assemblies and Parliament fixed for five years, no matter if a particular government falls or there is no worthwhile alternate coming up with the support of majority legislators in a given Assembly or Lok Sabha. Having a broad consensus in Parliament and in state assemblies among political parties at a time when the relationship of ruling and lead opposition parties in opposition have worsened to a point when there is practically no rapport between them appears to be a near-impossible situation, but then politics is about the art of possible.
Various theories, arguments and counter-arguments are floating on power corridors in Delhi with uncertain actual possibilities.
Pending a consensus and finding a convincing argument on how simultaneous elections could be made possible (if and when it happens by curtailing term of some assemblies and extending term of some other assemblies or the Parliament as the case may be), the Modi government can look for an easier way out -- clubbing all elections held in a single year. If it succeeds in doing that it would take the first step forward.
Take a look as to how elections in seven states were scheduled in 2017. The Election Commission announced poll schedule for five states including Uttar Pradesh, Uttrakhand, Goa, Punjab and Manipur on 5 January and the polling began on 4 February in Punjab and Goa and ended 9 March in Uttar Pradesh. Then on 13 October, the Election Commission announced poll schedule for Himachal Pradesh where polling was done 9 November but its result was announced with Gujarat on 19 December. The year 2017 also saw the presidential election and vice-presidential elections.
In 2018 election is scheduled in eight states. Two months after completion of the electoral process in Gujarat and Himachal Pradesh elections, the three northeastern states of Tripura, Meghalaya and Nagaland are going to polls. The question is why couldn't the Election Commission club elections in Himachal Pradesh, Gujarat and the three northeastern states when the polls in five states were spaced out in a four months time.
Two months after completion of elections in Tripura, Meghalaya and Nagaland, the poll process would begin in Karnataka. Elections in Karnataka are to be held in April-May. Another four months later, another round of poll process would begin for four states -- Madhya Pradesh, Rajasthan, Chhatisgarh and Mizoram. Polling in these four states would be held in October-November. Again the Election Commission could have considered advancing poll dates of these states and synchronizing elections with Karnataka. The BJP could have pushed for it.
Next year is the big bang parliamentary elections. Five states -- Orissa, Andhra Pradesh, Telangana, Arunachal Pradesh and Sikkim would go to the polls along with the parliamentary elections. As soon as the parliamentary election finishes, the elections would be due in Maharashtra, Haryana and Jharkhand (all BJP-ruled states) and a bit later in Delhi. The BJP will have a chance to make a beginning by asking Maharashtra, Haryana and Jharkhand to advance elections by four-five months and have it synchronized with the parliamentary polls.
Modi and the BJP have a chance to make a beginning provided they have the requisite political will. Till one nation, one poll happens, it can consider one year, one poll option.
India
If Murmu gets elected, she will be the first tribal woman, as well as the first person from Odisha, to occupy the top constitutional post. The presidential elections will be conducted on 18 July to elect a successor to incumbent President Ram Nath Kovind and counting of votes will be done on 21 July
Politics
Union cabinet ministers, chief ministers of BJP and NDA-ruled states, were also present at Parliament building where Droupadi Murmu filed her nomination for the 18 July election
India
In Bharatiya Janata Party's 2019 Lok Sabha election manifesto, BJP promised the implementation of UCC if it comes to power