Naba Kishore Das shot dead by cop: The Odisha minister with 145 cars and a love for guns
Odisha health minister Naba Kishore, who was shot dead by a police official on Sunday, began his political career with the Congress, but switched to the Biju Janata Dal in 2019. When the COVID-19 pandemic hit the country, he played a very crucial role in the state's fight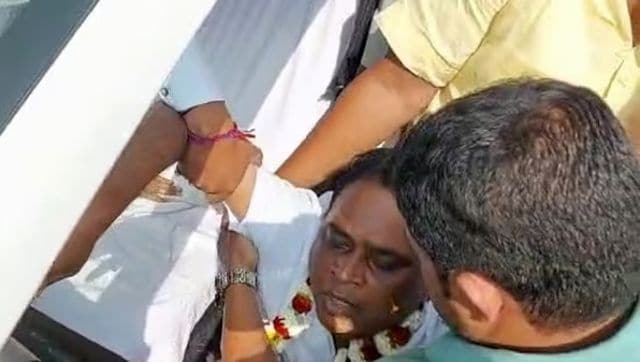 A regular attending of an event on Sunday turned fatal for Odisha minister Naba Kishore Das after he was shot dead by a police officer. The tragedy took place when Kishore Das, 60, was travelling to a programme to Brajrajnagar town in Odisha's Jharsugada and Assistant Sub-inspector of Police (ASI) Gopal Das opened fire at the minister in the presence of police personnel and the minister's supporters.
Video footage of the incident shows the ASI approaching Das' vehicle and just as the minister steps out, the cop opens fire with his service gun. The minister is seen bleeding from the chest with people lifting him and placing him on the front seat of a car. Naba Das was then rushed the Jharsuguda district headquarters hospital and later airlifted to Apollo Hospital in Bhubaneswar.
Despite best efforts by the staff at Apollo Hospital, the health and family welfare minister succumbed to his injuries in the evening. The medical statement from the hospital said, "On operating, it was found that a single bullet had entered and exited the body, injuring the heart and left lung and causing massive internal bleeding and injury. The injuries were repaired, and steps were taken to improve the pumping of the heart. He was given urgent ICU care. But despite the best of efforts."
The state of Odisha has announced a three-day mourning period from and the national flag will fly at half-mast on the day of his funeral. Das' last rites will take place at his home in Jharsuguda today. Leaders, including President Droupadi Murmu and Prime Minister Narendra Modi expressed their grief over the incident.
Meanwhile, ASI Gopal Das has been taken into custody to ascertain the reason for the shooting. According to Das' wife, he suffered from a mental disorder for the last seven-eight years and that there was no personal enmity between her husband and the minister.
As the state is in deep mourning, let's take a look back at the rise of Naba Kishore Das — who earned the reputation of being a strong grassroots leader and also the second richest minister in the state after Naveen Patnaik.
Rise of Naba Kishore Das
Naba Kishore Das hailed from Sambalpur district and studied English and Law from Sambalpur University. It is here that he was first exposed to politics and he was the students' union president there.
After completing his education, he moved to the Jharsuguda district, known as the industrial belt of Odisha. It is there that he started his businesses of mining and transportation. In 2004, he entered the political arena from the Congress party and contested the Jharsuguda Assembly seat. He, however, lost that election to Biju Janata Dal's Kishore Mohanty.
Five years later, in 2009, he once again contested from Jharsuguda and this time defeated Kishore Kumar Mohanty. His campaign at the time was glamourous, as he had roped in Bollywood's Shakti Kapoor and Asrani to campaign for him.
He was able to retain his seat for the next Assembly election and displayed great organisational skills. His understanding of the people also made him very popular with the masses of Sambalpur, Sundargarh, and Jharsuguda.
Switch to BJD and his growing wealth
In 2019, Naba Das quit the Congress and made the jump to the Biju Janata Dal. At the time, he had told then Congress president Rahul Gandhi that the people of his constituency wanted him to join the BJD.
"The people and voters of my area want that I should contest the next election 2019 from BJD as they want our area to develop and I should join hands with Shri Naveen ji, chief minister of Odisha," had written in his letter to Gandhi.
Since then, he has only grown in stature and financially. His 2021 declaration showed that he had immovable and movable assets worth Rs 34 crore. Among his assets were 145 cars — 80 belonging to him and 65 were his wife's — valued at Rs 15 crore.
Naba Das was also known for his love of firearms. According to an Indian Express report, he owned a revolver, a double-barrel gun and a rifle. When asked about his penchant for guns, he had said that he "kept the rifles for fancy and not for protection".
He also listed several properties in New Delhi, Kolkata, Bhubaneswar, Jharsuguda, and Rairakhol in Odisha worth over Rs 2.28 crore.
A week before his death, Das made the news when he donated a gold pitcher to the Shani Shingnapur temple in Ahmednagar, Maharashtra. Though media outlets reported it was worth Rs 1 crore, he clarified that it was worth Rs 10 lakh.
Role in COVID
Das, who had earlier made headlines in 2015 for being suspended from the Assembly for allegedly watching objectionable clips in the House, was made the health and family welfare minister in 2019 in the Patnaik Cabinet.
When coronavirus struck the country in 2020, he was at the forefront of the state's battle against the virus and also implementing the state's Biju Swasthya Kalyan Yojana (BSKY), instead of the Centre's Ayushman Bharat scheme.
A Times of India report states that Das was dedicated to development of health systems in the state and led the COVID-19 battle by sticking to appropriate behaviours such as social distancing and masking.
It was his efforts that saw the World Health Organization (WHO) praising the state for its handling of the pandemic and keeping the case load low.
With inputs from agencies
Read all the Latest News, Trending News, Cricket News, Bollywood News,
India News and Entertainment News here. Follow us on Facebook, Twitter and Instagram.
India
Five cops suspended after they allegedly provided VIP treatment to the main accused arrested in the Rs 1,800 crore Uliburu mines scam.
Politics
Chief Minister Naveen Patnaik seems to be facing his toughest political battle as he bids for a fourth straight term in Odisha and struggles to retain his party's 14 Lok Sabha seats out of the state's total of 21.
Politics
While Naveen Patnaik, who is contesting from two assembly segments, Hinjili and Bijepur, tops the list of rich candidates with total assets worth Rs 63 crore, BJP candidate K V Singhdeo contesting from Patnagarh segment in Bolangir district stands second with total assets worth Rs 37 crore, the report said.