My NRC experience similar to driving on highway pockmarked with potholes: How one Assamese made it to the list
I am on a week's leave in Assam and this has nothing to do with the NRC. My being here is, as they mention in movies, "highly coincidental".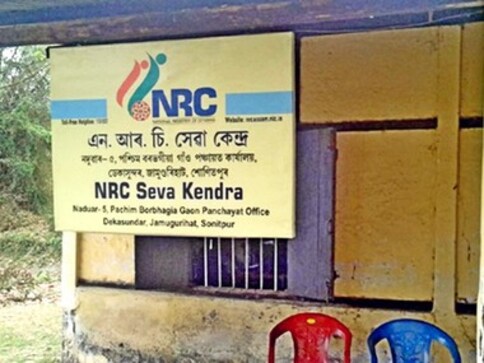 Nearly unmissable for his trademark shorts with stripes — which even a cruel December can't replace with trousers — I saw a familiar face entering our home. "Ketia ahile apuni? Apunarnamtu xumalene? Mur xumal eibar" (When did you come? Has your name entered? Mine has, this time). This was at 4 pm on 30 July from our domestic help's husband Mantu (name changed) to me.
Earlier in the day, I was travelling from my wife's place in Tinsukia to (my place in) Dibrugarh. A 48-kilometre distance, which Google Maps said would take 1 hour 54 minutes to complete. No, I neither walked nor travelled by public transport. And traffic! Nothing compared to what I usually encounter in Mumbai. This is the time taken when you drive down. In any case, I sat behind the wheel and started. I had perhaps completed one-fourth of my journey when my phone sprang to life.
"Simantik, is your name included? Can you send us a few inputs to the National Register of Citizens live blog if you are not busy?" asked my boss from Mumbai. I am on a week's leave in Assam and this has nothing to do with the NRC. My being here is, as they mention in movies, "highly coincidental".
I usually don't take phone calls while driving but on seeing my boss' name, I stopped my vehicle and answered. And what a place to stop. Almost next to the entry point to the Indian Army's 2 Mountain Division just crossing Panitola, as a not a very amused looking gun-toting soldier stared disapprovingly at me. With supreme belief that he won't disgrace his soldierly persona by pumping a bullet into a non-intimidating individual like myself, I took the call.
I told my boss I would contribute in whatever way I can and continued my journey on the horrible National Highway 37 dotted with potholes, competing with bikers who drive in all kinds of angles — who often overtake from the wrong side just to show how quickly they can move on bad roads. I dodged two-wheelers and, of course, six-seaters (they somehow manage to seat 10) who stop at any place they want to the moment they see a prospective passenger. It was around 10 am when my boss had called and he was utterly surprised that, till then, I had no clue if my name was included in the NRC. In December, when the NRC released the first list, except for my mother and my sister-in-law, four of us failed to make it to the list.
Soon after my boss called, my thoughts immediately flew to my NRC journey. The whole process was like the road I was driving on: It needed patience, an understanding of the process threadbare (as I mentally calculated which pothole won't take me to the bottom of the earth) and drive through it, hoping to reach my destination safely (like I hoped my name would be in this time around).
I was confident that this time, no one can stop me from proving myself to be Assamese and with that positivity, I even registered my cellphone on one of the numbers given by the NRC authority. The deal was that they would give me an update via SMS after 12 pm on 30 July on my NRC application status. Cool, I thought.
I reached home around 12.30 pm and nearly dropped my phone when a few text messages appeared. In incredible haste, I unlocked my phone and opened the message app. Wow! Lodha thought I was rich enough to buy an apartment by pumping in a few crores in some upscale suburban locality in Mumbai, some Anjali thought I could shed a few kilos in two weeks and Yes Bank enticed me with a reward of Rs 1 lakh if I participated in some online campaign. And NRC! The feeling was much like being ditched by one's date.
Undeterred, I jumped on to Google and furiously typed out NRC name-checking. Now it was Vodafone's turn to torment. After sending out that lovely message – 'Welcome to Vodafone Assam' – soon after I landed the day before, the network started playing truant at the most critical juncture. I was in no mood to relent and finally, I successfully opened the NRC portal. I typed out the application number and behold! My name was there, along with the four that missed out earlier. I immediately informed my wife and a WhatsApp message was soon sent to my boss.
"Congratulations," he said. Didn't I just conquer the world? Never mind that my name has been wrongly spelled (and my father's too). But it was because of his vote after India's independence and before he married my mother that both his sons are part of the NRC. Dear father, your vote helped us. Thank you.
Well, you know when I was kind of sure that my name would be in this time? The day I saw regional channels beaming footage of NRC State Coordinator Prateek Hajela, accompanied by his daughter, visiting an NRC Sewa Kendra for a hearing. Okay, I thought: The man at whose mercy I was for my name to get a place in that gigantic record (22 lakh pages) is himself working hard to get his name enrolled. At least I was better off because I received no call for a hearing. That gave me hope, some real hope.
I would be at fault if I didn't appreciate Hajela, the man who spearheaded the whole process, for his monumental effort. Kudos to everyone in his 48,000-strong team, including everyone at the NRC 24-hour call centre for whom I learnt a few chaste words in Assamese and how to be extremely polite. I had called the call centre twice or thrice. The NRC is no less an epic compared to the Ramayana and the Mahabharata (well, in magnitude only). I have no intention of converting myself to pulp by angering those who may be sensitive to the issue. Neither am I calling Hajela a 21st Century Valmiki or Veda Vyasa.
I feared that there might be some law and order situation or bandh calls (endemic in Assam) would follow soon after. None of them have happened on Monday. Credit must also go to Assam Police who managed it well (thus far).
January was the harshest month for me: My friends and a few relatives advised that I choose a country and get ready to jump over the fence (read Bangladesh) as soon as I'd uploaded my dismal NRC status on Facebook. Many had 😂 this to say, a few had 😁 and some 😄. Today, I have ✌ this to say. And this too, 😂.
"Thakibane keidin maan?" (Will you stay for a few days?) asked Mantu. I almost forgot. I haven't revealed my reply yet. "Keidinman. Aru muru nam xumal (For a few days. And my name entered too)," I responded, quietly noting the undeniable similarities. Striped shorts, (I have a few and was wearing one then, for which my wife often compares me with him) and the similarities in NRC status too. For a while, the two of us, the two striped shorts generals were together celebrating the NRC victory. Jai Aai Axom, indeed!
Explainers
Once touted as the future of money, a challenge to the world's central banks, not to mention a clever investment, crypto now carries the odour of disaster. But some crypto faithful see an upside to the wipe-out of 2022
Explainers
Jacinda Ardern gained international acclaim for her handling of New Zealand's worst mass shooting and her response to the COVID pandemic. But at home Ardern has come under increasing criticism over lockdowns, declining trust in government, and a deteriorating economic situation
Explainers
India is expected to overtake China's population sometime around April and only widen that gap by 2050. Experts say that while having a young working population could prove a huge advantage, significant challenges of providing quality healthcare, education and jobs remain